Ten of Swords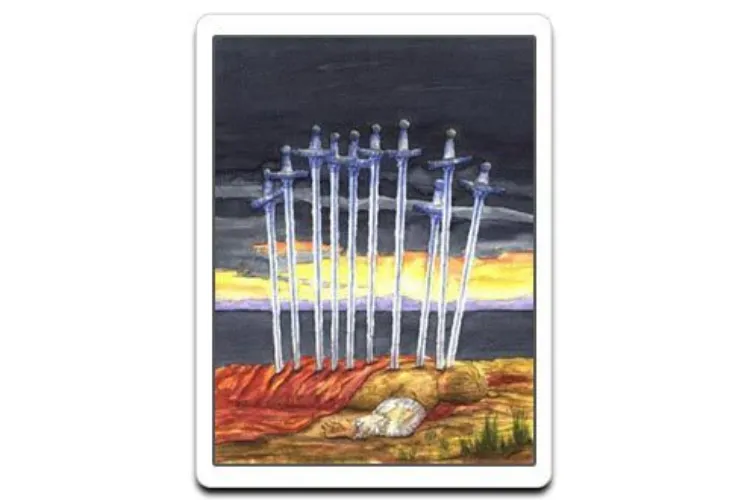 If the "Ten of Swords" appears in a reading, it is not a positive sign. In this suit, the number ten represents betrayal, backstabbing, and hitting rock bottom. It may indicate a mental breakdown and an inability to cope with life's circumstances. Excessive worry isn't the solution, despite the negative consequences. The upcoming crisis will only last for a short time, and you have the power to survive the storm. The situation will be challenging, but it will not be impossible, and you will succeed!
Ten of Swords – Tarot Card Meaning
In the "Ten Swords" you can see a man, lifeless and with ten swords on his back. His death appears to be an illness and a shock. The water behind him looks calm and untouched, and the sky above him is dark and frightening. The picture on the card also represents blood running everywhere through his body.
Ten of Swords – Upright
"Ten of Swords" as "upright" isn't an excellent indication as it could represent betrayal, complaint, gossiping, bitterness, and opponents.
This minor arcana card also represents failure, tragedy, breakup, severing ties, goodbyes, and the final nail in the coffin of a partnership or situation. Worried breakdowns, chronic fatigue, weak spots, and incapacity to cope are all signs that may arise, when a person comes across this card. It could additionally mean hitting rock bottom, running into a brick wall, or being caught in a hole or useless cease.
The "Ten of Swords" can also represent someone who acts as a sufferer or martyr, in addition to a person who is overly dramatic, looking for attention, or exaggerating. Terrorist attacks, murder, and curses are all of its examples.
Love – Upright Ten of Swords
The "Ten of Swords" in an upright position is not a healthy sign in terms of love and relationship. It represents the time of sorrows, pain and sometimes grief. You may possess a sign of bitterness towards your partner due to betrayal or unfaithfulness. The same could be indicating towards you also as you might have cheat or fraud in your relationship. This could also mean that you have failed in your relationship and it might end.
The "Ten of Swords" Tarot card referring towards society could show some crimes against humanity sometimes if more badly than wars or terrorism. Undoubtedly, the time will be challenging.
If you are single, then you must be living in your past memories of your relationship which would be painful and you might feel that this might be your destiny. The worst has occurred and acceptance is the only way to recover, then and only then things will improve and you will be in a piece of mind to start again.
Do you have issues with disagreements in your relationship? With yourFree Love Horoscope, you will reclaim your compatibility.
Career – Upright Ten of Swords
The "Ten of Swords Upright" represents ends & breaking ties. You might be nearing the end of your current career. As a work environment is concerned, This card may also indicate that you are struggling with office politics that have left you feeling defeated; maybe coworkers have been spreading rumours about you.
Alternatively, you may have been working really hard, driving yourself to exhaustion, and then having to take a break. All of this may have been beneficial to your development; when you've recovered from your hardship, keep in mind what you have learned.
Finance – Upright Ten of Swords
When you come across "Upright – Ten on Swords", it is possible that your financial condition is terrible. You may have invested your money in something that has failed to pay off, and you are now experiencing losses. Make sure you cut all costs associated with this failed idea, and instead, be careful with your money. Now is a good time to stay away from the crowd.
Ten of Swords – Reversed
The feelings expressed by any version of the "Ten of Swords" are powerful. The card, whether "reversed or upright", represents the defeat's ending. There was no way to escape this tragedy; it was the result of a long chain of events that had been building for a long time.
In a general context, "The reversed Ten of Swords" can represent things getting better, surviving or being saved from disaster, and escaping from destruction. It's a reversed Minor Arcana card about getting together and learning from your errors.
It may apply to something rising from the dead or failing, as well as Near Death and Out of Body Experiences.
It may also indicate that your worst fears have been discovered, or the worst is yet to come and that you are powerless to stop it. It may also indicate total failure, depression, relapse, or a recurrence of issues.
Love – Reversed Ten of Swords
Though previous romantic injuries may have left damages, "The reversed Ten of Swords" in tarot love sense may indicate that you're on the road to recovery.
If you're in a relationship, it's possible that you are at first when broken links with your partner are going to recover. In certain cases, the relationship may have ended, but you have survived.
In certain cases, the relationship may have ended, but you have survived. Even if you are still frustrated and sad, the lessons you have learned from this heartbreak would be obvious. You will most likely be able to grab this chance with greater passion than you have ever shown before.
Career – Reversed Ten of Swords.
The Tarot Card "Reversed Ten of Swords", in a career reading tells about your condition at your workplace, where have reached at the limits of stress , you will reach at the thought of leaving the current job if you do so, than it could be a disaster as you have your own responsibilities. Alternatively, the poor policies or rules and regulations of organization might cause you to lose your temper, where you could take some absent-minded decisions.
If you own a company or organization "The Reversed of Swords "could represent that your organization might be towards shutting down position or will be completely collapsing.
The "Reversed Ten of Swords" could indicate circumstances where you could be just safe of being financially ruined, also in some cases you could financially collapse or bankrupt.
Finance – Reversed Ten of Swords
As per "Reversed Ten of Swords", You may be on the path of financial disaster, but you will escape just by a difference of hair distance. You may be recovering from a financial failure such as a bankruptcy or a divorce, and you will be finally getting back on your feet.
Conclusion
Ten of Swords- As "Yes" or "No" Card
The "Ten of Swords" symbolises a sudden or negative conclusion to some of your life's accomplishments. In other words, it may result in failure, ruin, or death, along with depression and a sense of being broken and crushed by the weight of the world. This card is harsh and aggressive or cruel, so it is a "No" Card.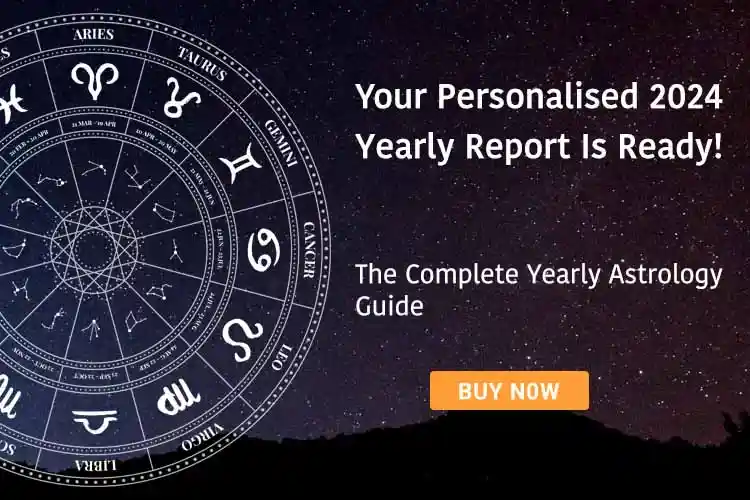 Share Your Problem, Get Solutions