Vastu
Basic Vastu Shastra
Vastu Shastra is an ancient and time-tested Indian technique, an architectural feature that helps create land for houses, dwellings, bureaux, schools etc., in an efficient way. Applying Vastu will make these houses very fun to live and work, for it invokes the Universe's special forces by harmonising natural laws. A designed place or Vastu interior design improves your fitness, income, stability, achievement and satisfaction. It is an essential element.
Are you aware of your home Vastu? If not then it might be the cause of your home-related issues. For more information consult our Vastu Expert.
Vastu comes from architecture, astronomy, astrology, science and is thought to apply ancient mysticism to building and design. So, Vastu will help you solve them and change your life if you are having troubles in your life.
Vaastu shastra has been conceived as an art, is established further as science and translated astrologically as a system-driven approach for safe living. A comprehensive collection of old Hindu rituals. World peace is a burning need of the hour, and it must be responded to by this standard call right when the child is raised, parenting them in a peace-defining atmosphere.
It provides you with a closer look at the Vaastu shastra. In the Universe of Vastu Shastra, you know better where a Vaastu house is suitable. Not just that, but the magnetic energy from the elemental powers will also be the locations selected: the sun, the earth, the sky, the air, and the water.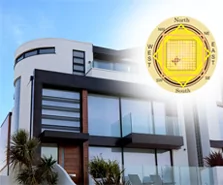 Expert Vastu Consultant Online
A unique Vastu analysis which combines Vastu Shastra and Astrology to provide 100% Personalised Vastu guidance based on your Birth Details and residence Floor Plan, without You having to do any structural changes to your home.
Expert Analysis Of Each Area Of Your Home
Free 15 Minutes Consultation To Vastu Expert
Personalised Remedies & Suggestions
Consult With Our Vastu Expert
Vastu Shastra Architecture
A former Indian science of peace and successful life, Vastu shastra. It is founded on the idea that everything in the world, including the land we build on and the houses we dwell in, has a positive or negative vibration. Architecture based on the vast shastra ideals aims at eliminating negative energy and improving positive energy: constructing a building that is in harmony with the world and provides a healthy, thriving and peaceful existence.
Also Read: Abhijit Muhurat 2024: Dates, Timings & Significance
Disha According To Vastu
According to the Vastu shastra, the entrance and the prayer room are on the North-East – a powerfully charged site – where floating stairs mark the entrance and temple project over the courtyard. The living room is in a double-height environment with a body of water and a more intimate feel in the dining room, with wide sliding doors, which close from the kitchen. "The dining hall, the kitchen, the living room and the backyard, along with a stunning, real and traditional wood scenery, are all different in the nights, with a moonlight and a water body." The architects and customers who are specialist furniture manufacturers are both designed and made.
The staircase ascends in the direction of the clock to the above floors. The southwest master bedroom reflects the Earth aspect and is connected to leadership qualities – for the housemaster. The beds have a great night's sleep in all the bedrooms, and the bedrooms and Bathrooms have terraces, courtyards, gardens or skylights connected to the natural landscape. The media centre covers a broad family terrace, and there is a workshop in the cellar. "We enjoy incorporating light, ventilation and vegetation into all of our projects, and all rooms are illuminated and ventilated, which is of great importance to productivity and good tropical living.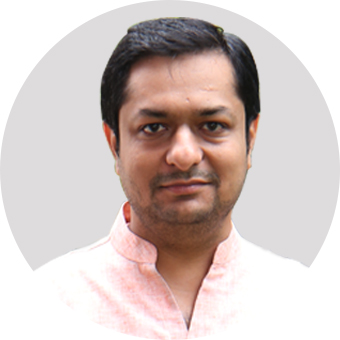 Acharya Bhattacharya
15 Years
Our Vastu Expert
Sri Acharya Bhattacharya believes that Vastu Shastra should be studied in three layers.
a) A study Based Vedic Vastu
b) A Project Based Professional Vastu
c) A Remedy Based Applied Vastu
Sri Acharya Bhattacharya has headed Vastu Project of World's first "Nav Graha & Dus Dikpaal" Temple, at Prerna Raj Vijay Tirth, Sanand-Ahmedabad. The entire temple has been designed by Vastu Principles. Upon his notable contributions to Vastu Shastra, he was given a noble title or upādhi of Bhaṭṭāchārya by saints and priests. Sri Acharya Bhattacharya has been initiated into "SriVidyā" according to "Mahāshodashi Tradition" and under the sect of "Srikul". The initiation has been conducted by the discipline of Vedokt school of "Dus-Mahāvidyā" treatise. Make Payment- Update Your Birth Details & Upload Flor Plan – Get Personalised Report
Vastu Shastra Colours
The colours of our house are selected to improve the architectural appeal of our home. Our range of colours for each room depends on the home's personal favourite or theme and appearance. We don't realise that the colours for our walls represent our inner selves and change our mood unconsciously. This reality, since it affects our personalities, should not be ignored.
According to Vastu Shastra, colours play a significant part in giving equilibrium to our mind and body. The choice of colours stimulates the energy in space and affects the people in the home. For each bed, Vastu proposes those colours. Follow the colours of Vastu, and you can sense the optimistic atmosphere in the room and the flood of good energy. For every room of the building, we have today come up with Vastu colours.
The Hall Colour As Per Vastu
Pink, brown, green, grey and violet are the most suitable colours in the halls. Besides the romantic nuances of love and pleasure, these colours offer peace, comfort, and sleep.
Living Room Colour As Per Vastu Shastra
Our living room serves as an introduction to our personalities. It should be both warm and inviting, as well as bold and lively, full of life. The best colours for a living room are blue, green, yellow, beige, and tan. However, Vastu suggests including a small amount of red in the living room. The whole area would become alive and brimming with new life.
Dining Room Colour As Per Vastu
Pink, blue, orange, grey, or purple are the best colours for the dining room, but only in their lighter shades. Apart from being the romantic shades of love and pleasure, these colours offer tranquillity, comfort and encourage sleep.
Study Room Colour As Per Vastu
Green, brown, lavender, and light purple are suitable colours for the home's study area. If the children's study table is in their bedroom, then use these colours in their room. These colours enhance focus and memory while also making the space more fun.
Children Room's colour As Per Vastu
To make children's space light and colourful, choose every cheerful colour. It's most suitable for orange, pink, brown, grey or lavender. Resist using too much red, as it can be stressful in an offensive hue.
Vastu Shastra & Astrology
The relation between Vaastu Shastra and Astrology is eternal. To put it more straightforwardly, we can explain it by understanding that when the number 'one' is placed before another number 'one', we mark it eleven when the number 'one' is removed from number 'one', we receive a zero. In our case, it means that the concepts of Vaastu Shastra and astrology are also helpful. If an individual has built a building in conjunction with Vaastu and passes astrologically during a favourable time, the combination's effect is compounded. Whether you are wrong or adverse, undesirable influences occur.
The plot's northeast portion is known as the Solar half, while the southwest half is known as the Lunar half. The Solar half should ideally be lower, and the Lunar half should be higher. This allows for the optimal distribution of sun, solar radiation, and polar energy from east to north and water, which flows from west to east and south to north. This style of the plot brings joy and pleasure, happy children, and all of life's prosperity to the people who live in the building built on it.
Avoid plots that are humped in the middle and sloping in both directions. The same is true for a property that is depressed in the middle. Learn more about Land Preparation for Construction.
Vastu Shastra Items
Are you looking for Vastu pieces for your home? Do you want to build a positive environment in your home? Vastu, an ancient architectural practice, recommends using particular objects to increase positive energies in and around the home.
As we are still coming up with useful ideas and advice to help you transform your living room. We're back with another collection of Vastu yantras and things suitable for your house
The smiling Buddha statue is more important in Feng Shui and Vastu. It is more beneficial to have it at home. As it creates a peaceful environment, it also eliminates external forces and brings wealth.
Do you want to balance the Vastu doshas in your home or office? A tortoise kavach yantra will be the ideal treatment. Keeping it in your home or workplace is said to balance the doshas and make the environment more pleasant.
The Gomati chakra tree is an important Vastu object for your house. It is thought to be the home of Goddess Laxmi. It is said to be related to Lord Vishnu because it resembles Sudarshan Chakra. Place it in your home to bring you luck and happiness. Place this tree in the southeast corner of your home or office to remove Vastu doshas.
The horseshoe is the best Vastu object for your house, whether you want to please Lord Shani or offer good fortune. A horseshoe hung at your door, according to astrology, wards off evil spirits and the evil eye.
If your key door faces north, west, or northwest, hang it there. A horseshoe strung with evil eye beads and black string is said to be extremely powerful.
Consult our Vastu expert for Space purification with ancient time-tested Vedic remedies.
The Conclusion
The Vastu Shastra values, which guarantee peace and success in life, have been checked and proven. You can re-create your lives according to your will by upholding those values. All that you need is to adhere and have happy lives.