The Chariot Tarot Card: The Sign Of Dominance And Conquest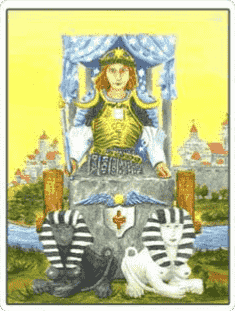 Living the life of a king is a dream of many. The authority and power can be intoxicating. We all like chest-thumping and fist-pumping. The Chariot Tarot is one such Major Arcana card. It is used for divination purposes. It indicates the strong determination and will of the person. It is all about relentlessly moving forward and not giving up in life. Try to be confident and determined. Moving ahead in life by overcoming the obstacles with an optimistic approach will help in achieving the desired goal. It belongs to the Major Arcana brigade. Let us go into a little detail and take a look at the descriptive analysis of the card.
Significance And Meaning Of The Chariot Tarot 
The card shows a person is sitting on the chariot. The chariot acts as a vehicle that is pulled by two sphinxes. One is black, and another is white. The card appearance indicates the cosmic influence it radiates. The person is sitting under a blue canopy donned with white stars. On his shoulder, there is a sign of the moon in a crescent shape that indicates spirituality. He is wearing a crown indicating his Buddha moment, he is enlightened, and the heart is pure. His chest holds a square, resembling earth, that grounds him and his actions.
The two different colour sphinxes indicate opposite forces. They are trying to pull the chariot in the opposite direction. But the person on the chariot should be able to control the situation. The picture resembles the two-dimensional approach of the sphinxes, showing them calmly, but they are always putting pressure on the Charioteer to pull in their direction. The task of the charioteer is to guide these opposing sphinxes in a common direction and reach the main goal. Let us see what it means in an upright and reverse condition.
The Chariot Tarot Upright Card
The upright Chariot tarot card is all about overcoming any obstacles or challenges faced during the journey that delays the victory. The control and confidence will allow you to overcome any opposing and challenging conditions. This will help you to emerge victoriously. The use of energy, power and strength is critical as a lost opportunity will be detrimental to your victory. The chariot is one who carries forward himself through the ups and downs of life and achieves his goals.
The key message the card indicates is that one must be focused, practice patience and be concentrated towards that one goal you want in your life. There will be several distractions and detours in life, but one must not lose hope. If you have something in mind that you are not sure about, then you should stop and think. Structure your way, and you will achieve the medal. In trying to attain destiny, you may show skills and power never heard of, thereby surprising yourself. The competition will bring out the best in you. Aggression is a natural part of the human arsenal but channelling it in the right direction is what makes the charioteer important.
The Chariot Tarot Upright: Love
The Chariot tarot love card indicates the time has come to take a leap in terms of love. The Chariot love indicates that you have a clear mind and you know what you want from your partner. Once you know your end goal, Chariot love asks you to take action. If you take the lead, then you are likely to get the desired results. Courage and determination will lead to success. As there will be an extensive flow of emotions, the card suggests you to balance the energy. The two conflicting sphinxes will try to pull you in an indifferent direction but stay away from conflicting ideas and rather focus on one single point goal. 
If you are in a relationship, then you need to focus on the relationship equation rather than wander aimlessly. You are the master of your own life, and it is up to you to take control or let others take advantage.
The Chariot Tarot Upright: Career
In terms of career, an upright Chariot tarot card will show you the path of success. The ambition to get better will take you far in your profession. The only thing the card suggests is to be focused. You are feeling motivated at work, giving you the key to control and self drive yourself to success. If you are thinking of venturing into new projects or roles, then this card signals this is the time to do it. Regarding the work environment, be clear and stay away from any kind of unnecessary detours. This means you need to stay away from any kind of office politics or even romantic affair.
The Chariot Tarot Upright: Finance
Have you been struggling with finances? The Chariot card indicates the end to the trouble is nearby. You can deal with any financial crisis with thumbs up. The focus and determination will help you overcome the challenges in life. Self-discipline will let you control your monetary expenses and financial situation- all in all, a good time for you to create wealth.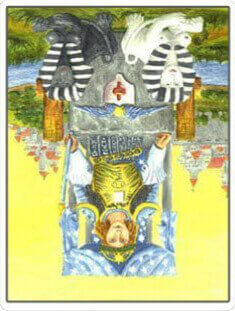 The Chariot Tarot Reverse Card
The Chariot Tarot reversed indicates that you need to be careful about your surroundings. There will be a lack of energy, motivation and willpower. It indicates that you are not focused, and the two sphinx is able to confuse and baffle you from the actual goal. The chariot is thus a reminder for you to stay focused in order to emerge victoriously. The courage and determination will take you far in order to achieve your goal. You must control the nervous energy and recklessness. The card in reverse also indicates that you might not always be in control.
The card also indicates that you are moving without any direction and are at the mercy of the surroundings. This waywardness drains your energy and makes you lethargic. You should stop and think about what you want and what you can do. Let this card serve you as a wake-up call. Worried about your love, career and money? Ask our astrologers and get your answers.
The Chariot Tarot Reverse: Love
The chariot reversed in love means an over attempt to find love. You desperately want to get into a relationship.  This is actually driving you away from real-life aspirations or goals. One has to realise that everything can't be under our control. You might be in a relationship with a person less than perfect. We have to compromise a little so settle the equation. If in a relationship, this indicates that the terms and conditions between the two are not balanced. This is getting out of balance. You may need to work to make things right in love or family. Try to find out the root cause of the disagreement between you and your partner.
The Chariot Tarot Reverse: Career
The Chariot tarot reversed in career indicates there is a lack of drive, innovation and focus in career. This card questions your work ethics and aspirations. Either you are too aggressive or too timid in pursuing your goal. You are waiting for something good to happen or someone to feed you. Remember, spoon- feeding does not work in the long run. If you want to wait passively, then the chances are less likely for you to move vertically in your career.
The Chariot Tarot Reverse: Finance
Make sure you are not rushing into your finances. Pause, do not make any hasty decision to buy something. It is tempting to buy something by comparing yourself with your peers, but what is not needed. Try to reason out between necessity and desire. However, this does not stop you from spending on luxuries. The only thing to be kept in mind is to save first and spend wisely.
The Chariot tarot is all about standing tall, be firm in what you believe. Self-determination and confidence will help you achieve your goal. Staying focus will help you to steer clear of any distractions. Remember, you have all the qualities to succeed, and the only thing you need is to be an able strategist, and victory will soon kiss your feet. Have any doubts about your future? Ask our expert inhouse astrologers.
Learn More About Major Arcana Tarot Cards:
Major Arcana Tarot Cards    |     Minor Arcana Tarot Cards    |     Court Cards/Royal Arcana Tarot Cards

Day Guide
Comprises of events likely to happen, hourly guidance & precise timeframes

Life Meter
Know the percentages of different aspects of your physical and mental state

Compatibility
Check out how well will your wavelengths with others match