Three of Swords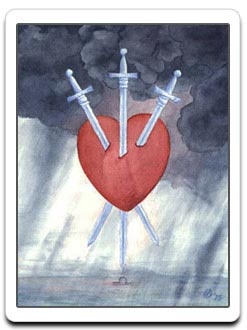 Three of Swords is the third card of the suit of Swords. The Three of Swords could appear to be the worst Tarot card you may have in your reading because many people quickly connect it with future disappointment. The card's representation, however, is much more complex than first appears. 
In Tarot, "Swords" reflect mental activity, passions, intellectual skills, logical methods, and a high level of personality. Swords may often represent a calm, serene, meditative mind, but given that most of us have crazy minds, Swords tend to indicate problems with our thinking.
"Three of Swords" reflects heartbreak. sorrow, anguish, and loneliness and often the split is just temporary, and other times it is permanent. The other cards in the set will clarify why and how this pain occurs, as well as the level to which it affects you. The Three of Swords tarot card will also show old pain that has been buried and needs to be released.
Three of Swords – Tarot Card Meaning
The "Three of Swords" represents a floating heart penetrated by three Swords, making it one of the most well-known tarot images. Heavy clouds appear over it. In the meantime, there's heavy rain. The symbolism is a little uncertain, but it has an immediate emotional impact. "The three Swords" represent the ability to hurt, inflict pain, and cause misery with whatever it pierces. This is a picture of heartbreak, sorrow, and loss. The rain and clouds reflect the situation's strangeness. These symbols direct to the Three of Swords, which represents a difficult time in a person's life.
Three of Swords – Upright
The message of rejection, betrayal, hurt, and discouragement is represented in the "Upright" three of Swords. In times like these, the mind works great. The effect of this pain can be reduced if you can think deeply about it and plan for it. But keep in mind that pain and sorrow are a natural part of life because they teach us to understand the joy and happiness we do have. This helps to learn to prevent errors that could lead to trouble and sorrow by going through pain. As a result, it is a requirement in life's path. In other sense, the "Upright Three of Swords" is a symbol of suffering meant to make us stronger, more cautious, and attentive
Sometimes we are torn down by life. The choice of whether to stay knocked down or rise again, however, that's what determines one's future. Each little bit of suffering you come across is a necessary step to a deeper understanding of the world. This card appears just when you need to get ready for the next phase of your life. Although grief is painful, it allows you to put the past behind you and concentrate on the future, recognising that you are in control of your actions. Focus on what is coming rather than what is troubling you, because you are the one who decides your destiny.
Love – Upright Three of Swords
The image on this card is simple, and the tarot love sense of the 3 of Swords symbolises heartbreak. This will be a time in your life filled with tears, sadness, and heartbreak. If you're in a relationship, this may be a sign of a breakup, a war, or some type of separation. In the worst-case scenario, since this card is a three, it may also mean that a third party is causing damage to your relationship. In order to stay together, you and your partner may have to face challenging issues. The partnership can come to an end if there's not clear and respectful conversations and a willingness to collaborate. 
If you are single, it is likely that your failure to meet people emerges from past depression and pain, past damages have not yet resolved, so take your time before trying to find love again.
Facing troubles with disagreements in your love life? Bring the compatibility back with your Free Love Horoscope.
Career – Upright Three of Swords
As per "Upright three of Swords", Work might be causing you a lot of tension, anger, and depression right now. In the worst-case scenario, it may indicate a sudden job loss or a company's failure. It's more likely to indicate a dispute at work between clients and coworkers. If you are struggling with this, make sure you're having real, open discussions with your colleagues while maintaining a friendly tone. There is a lot where you and your colleagues can learn from each other. If you're looking for work or have recently lost your job, you can feel helpless right now. Don't be discouraged. If you can afford it, now is the time to recover from your distress. It could help you have a more positive attitude about your job search.
Finance – Upright Three of Swords
The "Upright Three of Swords" is not a positive sign in terms of money. You may be struggling with a financial loss or something else that is causing you a lot of stress right now. A separation may have both emotional and financial impacts; you may no longer be able to afford your apartment on your own, or you may have to divide your assets in a breakup. It's easy to get distracted by all of this right now. Make an effort to be gentle with yourself, but don't forget to take care of yourself. You will get through it if you seek help.
Three of Swords – Reversed
When the "Three of Swords is reversed", it means you have recently suffered a loss, a breakup, or a period of sorrow. It may be possible that you are still recovering and that your feelings have just not fully vanished, making it more difficult to move on. Even if you are  still worried about your past pain, this card might be a sign that it's time to let go, and focus on the opportunities ahead of life, because there's a lot to enjoy. Many people are unaware of this, and as a result, they waste a great deal of time in their own suffering, delaying their own recovery. Refresh your feelings and gather your courage rather than focusing on daily activities. The "reversed Three of Swords card" is here to remind you that all difficult times change, that they don't last forever, and that we will rise from our ashes.
Love – Reversed Three of Swords
The "Reversed three of Swords", represents love as the partners may find themselves settling their disagreements and forgiving one another. Although looking ahead, there is a need to repair and past old wounds. Unmarried people also interpret this as the end of their previous disappointment, allowing them to completely enjoy their dating life once more.
This card, on the other hand, may also indicate the extreme opposite. Although the wounds do not heal, they may be hidden, making them strong and irritating. It may be possible that partners won't be able to forgive each other for their mistakes in the past. It's sometimes better for both of you to continue in such circumstances.
Career – Reversed Three of Swords
The "Reversed Three of Swords", represents that things are beginning to look up at the office again. Stressful conflicts are starting to go away, and the mood and overall satisfaction are improving.  It is also possible that your coworkers have moved on from the fight, or that the person who was causing you trouble has left. Instead, everyone at work could be concentrating on forgiving past errors and focusing on the future. Communication has improved, and new procedures may have been implemented to prevent previous blunders.
However, this card may also indicate a change of situations, with people holding hatred and being negative rather than putting problems behind them.
Finance – Reversed Three of Swords
If you have been having financial difficulties, the "Reversed – Three of Swords" may indicate that things are about to get better. You may be restoring your savings or finding yourself in a better, more secure financial situation than before. This card may also mean that the degree of mental disappointment after a financial loss is rising. If you've suffered a significant loss, you can find it difficult to change your spending habits or give up your previous standard of living. When you refuse to consider the reality of your status, you make a tough situation even more difficult.
Conclusion 
Three of Swords – "Yes or No" Card
Again, it's one more "No" card. The presence of pain and suffering is shown by the "Three of Swords", whether it is due to an emotional loss, the end of a significant relationship, or heartbreak due to separation. The inner pain and mental distress that accompany this card, indicate a negative response to your problem.

Day Guide
Comprises of events likely to happen, hourly guidance & precise timeframes

Life Meter
Know the percentages of different aspects of your physical and mental state

Compatibility
Check out how well will your wavelengths with others match