Six of Swords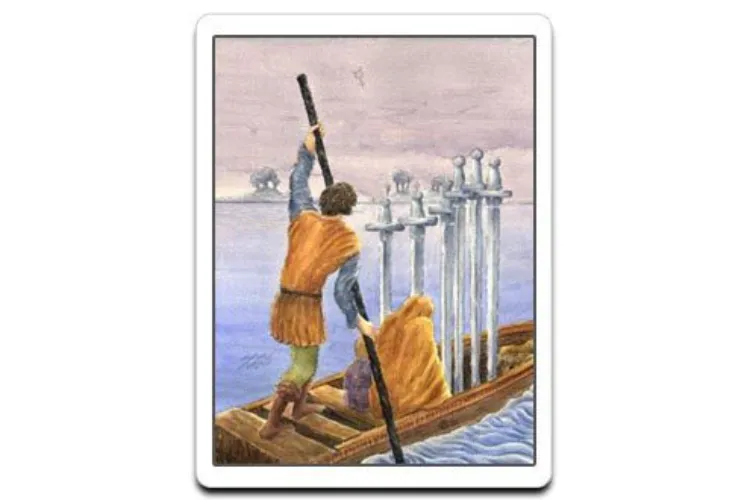 The "Six of Swords" is a tarot card that represents progress and overcoming challenges. It's time to unwind, relax, and refresh your batteries as now the battle has been won. You have faced all hardships in the past, and now you are on your way to recovery. If you've been arguing with a close friend or family member, your attempts to resolve the conflict are about to bear fruit. All you have to do now is believe in yourself and maintain your momentum.
Six of Swords – Tarot Card Meaning
"Six of Swords" in tarot card a woman and a small child are rowed across a body of water towards a neighbouring property. Her head is covered as she turns away from something in her life, meaning sadness or loss. Her child nestles close to her body, seeking protection and warmth. Six Swords are shown in the boat, meaning that the woman and child are carrying memories or baggage from their history into the present. The sea ahead of the boat is calm, while the water to the right of the boat is stormy. According to this imagery, they are fleeing an unstable situation in search of a more secure and pleasant setting.
In a more negative reading, the "Six of Swords" Can predict progress which you did not welcome and changes which you did not ask for. If the Six of Swords has appeared as a negative, weakness, or blockage in a Tarot spread, it could mean that you are the type of individual that we just read. The Six of Swords, on the other hand, can also be interpreted as a negative, implying that the grass isn't always greener. You will meet your goals, but it does not guarantee that everything will go according to plan.
Six of Swords – Upright
The "Upright Six Swords" is that you are undergoing some kind of transformation, but not peaceful and full of regret. This transformation is most probably a product of past actions that now force you to leave something behind to go forward. You must know that moving on is the perfect choice for your future, despite your disappointment.
Life is full of moments where you are forced to let go of things to which you are connected. That will be difficult or sometimes challenging. The Minor Arcana "Upright six of sword" demonstrates the truth that you are feeling sad, but remember the pain will not last long. So, you should be focused on the present and can look for power in the future.
There will be moments in life where the best way to solve a problem is to end it and start new. You may believe that this is the coward's way out, but when all other options have been exhausted, escape is the only option left. The most important thing is to chart a new path that will take you to happiness. In this case, the 'upright six of Swords' means to make plans based on logic, clarity, and objectivity about where you are now, where you have been, and where you want to go. While intuition may be useful, logical thinking is still required to succeed.
Love – Upright Six of Swords
When the "Six of Swords" appears in a love tarot reading, it means that the struggle is over. This can take the form of ending a relationship or reconciling after a difficult chapter in your relationship. In either case, it expresses a desire to move on, from the past and into an uncertain, but brighter future. If you are single, then you might be able to release a part of yourself that's been preventing you from falling in love. If you treat old wounds, the "six of Swords" as a love sense could be a welcoming sight. You might end up letting them go.
Career – Upright Six of Swords
As career is Concerned, You may be putting a difficult work time behind. When you approach a more comfortable work process, you can feel relieved and calm. You should be making steady progress on your projects. These moments, as compared to previous experiences, can be a welcome change. This card may also signify a recent shift in roles or positions to something ideally suited to you.
Finance – Upright Six of Swords
When it comes to Finance, "Upright six of Swords" discloses difficulties that you must have forgone. Things may become more secure for you financially, and you may no longer be under as much stress. Do not forget your financial history as it helps you to keep a check on your bank accounts and help you attain strong footage when it comes to financial matters. We can't always avoid our financial difficulties, so it's best to be responsible so that problems don't recur.
Six of Swords – Reversed
The "reversed Six of Swords" could mean that you have been attempting to step forward and making the necessary transitions. However, you can face difficulties in making this a reality. You can find yourself returning to the past over and over again, whether it's because there are unresolved problems or you have doubts about your choices.
Another "reversal" sense of "Six of Swords" is that you have been avoiding life's transformations. You may feel compelled to make decisions whether you want or not. In this case, you can focus on the advantages of the movements rather than the disadvantages. You must only look forward, not backwards, like a hero in the underworld, because if you look backwards, you might be broken into pieces.
Love – Reversed Six of Swords
The Reversed Six of Swords in tarot love shows that even if you really want to leave behind the past, it will not happen to you. On the other hand, even though you know that escaping the past is the best option, you might be compelled to do so. You may choose to remain in an unloving relationship by recalling happier times. Not being able to move on from a toxic ex or a lack of trust in the past can keep you from completely healing your love life. Find out what connects you, and see how much of a happier future you're prepared to give up for it.
Career – Reversed Six of Swords
Here, "reversed Six of Swords" depicts that whatever you do, how hard, it is difficult to escape your work problems. Stress, battles, and disputes at work can be exhausting and have a negative impact on your mental health. Even though you may want to quit, it seems that you are stuck in this position and are unable to find anything better at this time. This card may also indicate that you are the source of the problem; rather than letting things go, you might be returning to the same issues, holding dissatisfaction, in spite of the willingness of another party to forgive you. Examine your own attitude and defensiveness to see if they contribute to your own stress levels. What are you prepared to give up? If you do manage to leave this job, keep in mind that the same problems can reappear. We can run away from a place or from people, but we can't run away from ourselves.
Finance – Reversed Six of Swords
Are you trying to escape your financial problems right now? When it comes to money problems, there is no way to avoid them. You have no choice but to approach them in person and deal with them honestly and calmly. What seems impossible may appear far more manageable once you have done the hard work of accepting your situation. If you need assistance, look for a specialist who can guide you with your situation.
Conclusion
Six of Swords – "Yes or No" Card
The path to escape through mental clarity is symbolised by the "Six of Swords". It indicates a brighter, more promising future or maybe a time of peace ahead of you. Moving forward could require you to use your logic or natural intellect, but the end result will be positive. The answer is "Yes".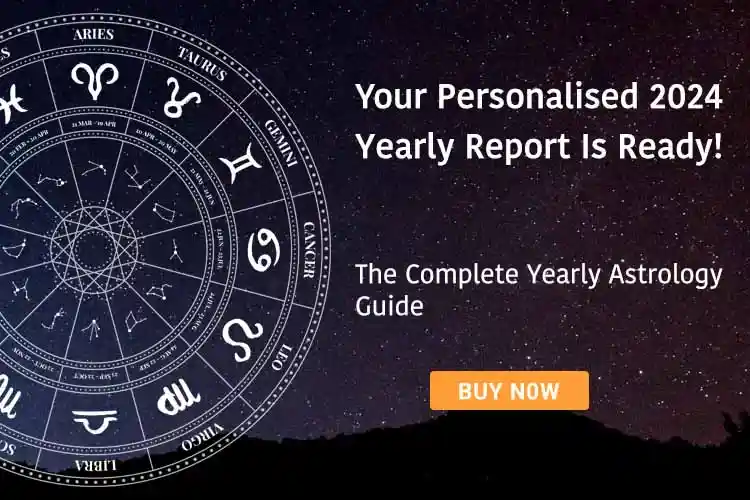 Share Your Problem, Get Solutions