Hermit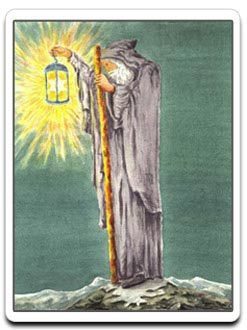 We all have this Buddha moment in life. We feel enlightened, and wisdom flows through our blood. Time has taught us lessons, and now we are more experienced and take measured steps in order to reach our destination. It also indicates that time is slowly healing the wounds of the past. As time goes, you become aware of your future and start to make decisions with all the pros and cons in mind. If you are still confused about whether you have achieved that position in life, then you should draw the Hermit tarot card. This tarot card, the Hermit, is a family member of Major Arcana. It usually connects and resembles the meaning of healing or recovery over time. The Hermit is often considered the mature and wiser version of a sorcerer. Let us see the descriptive analysis of the card.
Significance And Meaning Of The Hanged Man Tarot Card 
The card shows an old hermit standing alone on top of the mountain. The mountain is snow-capped, which indicates his spiritual mastery, growth and accomplishment. He is now on the path of enlightenment and self-discovery. This has awakened his mind, and now he is in a state of heightened awareness. In his right hand, he is holding a glowing lantern with a six-pointed star inside. It is considered as the sign of Solomon, a paraphrase of wisdom. The lamp is in front of the hermit; it helps him in his passage, showing light all the way. But the magnitude of the light is only a few steps, which means he must continue his journey to know where he is going. Everything will not be revealed at once.
He will know things step by step. In his left hand , the hermit is holding a long staff. The staff represents a sign of power and authority. He uses his staff to balance his ordeals. The Hermit tarot card signifies the level of spirituality he has achieved throughout his life. He is now ready to pass on this knowledge to others. He is deeply aware of his goals and committed to them. He is aware about the path he has chosen. Let us see what the Hermit's future tells when it is drawn upright or in reverse.
The Hermit Tarot Card Upright 
Drawing the Hermit in an upright direction indicates his search for knowledge. The hermit, in general folklore, is a person who is a knowledge seeker. He is a lonely wanderer in the path of the night. He is listening to his inner voice, and the search for inner peace will reach its much-needed destination. But to hear his inner voice, he must get disconnected from this outer world. The noise of the crowd may distract him, but he needs to overcome this distraction. He is walking through the darkness with a lantern in his hand. The card suggests the lantern is a sign of wisdom, and in various mythology, it indicates that he is guided by the northern star with his low light. He wants to reach his destination, which is his home.
The Hermit wants to be alone, but he is not afraid to take risks. He is a logical thinker that will help clear all the turbulence in his everyday life. Hermit also indicates to take action with authority and belief in yourself. You are searching for that inner divine advice to seek what is right.
The Hermit Tarot Card Upright: Love
Love is all about emotion, filled with mysteries and is a great teacher of life. If you have drawn the Hermit in an upright direction, meaning in terms of love, you may need some time alone to think and develop an insight before forming a romantic union. This period indicates that you may be feeling lonely, but you are in the right direction if you are searching for love.  However, if you are already in a relationship, then some self-introspection is needed for both you and your partner. You both need to sit and think about your relationship and square on those points that will make you both happy. The initial dialogues can be discomforting, but they will lay a base for a strong foundation.
The Hermit Tarot Card Upright: Career
The Hermit, in terms of career, indicates you are thinking too much about your career. You may feel frustrated and feel that your career path does not resonate with your feelings. The aspiration and the work do not match, and there is a sense of dissatisfaction. Right now, you are trying to find out the way that will fulfil your career aspirations. Think about what you want from the job. If you want to change your career because of money or any kind of financial issues, then you need to sharpen your skills or think about alternate ways of earning. If you want to change your profile because of the knowledge you have, then you may take the help of a career guide.
The Hermit Tarot Card Upright: Finance
As the Hermit is more about spirituality, money will not find a place in your priority list. Money will not bring the kind of joy you want. This is a time where you are likely to spend less time on materialistic gain as you are inclined towards spirituality. This will help in a strong financial base as you will be spending less and saving money.
The Hermit Tarot Card Reverse Card
The Hermit reversed card indicates you might want to be alone. But this loneliness can harm you both spiritually as well as materialistically. This seclusion is not good for you. Though the Hermit is bent on seeking the spiritual answer, this may lead to a path filled with great danger. This loneliness can lead to mental disturbance. You may become mad and suffer from hallucination like a person lost in his dreamy world. The Hermit has his own world and likes to be stuck in his dreamland. The card indicates your balance between reality and dream.
In terms of work, you are likely to get to the bottom of an annoying issue that has been pegging you back in your career. You need to do soul searching, and it will be your responsibility to explain to others about the circumstance you are facing right now.
The Hermit Tarot Card Reverse: Love
The Hermit love in reverse indicates a period of loneliness. This loneliness is forced on rather than your own selection. However, this is an ideal time for you to concentrate on your life goals, and you must clarify with your partner what you want from them and life. These will help in laying a foundation for future relationships. If you are already in a relationship, then you may feel that there is no emotional connection between you and your partners. Despite all your efforts, you are feeling lonely. Attention, care and self-awareness are required to reach normalcy. 
The Hermit Tarot Card Reverse: Career
The Hermit in reversed condition indicates that you want to come out of this period of inspection. You are ready to re-enter this social world with a crystal clear mind in terms of your career. You need to fix your wheel and align its spokes if you are searching for new opportunities. You are ready to rejoin the team at work and looking for mentors. On the other hand, it indicates a period of isolation that can extend further. You may avoid working with people with different thinking. You want to work alone but make sure you get sporadic support in work to achieve your goal. The card indicates loneliness at work, or you might feel like the black sheep of the family.
.The Hermit Tarot Card Reverse: Finance
Nothing changes much in terms of finance. But now you are putting the finance on your priority list also. You may need a financial guide that will help you to overcome your period of contemplation. The material security and gains will be important for you. Try to manage the finances well before it is too late.
The Hermit asks you to slow down and think before charging ahead. It urges you to listen to your inner soul. The card advises you to take off from your burdening lifestyle. The Hermit represents isolation, but one should not misunderstand it for ignorance. Rather the card is a symbol of self-introspection, awareness and intellect. The soul will heal with time. But one should remember time takes its own course, and the only thing we can do is move forward with lighting guidance nearby.

Day Guide
Comprises of events likely to happen, hourly guidance & precise timeframes

Life Meter
Know the percentages of different aspects of your physical and mental state

Compatibility
Check out how well will your wavelengths with others match