Three of Wands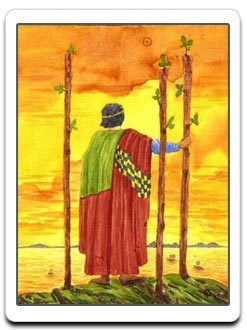 The Buddha moment has arrived. 3 of Wands tarot cards ask you to be calm and meditate peacefully. All of us have several ideas. But it will take time to bear fruit. Three of Wands exactly indicates that same thing. Time is on our site, and as per Irish myth, there is a pot of gold on the other side of the rainbow. Do not force yourself; let the ideas take their own course to shape. While time is taking its own course, sit back, watch nature and wait for the best to happen. Three of Wands belong to the Minor Arcana. Let us see what the narrative description of the card
Significance And Meaning Of The Three Of Wands
The Card depicts a man standing on the edge of the cliff, looking at the water bodies and mountains. He is trying to see everything in front of him. There are three wands planted into the ground. The Wands are firmly grounded, and it surrounds the man. The man holds on to one of the wands. He has left the luxury of castles, as seen in Two of Wands. He is watching the world with open arms. From his high vantage point, he can see the world ahead of him. He is scrutinizing his plans and methods to make them a reality. Let us move forward with the meaning it has to offer when it is upright or reversed.
Upright Three of Wands Card
The upright 3 of Wands signals that you are planning to execute your goal with more dedication and in a methodical way. This indicates that everything right now is going according to your plan smoothly. This is a result for perfect execution and planning. It also indicates that you are creating a base for yourself. The symbol of Three of Wands indicates that the opportunities will come through an expanded horizon. It also indicates to keep your eyes open for any kind of opportunity. As you move forward, you will have more opportunities and your alert level will be sharp.
Upright Three Of Wands: Love
Upright 3 of Wands in love reading means you are heading for the next phase of life. If you are searching for a new relationship or in a potential new one, then you are looking forward to creating a strong base for yourself. This will help in creating an everlasting relationship. If already in a relationship, then this is the beginning of a great phase in your life. There will be good communication, and the couple will work together for a common goal. The transparency level will be at an all-time high. There are chances that you are going to travel places with your partner. If you are single, then you are likely to meet new exciting people.
Upright Three Of Wands: Career
In terms of career, the Three of Wands indicates adventure and new professional experiences. You will get new opportunities in the work area. This will give you a push in your career. You are likely to take a bold approach in your career and the hesitant level will go down. There are chances that you are likely to get an opportunity abroad and likely to travel out of the country. This holds good both in a job as well as business. If you own a business, then you are likely to think about making it global.
Upright Three Of Wands: Finance
The Three of Wands in upright in terms of finance indicates rewards for your hard work. The labour will be rewarded handsomely. Any investment of the past is likely to give you good results. Do not be afraid to spend on the hard money as you deserve it. Broaden your horizon, and you can also plan for a journey. Financial stability has gained strength , and it has made you relaxed. So time for you to enjoy yourself financially with both feet grounded.
Reverse Three Of Wands Card
The Three of Wands reversed indicates that you are taking a course to achieve the goal , but you have still not achieved it. The hope and desire have not met the results you wanted. There could be a roadblock or a speed breaker in your path that is creating the delay. Despite all the negativity, the card is suggesting you work hard and develop your personal skills and strength. The reverse Three of Wands indicates that you need to sit down and plan your future. This can be a time-consuming activity, but this will help in attaining the goals in the long term. Do not get overwhelmed by the difficulties, as this is part and parcel of life. The reverse card gives a signal to the user that it will be a lengthy journey, but on the other hand, the person already knows, and he will take care of the planning.
Reverse Three Of Wands: Love
The Three of Wands Reversed in terms of love means there will be a delay in a relationship. But there will be few embarrassing moments. However, if you are not able to do the right thing, then you might feel like hiding your head in the sand. This is unwise , and instead of running away from the issue, you need to resolve the issue. The course of love will be shaky and will not be smooth. There are struggles indicated in the relationship. Patience is needed to calm the ruffles. Do not force the relationship and check the partner's opinion before committing to a relationship. Relationships are about compromise but make sure the compromise should be realistic.
Reverse Three Of Wands: Career
In terms of career, the Three of Wands in reverse indicate frustration. There will be  stagnation in your work, and you will not get any new opportunities to change your job. Wherever you apply, there will be a rejection, and this will lead to disappointment. It is also like that in the past, you have let go of the opportunity due to overconfidence and now regretting the decision. There will be a lack of growth, and you might get shot tempered and frustrated. There will be bouts of rage. Be calm and show patience.
Reverse Three Of Wands: Finance
Reverse 3 of Wands in finance indicates that you are going through some kind of financial chaos. You might not be lacking the money, but you are not sure how to handle the crunch situation. Better take stock of your financial savings. You may be able to weather this period with a minimum loss if you are aware of your financial matters. Be alert and stay relaxed.
A calm personality is looking at the sea. There is a possibility that the person with this card in his mind is about to take a long journey. This journey will be fruitful, and this will help in sharpening the skills. This card is a positive one and full of optimism. This card represents an advancement in terms of love, career and money. 3 of Wands can give you the Buddha moment in life and give time to think about the future. So take your time and plan well and execute your projects with perfection.

Day Guide
Comprises of events likely to happen, hourly guidance & precise timeframes

Life Meter
Know the percentages of different aspects of your physical and mental state

Compatibility
Check out how well will your wavelengths with others match