Horoscope 2020 Yearly Predictions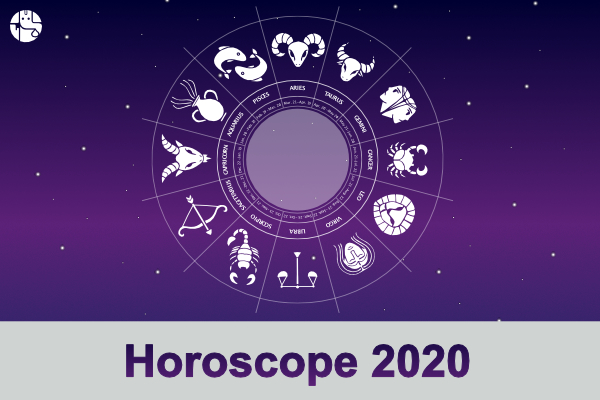 General 2020 Horoscope:
2020 is all set to bring positive changes for all Zodiac signs. Hence, your 2020 will surely be full of positive vibes and happiness. The astrology 2020 predict that the Fire signs (Aries, Leo, and Sagittarius) will experience a lot of excitement, the Earth signs (Taurus, Virgo, and Capricorn) will exhibit logical moves and the Air signs (Gemini, Libra, and Aquarius) will be focused on progress. The Water signs (Cancer, Scorpio, and Pisces) will observe an awakening which will help them find success.
New beginnings are always exciting and we know that you are eagerly waiting for the horoscope 2020. Towards this, our team of experienced astrologers offers you a detailed analysis of your 2020 horoscope.
While the horoscope 2020 promises good times ahead, there are things that may not be under our control and we may have to be more conscious about it. This is why we are here to help you with our 2020 astrology.
The 2020 forecasts will be incomplete if we do not mention about the transits and retrogrades during the year. What will Jupiter, Saturn, Rahu and Ketu transit in 2020 bring for you? The 2020 astrology report highlights the effects of these transits and makes you future-ready to embrace the favourable times and overcome the unfavourable period.
Once you roughly know about the problems beforehand, you can begin dealing with the things that might hamper your progress. Our 2020 Horoscope Predictions will help you out with that.
Your astrology forecasts for the year 2020 predict that you will look at the positive sides of the future. The horoscope for 2020 will include detailed forecasts about the upcoming year for each Zodiac sign. Our expert astrologers are here to make your life simpler by suggesting detailed remedies for your problems along with your 2020 astrology forecasts.
Horoscope 2020 for Aries:
As per 2020 astrology forecasts you will be heading towards something big this year. This is because of the debilitated Jupiter along with Saturn and Mercury which are in the last of the earth sign, Capricorn, and are positioned in the tenth house. This alignment and positioning means that you will achieve something huge, especially on the occupational level. Read More…
Horoscope 2020 for Taurus:
Saturn is housed in its sign Capricorn. While Jupiter and Mercury appear to be slightly weak in the 9th position, there is nothing to worry about. On the contrary, the positioning of planets is favoring you as they are seen to be progressing by leaps and bounds. If you put your heart and work hard towards your goals, you might experience some stark changes. Read More…
Horoscope 2020 for Gemini:
In the Gemini Astrology 2020, from March 23 onwards, Saturn will be seen moving through the ninth position. In this period, you shall find peace of mind and satisfaction. All the efforts that you have been putting in from the beginning of the year will start reaping benefits to your liking. And why won't they? After all, hard work always pays off! At the same time, your spiritual inclination is about to get deeper and serious. Read More…
Horoscope 2020 for Cancer:
Your Cancer Horoscopes 2020 says that, as Saturn and a weak Jupiter, along with Mercury are positioned in the seventh house, it seems to indicate some major changes in your life. As the three major planets move together, they seem to bring with them, a lot of challenges. You will constantly be reminded about the ground reality to keep you rooted. Read More…
Horoscope 2020 for Leo:
Your Leo Horoscope 2020 says that, at the beginning of the year, the Sun, who is the king of the Zodiac, seems to be ruling your sign. The union of major planets is seen to be positioned in the sixth house. This means that major changes could be expected. But along with changes, come newer challenges as well. Challenges could either be in terms of finances or on the work front. But what's important to know is that nothing is lost. Read More…
Horoscope 2020 for Virgo:
As your planetary positions are studied, it can be said that the year 2020 holds some great news for you. A major development has been predicted in terms of your personality. Your Virgo Horoscopes 2020 says that progressive forces are working their charm and can keep you on your toes. As Mercury enters Gemini from around mid of May, the career-oriented and business people seem to have a gainful time coming their way. Read More…
Horoscope 2020 for Libra:
The presence of major planets like Jupiter, Mercury and Saturn in the fourth house denotes that a major change is in the offing. So, get ready to ride the train of success. According to the Libra Horoscope 2020, everything you ever dreamt of might come true. Your hard work and talent will take you places. Financially, things will start looking good. Even your career is all set to take a leap. However, you are reminded that nothing compares to hard work. Read More…
Horoscope 2020 for Scorpio:
According to the Scorpio Horoscope 2020, this year you start on a beneficial front. The ruling planet of your sign; Mars, is in such a position that yields progressive occupational and financial growth to those who belong to the sign. One yearns for financial growth to sustain the upcoming challenges of life, no more worrying about this factor for the Scorpio 2020 Horoscope. Here, two important planets; Saturn and Jupiter along with Mercury align with the earth sign Capricorn. Read More…
Horoscope 2020 for Sagittarius:
According to the Sagittarius Horoscope 2020, the positioning of the planets at the beginning of the year plays a vital role in the overall growth of a person during the entire year. Jupiter, Saturn, and Mercury enter Capricorn. However, Jupiter weakens as it enters Capricorn at the beginning of the year. All the planets are in the second house of the sign and the second house is linked with finances and relationships, as per the astrological findings in your 2020 Sagittarius Horoscope. Read More…
Horoscope 2020 for Capricorn:
As per the Capricorn Horoscope 2020, the planetary positions at the beginning of the year play in your favor. The ruler of your sign; Saturn, seems to be aligned with Mercury and a weak Jupiter. They all get together in the first house of your sign. Here, one can say that the positioning of two planets is highly in your favor for they indicate higher growth. Your patience is boosted and you are likely to mingle with a social circle you didn't feel comfortable with earlier. Read More…
Horoscope 2020 for Aquarius:
As per the Aquarius Horoscope 2020, this year seems to be filled up with adventures and challenges. The ruler of your sign, Saturn, rules Capricorn along with Jupiter and Mercury in the 12th house of your sign. This positioning is predicted to be a tricky one for your sign this year. It can either bring extreme happiness or extreme challenges in your way. You may feel under pressure on the occupational or financial front this year and your progress may be slower than expected. Read More…
Horoscope 2020 for Pisces:
According to the Pisces Horoscope 2020, this year your success depends upon the movement of the planets. It is predicted that the movement of Mercury and Capricorn at the beginning of the year indicates that you are to receive greater monetary gains this year. Of course, you need to promptly respond to opportunities that come your way with regards to finance or occupation. Read More…
With Ganesha's Grace,
The GaneshaSpeaks.com Team

Day Guide
Comprises of events likely to happen, hourly guidance & precise timeframes

Life Meter
Know the percentages of different aspects of your physical and mental state

Compatibility
Check out how well will your wavelengths with others match
Check Articles For Other Areas Of Life as well: