Horoscope 2020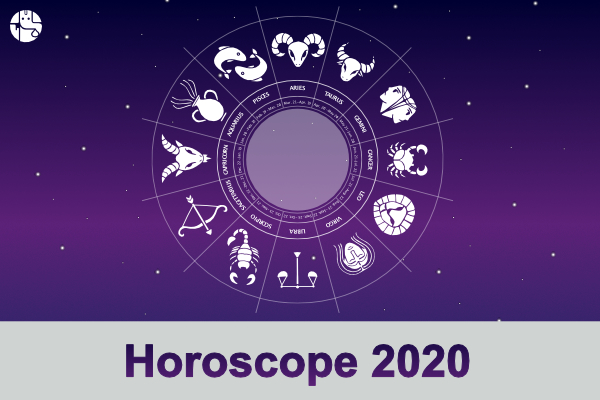 General 2020 Horoscope:
Are you curious about the upcoming year? Have you already searched for the 2020 Predictions? Do you have multiple plans you want to implement in 2020? You are not alone. And our 2020 Horoscope Predictions can help you a great deal!
Every year millions of people make it a point to let the world know that they are planning on making significant changes to their lives (a New Year's resolution). And why does everyone do that? Because the future can be exciting and scary at the same time and this gives us a thrill, as per your 2020 Horoscopes. Most of us do not know anything about our future, hence we make elaborate plans to feel a little more organised. The chaos surrounding one's tomorrow is understandable. Your Horoscope 2020 says that Humans have always desired a hundred percent success in whatever they do. We have n number of ambitions and infinite desires. Our bucket list gets bigger every year. Our drive to evolve makes us extremely interested in the future as well, and that is the same reason why we will provide the futurist predictions 2020 for you!
As per the Horoscope 2020, we are sure that a lot of you have already planned your entire life. You are hopeful about the near future and extremely eager to begin the year 2020. The Horoscope 2020 will surely be full of positive vibes and happiness. Yet, there are things that may not be under our control and we may have to be more conscious about it, which is why we are here to help you with our 2020 Astrology Predictions.
Your Horoscope 2020 says that we all look at the positive sides of the future. But seldom do we even think about the complications one might have, which is, in fact, a part of the reality we live in. Life is pretty unpredictable. One wrong decision can affect everything. The know-how of the future can prevent you from making such terrible mistakes by being more aware of the decision-making process. Once you roughly know about the problems beforehand, you can begin dealing with the things that might hamper your progress. Our 2020 Horoscope Predictions will help you out with that. Not only do we make accurate predictions, but we also try and offer solutions for the said troubles. At GaneshaSpeaks, our expert astrologers are here to make your life simpler by suggesting detailed remedies for your problems.
Leave your worries behind and make your future bright with the help of GaneshaSpeaks' 2020 Zodiac Horoscope Predictions.
Horoscope 2020 for Aries:
As per Astrology Prediction, Yearly 2020 Horoscope for you will be heading towards something big this year. This is because of the debilitated Jupiter along with Saturn and Mercury which are in the last of the earth sign, Capricorn, and are positioned in the tenth house.Read More…
Horoscope 2020 for Taurus:
As per the Taurus 2020 Horoscope, Saturn seems to be housed in its sign which is Capricorn. While Jupiter and Mercury appear to be a little weak in the 9th position, there is nothing to worry about. On the contrary, the positioning of the planets seems to be favoring you as they are seen to be progressing by leaps and bounds. Read More…
Horoscope 2020 for Gemini:
In the Gemini Astrology 2020, from March 23 onwards, Saturn will be seen moving through the ninth position. In this period, you shall find peace of mind and satisfaction. All the efforts that you have been putting in from the beginning of the year will start reaping benefits to your liking. And why won't they? Read More…
Horoscope 2020 for Cancer:
Your Cancer Horoscopes 2020 says that, as Saturn and a weak Jupiter, along with Mercury are positioned in the seventh house, it seems to indicate some major changes in your life. As the three major planets move together, they seem to bring with them, a lot of challenges. Read More…
Horoscope 2020 for Leo:
Your Leo Horoscope 2020 says that, at the beginning of the year, the Sun, who is the king of the Zodiac, seems to be ruling your sign. The union of major planets is seen to be positioned in the sixth house. This means that major changes could be expected. But along with changes, come newer challenges as well.Read More…
Horoscope 2020 for Virgo:
As your planetary positions are studied, it can be said that the year 2020 holds some great news for you. A major development has been predicted in terms of your personality. Your Virgo Horoscopes 2020 says that progressive forces are working their charm and can keep you on your toes.Read More…
Horoscope 2020 for Libra:
The presence of major planets like Jupiter, Mercury and Saturn in the fourth house denotes that a major change is in the offing. So, get ready to ride the train of success. According to the Libra Horoscope 2020, everything you ever dreamt of might come true. Your hard work and talent will take you places. Financially, things will start looking good.Read More…
Horoscope 2020 for Scorpio:
According to the Scorpio Horoscope 2020, this year you start on a beneficial front. The ruling planet of your sign; Mars, is in such a position that yields progressive occupational and financial growth to those who belong to the sign. One yearns for financial growth to sustain the upcoming challenges of life, no more worrying about this factor for the Scorpio 2020 Horoscope.Read More…
Horoscope 2020 for Sagittarius:
According to the Sagittarius Horoscope 2020, the positioning of the planets at the beginning of the year plays a vital role in the overall growth of a person during the entire year. Jupiter, Saturn, and Mercury enter Capricorn. However, Jupiter weakens as it enters Capricorn at the beginning of the year. Read More…
Horoscope 2020 for Capricorn:
As per the Capricorn Horoscope 2020, the planetary positions at the beginning of the year play in your favor. The ruler of your sign; Saturn, seems to be aligned with Mercury and a weak Jupiter. They all get together in the first house of your sign. Here, one can say that the positioning of two planets is highly in your favor for they indicate higher growth.Read More…
Horoscope 2020 for Aquarius:
As per the Aquarius Horoscope 2020, this year seems to be filled up with adventures and challenges. The ruler of your sign, Saturn, rules Capricorn along with Jupiter and Mercury in the 12th house of your sign. This positioning is predicted to be a tricky one for your sign this year. It can either bring extreme happiness or extreme challenges in your way.Read More…
Horoscope 2020 for Pisces:
According to the Pisces Horoscope 2020, this year your success depends upon the movement of the planets. It is predicted that the movement of Mercury and Capricorn at the beginning of the year indicates that you are to receive greater monetary gains this year. Read More…
With Ganesha's Grace,
The GaneshaSpeaks.com Team
Check Articles For Other Areas Of Life as well:

Marriage Horoscope 2020

Career & Business Horoscope 2020

Finance Horoscope 2020

Health Horoscope 2020

Love & Relationship Horoscope 2020

Education Horoscope 2020

Wealth Horoscope 2020

Day Guide
Comprises of events likely to happen, hourly guidance & precise timeframes

Life Meter
Know the percentages of different aspects of your physical and mental state

Compatibility
Check out how well will your wavelengths with others match