Tamil New Year 2023: Significance, Important Dates, Rituals & More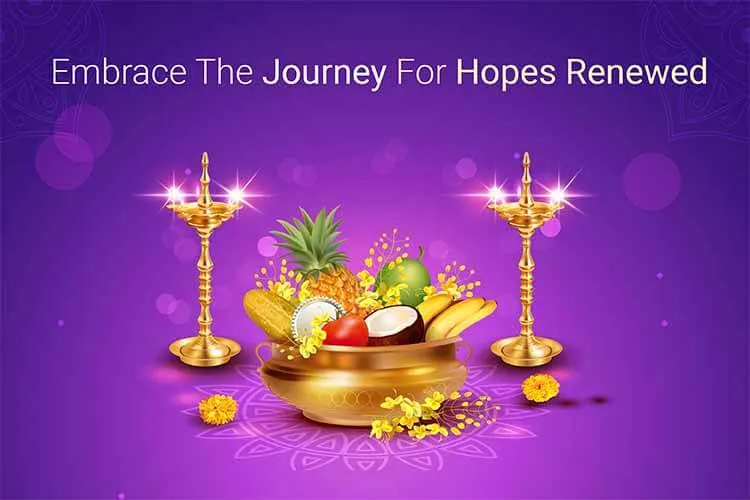 The diverse cultures in India are celebrating their new year occasions and follow their rich customs. So now it's time to celebrate Puthandu, the Tamil New Year! Yaas, Chithirai, the first day of the Tamil month is when the festival occurs and is also well-known as Varusha Pirappu.
---
Tamil Puthandu Or Tamil New Year 2023 Date And Tithi Timing
In Tamilnadu, this is the day when Sankranthi takes place between the period of sunrise and sunset. In case Sankranthi occurs post-sunset, the new year commences on the next day. This year Puthandu will occur as per below date:
Tamil Shaka Samvata: 1945 Puthandu or Tamil New Year: 14th of April, 2023, Friday
---
Significance Of Puthandu Festival
Puthandu is celebrated among the Tamil community as the day of the Universe's creation by Brahmadeva. Whereas, some people also believe that the 'Prince of Harmony', Indradev visited Earth on this day to ensure peace and contentment. Hence, this day is considered to be a highly favourable and significant day of the year.
The Tamil New Year calls for feasting and merrymaking in Southern India, mainly in Tamilnadu. People observe the day with colossal joy and hope to mark the new cycle of good fortune and prosperity in their lives. Many also regard it as an extremely auspicious day to start new endeavors or businesses.
Tamil New Year Fact 1: On the day of Tamil New Year, the Sun's position would be midway across the earth between the southern and northern hemisphere. This symbolises the balance between people and nature.
Even in Sri Lanka, Puthandu is celebrated almost on the same day each year. This renowned festival is attached with many key references. A poet named Nakkirar had stated that the Sun moves from Mesha Rashi or Chitterai through 11 signs of the zodiac. Kudulur Kizhaar considered the Aries zodiac sign as the start of a New Year.
---
Tamil New Year Celebrations & Rituals
Puthandu, the day of new beginnings, is considered noteworthy in terms of renewing of hopes and affectionate bonds. The festivities of the event begin with religious ceremonies to maintain the sacredness of the festival.
'Kanni' is a well-known custom followed one day prior to the rituals, which is called as an auspicious first sight of the New Year. A plate filled with jewelry, fruits, betel leaves, cash, flowers, and a mirror is decorated and kept to ensure that it is seen at first. It is believed that sighting this 'Kanni' at first invites prosperity and happiness in the upcoming Year.
People embellish their homes and surroundings with 'Kolam' made of powdered rice flour. A lamp known as 'Kuthuvilakku' is kept in the middle of this rangoli or Kolam, which signifies the eradication of darkness from one's life.
Everyone wears new clothes of bright colour and they greet each other with good wishes of 'Puthandu Vazthukal' or 'Puthandu Pirappuv', meaning 'Happy New Year'.
Tamil New Year Fact 2: Tamil New Year follows a 60-year cycle. The current cycle is from 1987 to 2047.
People eat vegetarian food on this pious day. Tasty dishes like Aluva, Asma, Kokis, Aggala, Atirasa, and Kevum are made before the New Year starts. These are the main items cooked during Tamil New Year. Other delicacies like Mango pachadi (a mixture of jaggery, chillies, neem leaves, salt, flowers, and tamarind), appalam, payasam, coconut milk, paruppu vadai, aviyal, curd, and veppam poo rasam are also prepared
Children are given gifts and cash as blessings from elders.
Devotees gain divine blessings by visiting temples and paying reverence to deities. A few Tamilian families also perform holy rituals such as 'Tharpanam' for the salvation of their ancestors' departed souls.
Book an online Puja ritual done by renowned Pandits to remove negativities from your life.
The highlights of Puthandu include arranging a car festival at Tiruvidaimarudur, and the glorious marriage of Meenakshi Devi to Lord Sundareswarar in the popular temple of Madurai.
---
Wrapping Up
The grand festival of Puthandu, the first day of the Tamil New Year is observed with much gusto and traditions. It is also a day of New Year celebration across various other regions of India, but with distinct names. Vishu in Kerala, Pana Sankranti in Odisha, Baisakhi in Punjab, and Pohela Boishakh in West Bengal are the ones celebrated on the same day. Indeed, India is a land of great diversity and magnificence, isn't it!
Puthandu vaazhthugal! Wish you all a Happy Tamil New Year.
Attract Good Luck With Your Personalised Horoscope On The Auspicious Day Of Puthandu! – Get Your First Consultation with 100% Cashback!
With Ganesha's Grace,
The GaneshaSpeaks.com Team
Astrologers trained by Shri Bejan Daruwalla.
---
---
Get 100% Cashback On First Consultation