Chinese Zodiac of The Year 2021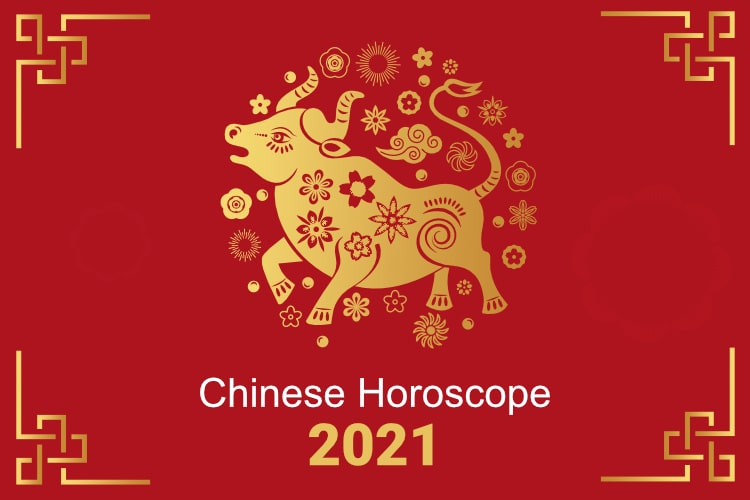 The Chinese Zodiac is a 12-year repeating cycle, with an animal represented every year and its reputed attributes. The 12 Chinese horoscope animals are: rat, ox, rabbit, Dragon, snake, horse, goat, monkey, rooster, dog, pig. 2020 is the Year of the Metal Rat, starting from 25 January 2020 and ending on 11 February 2021. It is a Golden year for the Rat. Beginning on February 12 and concluding on January30, 2022, will be the year of the Ox. The year 2020 is quite challenging, obstacles and unpredictable situations tend to take place. The top most priority of Rats must be to grab advantage of all the chances appearing throughout the year. We highly recommend you to strike while the iron is hot. Missing the boat would lead your hands empty from all the opportunities. This year is filled with ups and downs, but always keep this in mind, nothing of worth ever comes easy. Have enough faith in yourself and deal with the situation with true wisdom. 
Chinese New Year
Chinese New Year celebrations, also known as the Spring Festival, begin in China on the 23rd day of the 12th lunar month of the Chinese calendar. The festival lasts for approximately 23 days, concluding on the 15th day of the first lunar month of the next following in the Chinese calendar. A bit Similar to Diwali, chinese people clean their homes, put up the red posters with poetic verses on it to their doors, reunite with relatives and family, set off firecrackers, & much more. According to historical sources, the day that Shun, one of the ancient Chinese mythological emperors, came to the throne more than 4000 years ago, he led his ministers to worship heaven and earth. From then on, the day was known to be the first day of the first lunar month in the Chinese calendar. This is the fundamental origin of the Chinese New Year. 
Twelve Chinese Zodiac Signs
There are 12 Chinese Zodiac Signs. These 12 animal symbols are the very foundation of Chinese Astrology. These animal symbols include Rat, Ox, Tiger, Rabbit, Dragon, Snake, Horse, Goat, Monkey, Rooster, Dog, and Pig. In some texts, Goat may be termed as Sheep, while the Pig may be termed as Boar. Each of these animal symbols are assigned certain years, and hence it's one's year of birth that essentially decides one's Chinese Sign. Moreover apart from the years, other chronological elements including months, days, and hours are also assigned to these 12 animal symbols. Besides the aforementioned aspect, the balance theory of Yin-Yang, Wu Sing teachings and five elements – metal, wood, fire, earth, air and wood are also a major part of this discipline. As per the Chinese astrology, all of these aspects can be used to define the past, present and future of a person, and can be used to come up with powerful and accurate predictions of a person's personal characteristics as well as the future.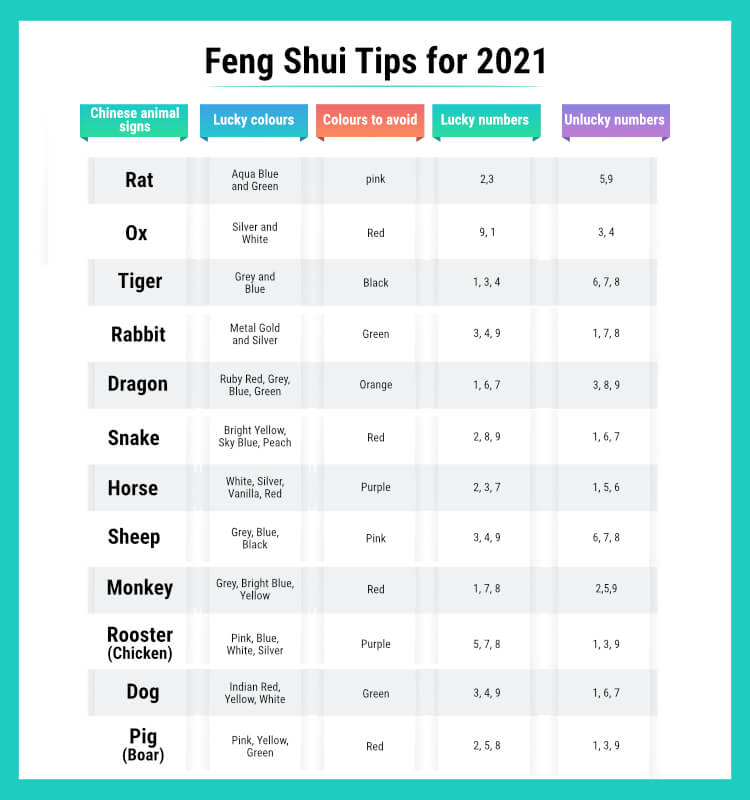 Rat Chinese Horoscope 2021 
The first sign, Rat, likes saving and collecting. They hardly have hard times financially as they live a well planned and organized lives. They are usually successful, when they take risks. Read More…
Ox Chinese Horoscope 2021
 Here, people are hard workers as they have a great sense of responsibility. They are peaceful souls who keep their emotions bottled up inside. They go bananas when they lose their temper. Read More…
Tiger Chinese Horoscope 2021
People born in the year of the Tiger, carry high self esteem & are independent. They are basically 'M.S. Dhoni', who enjoys being a leader, backing an average person, lover of justice, and never backing down in an argument. Read More…
Rabbit Chinese Horoscope 2021
You will find gentle, quiet and polite people here. Same pinch to tiger? Not exactly similar though! Their sense of duty and attention to detail leads to tremendous career achievement. Read More…
Dragon Chinese Horoscope 2021 
A personality that is hard to understand. They may seem lazy, but they will be more ambitious and vigorous than anyone else if they plan to do something. Read More…
Snake Chinese Horoscope 2021
People born in the year of Snake are said to be meticulous planners, careful strategists, sympathetics and beautiful too. They are often quiet, selfish, vain, and a bit stingy. Read More…
Horse Chinese Horoscope 2021 
Here, people are always energetic and positive, pushing themselves ahead. They enjoy having freedom to do what they like. Believe or not, horses are bad at keeping secrets and lose interest soon. Read More…
Sheep Chinese Horoscope 2021
Goats have a pure & kind heart. They'd rather quietly suffer than argue and spoil the mood with someone else. They can do any fair thing in order to achieve their goals. Read More…
Monkey Chinese Horoscope 2021
People born in the year of the Monday do things that they like. They are super good at valuing relationships. Spoiling kids, however, may be their weakness. Read More…
Rooster Chinese Horoscope 2021
Born in this year are deep thinkers, talented and capable. They have this habit of thinking that they are always right. Also, they are most compatible with Ox, Snake, and Dragon. Read More…
Dog Chinese Horoscope 2021
We can easily say that people born in the year of Dog are conservative and pillars of justice. Dogs are respected at the office because of their loyalty. Read More…
Pig Chinese Horoscope 2021
Pigs are not very good in communications, but they are kind by nature. Most of them are super wealthy. Surprisingly, their only obvious fault is they are short tempered. Read More…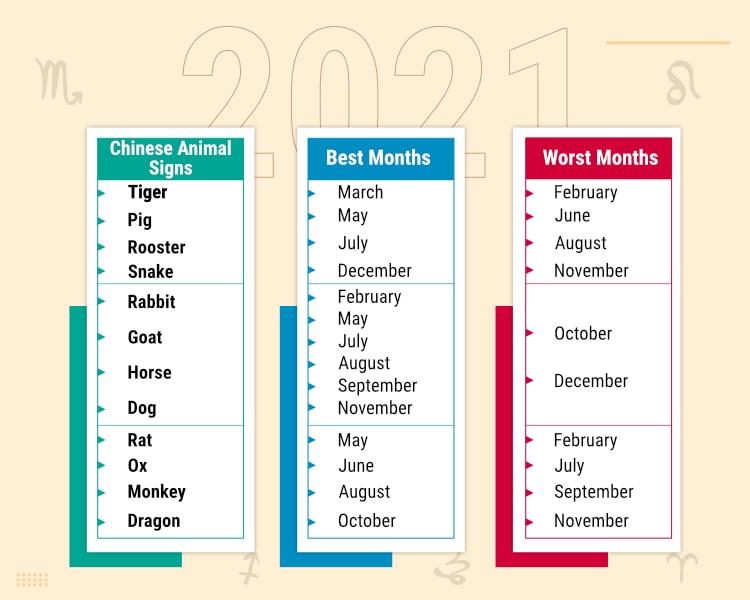 Upcoming Chinese Year
The Chinese New Year of 2021 will take place on the 12th of February and the festival will run until the 26th of February for a total of around 15 days. From then on, a year of the Ox will begin. Those who are born in the year of the Ox are said to be determined, conservative, and strong. Their compatibility sets with those who are born under the year of Rat, Monkey and Rooter. Also, they are least compatible with Tigers, Horses and Goats. They believe in themselves more than anyone, but are also stubborn. 

Ox Years: 1901, 1913, 1925, 1937, 1949, 1961, 1973, 1985, 1997, 2009 & 2021
With Ganesha's Grace,
The GaneshaSpeaks.com Team

Day Guide
Comprises of events likely to happen, hourly guidance & precise timeframes

Life Meter
Know the percentages of different aspects of your physical and mental state

Compatibility
Check out how well will your wavelengths with others match