Gangaur 2023: The Favourite Festival Of Women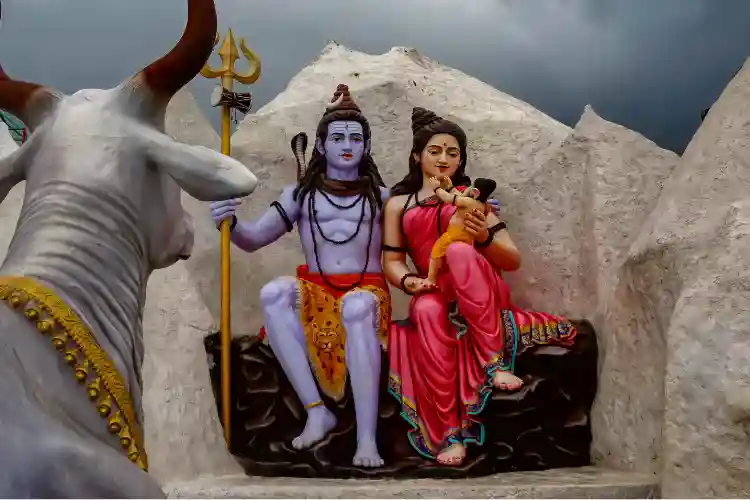 Gangaur festival is one of the most colourful and prominent festivals of Rajasthan. Along with Rajasthan, Gangaur is also celebrated in Uttar Pradesh, Madhya Pradesh, Haryana, and Gujarat.
As the name suggests, Gangaur-Gana stands for Lord Shiva and Gaur for Gauri or Parvati. The festival is celebrated in the glory of the companionship of Lord Shiva and Goddess Parvati.
Both married and unmarried women take part in the festival vigorously. Married women worship Gauri for their husbands' well-being and happiness, whereas unmarried women worship her to find a doting husband.
Goddess Parvati is considered the epitome of grace, wife, marital love, and perfection. Hence, Gangaur holds a lot of importance for women.
---
Mythological Significance of Gangaur Festival
There's an interesting Vrat Katha behind the Gangaur celebration, which narrates Lord Shiva and Goddess Parvati went on a small trip accompanied by Narad Muni. When they reached the nearby forest, everybody got excited and happy upon the arrival of the divine guest. Women of the low class came with their offerings and worshipped them. Goddess Parvati, Lord Shiva, and Narad Muni enjoyed and relished the food. Goddess Parvati was extremely happy with the warm welcome and blessed the women by sprinkling the suhagras on them. After some time, women of the upper class came with their offerings and worshipped Shiva and Gauri. Both Goddess Gauri and Lord Shiva happily ate all the delicious dishes. Once they finished eating, God Shankara asked Gauri what would she bless them as every bit of suhagra was over while sprinkling on the previous group of women. To which Parvati cut her finger and sprinkled her blood on this group of women.
Since then, the festival of Gangaur has been celebrated with full devotion and fervour by the women to appease Goddess Gauri and Lord Shiva and seek their blessings.
---
Gangaur Festival 2023: Puja Timings of Gauri Tritiya
Gangaur Puja: Friday, March 24, 2023
Tritiya Tithi Begins – March 23, 2023 at 06:20 PM
Tritiya Tithi ends – March 24, 2023 at 04:59 PM,
The Gangaur festival starts on the first day of Chaitra and is celebrated for the next 18 days. Gangaur 2023 will fall in the Krittika Nakshatra as per the Hindu calendar.
Another mythological story associated with Gangaur states that Goddess Parvati had observed atonement to win over Lord Shiva. As a result of her penance, she got married to Lord Shiva. Later, when she came to meet her parents, she blessed the women and girls there with marital bliss. After 18 days, she was given a grand farewell by her family on her departure. Since then, it has been a ritual in Gangaur to worship Goddess Parvati and to bid her goodbye.
---
Fun Gangaur Celebrations
The colourful, lively, and vibrant affair of the Gangaur festival lasts for 18 days!
The celebration reaches its peak during the last three days when women participate in the procession dressed up as Gauri. They carry ornamented idols of Gauri on their heads, accompanied by Local bands and folk music.
Idols of Gauri are made of clay for the festival, and Wooden Isar Gangaur is also widely seen.
Adding glory to these grandeur celebrations are elephants, chariots, and bullock carts decorated to royalty.
Rajasthan is a state which celebrates Gangaur to the zenith. In the Pink City Jaipur, the procession starts from Zenani Deodi and moves along Tripoli Bazaar, Chaugan Stadium, connecting to Talkatora.
Whereas, in the city of lakes, the celebration includes a boat procession concluding with a majestic display of fireworks.
Are career struggles not letting you enjoy festivals. Well, worry not! You can now flourish in your career with your Free 2023 Career Horoscope!
---
Gangaur Festival Food: Fasting and Feasting
Women fast for 18 days during Gangaur and consume one meal a day during the fast. The meal consists of sweets, milk, fruits, and various snacks prepared at home.
Whereas, the options are endless for the ones feasting, as there are a variety of food items to relish. Mehendi on hands and feet is a part of Traditional Gangaur, so women keep varied designs of Mehendi including floral design, geometric shape, peacock design, or Sun/Moon. Ghevar, kheer, barfi, and multiple other savouries and sweet snacks are available.
Sweets are also offered as prasad or to the devotees after the puja.
Get home the blessing of both Lord Shiva and Goddess Parvati to find a suitable partner with Parvati Swaymvar Yantra.
---
Rituals of Gangaur Pooja and Festival
On this day, women wake up early, bathe and worship the clay deities. Also, they light lamps, offer flowers and sweets.
It is believed that Lord Shiva and Goddess Parvati reunited on this day after the temporary long sacrament.
Women take circles of the holy bonfire, pick up some burnt ashes, and soak barley and wheat. The seeds germinate by the time the festival starts.
On the 7th day after Holi, unmarried girls carry the Ghudlias on their heads. (Ghudlias are earthen pots with numerous holes that have a burning lamp kept inside them.)
Is Marriage on the card in 2023? Find out auspicious timing and marriage yoga with your Free Janampatri Report!
---
Gauri's Departure
Girls and women dress up the idols, married women carry Goddess Gauri's idol on their heads and sing departure songs in the procession held during auspicious hours.
The first two days, the Idol of Devi Parvati is brought back home. On the third and the last day of the procession, women move the idols placed on their heads.
On this day, Bridegroom-Shankara accompanies his bride Devi Parvati to heaven. A teary farewell is given by devotees, hoping to celebrate Gangaur with more vigour and grandeur coming year
Want to get married in 2023, well check out all the Auspicious Wedding Dates in 2023
---
Harvest Festival
Gangaur is also a celebratory festival that marks the arrival of Spring and Harvest.
It is altogether a very grand and colourful event. Many tourists from around the world gather to watch the festivities, decorations, processions, and rituals!
We wish you all a very Happy Gangaur. Enjoy Spring, festivities and relish on the delicacies prepared during the festival.
May Lord Shiva and Goddess Parvati bless you with good health and prosperity.
Attract Good Luck With Your Personalised Puja On The Auspicious Day Of Gangaur – Get First Consultation with 100% Cashback!
With Ganesha's Grace,
Astrologers trained by Shri Bejan Daruwalla.
---
---
Get 100% Cashback On First Consultation