Chaitra Purnima 2023 – Celebration Date And Time, Importance And History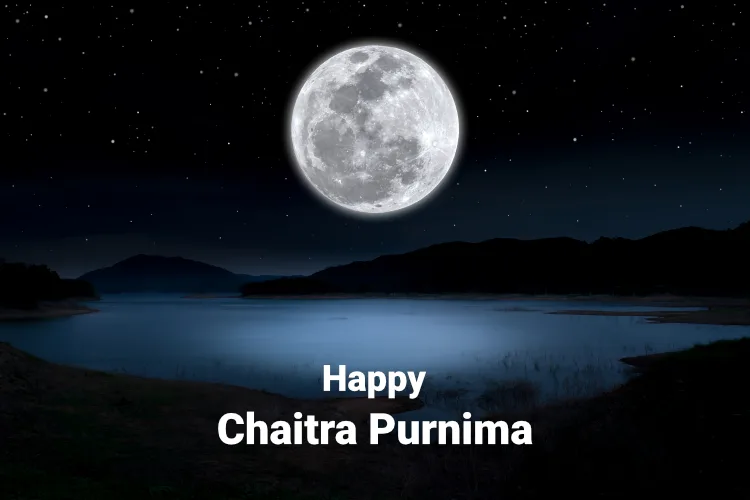 Chaitra Purnima 2023 – Date, Time, Rituals And Significance
Chaitra is a Sanskrit word that means When the Sun is in an exalted position in the sign of Aries, and the Moon is aligned with the bright star Chaitra in the constellation of Libra, it is known as Chaitra Purnima. The Full Moon is a powerful period for manifestation and creation. It's at this point that the mind starts to balance its various idea types. The exalted Sun in Aries energises the soul and empowers us to make good "karmic" choices that determine the course of our current lives as well as the lives to come.
Chitragupta, the Keeper of Deeds, considers Chaitra Purnima to be a sacred day. Chitragupta, according to legend, maintains track of our good karma against our bad karma and reports the results to Lord Yama. Through the Sun God, Lord Brahma created Chitragupta. He is Lord Yama's younger brother. The days of the full moon are auspicious for obtaining Chitragupta's blessings. It cleanses the soul of all sins and aids in the acquisition of virtue for the hereafter.
Chaitra Purnima is being observed this year on April 6. Chaitra Purnima is the Hindu calendar's name for the Purnima tithi that falls in the Chaitra month.
---
Chaitra Purnima's special muhurat:
Chaitra Purnima on Thursday, April 6, 2023
Purnima Tithi Begins – 09:19 AM on Apr 05, 2023
Purnima Tithi Ends – 10:04 AM on Apr 06, 2023
---
Chaitra Purnima Significance
Yamaraj's scribe, Chitragupta, is famous for keeping track of the number of births and deaths throughout the year. He also keeps track of the positive and bad karma. Chitragupta's records determine whether we are rewarded or punished after death.
For Hindus, Chaitra Purnima is significant because it is a time to reflect on our words and acts, as well as to forgive and forget. Devotees also pray to God for the forgiveness of their sins so that they can live a more upright life. Hanuman Jayanti falls on the same day as Chaitra Purnima. As a result, it's a lucky day.
---
Chaitra Purnima Legend
Brihaspati is Lord Indra's mentor, according to Vedic tradition. Indra had once disobeyed his mentor. As a result, Brihaspati temporarily delegated his advisor duty to Indra to teach him a lesson. Indra did a lot of bad things while Brihaspati was away. When Brihaspati returned to his duties, Indra inquired as to what he should do to expunge the bad karma. Brihaspati told Indra to go on a pilgrimage.
Bad Karma can also result in the Dosha in your Kundali. Access your Personalised Janampatri to know if you have any!
While on the pilgrimage in Madurai in South India, Indra felt as if many of his sins had been lifted from his shoulders. Lord Indra later discovered a Shiva Linga there and credited this Shiva linga with the miracle, building a temple on the spot. Lord Shiva created Golden Lotuses in a nearby pond while Indra was worshipping Shiva Linga. Lord Indra was happy and bestowed blessings. Chaitra Purnima was the day on which Indra worshipped Shiva.
---
Happy Chaitra Purnima – Rituals And Celebrations
The first and most important practice on Chaitra Purnima is to rise early and take a holy wash in a sacred river before sunrise.
Devotees are required to worship and give prayers to Lord Vishnu and Lord Hanuman after taking the holy plunge.
Lord Vishnu is worshipped, and devotees observe a 'Satyanarayana' fast. They must recite the "Satyanarayana Katha" and prepare sacred food to be offered to the deity. Fruits, supari, banana leaves, moli, incense sticks, and sandalwood paste are offered to Lord Vishnu, and elaborate arrangements are made at various temples during Satyanarayana Puja.
In the evening, the religious practice of offering 'Arghya' to Moon God is conducted as part of the ritual.
On this day, reading sessions for the Bhagavad Gita and the Ramayana are considered important rituals.
On this day of Chaitra Purnima, individuals also execute a variety of donations and charity work, including providing food, clothing, money, and other necessities to the destitute as part of the 'Anna Daan' tradition.
---
Chaitra Purnima – Vrat Vidhi
People get up early on this auspicious day of Chaitra Purnima and take a sacred bath before daybreak. The devotees worship and pray to Lord Vishnu and Lord Hanuman after taking the holy plunge.
The 'Satyanarayana Katha' must be recited by devotees who observe a 'Satyanarayana' fast. People also perform various donations and charity activities on Chaitra Purnima. It is thought that by performing charitable acts and making charitable donations on this day, one is absolved of all current and previous sins.
On this day, reading sessions for the Bhagavad Gita and the Ramayana are considered important rituals. People recite the Hanuman Chalisa because Hanuman Jayanti is also celebrated on Chaitra Purnima.
Individuals then donate food and clothing to those in need.
---
Chaitra Purnima (Chaitri Poonam 2023) – Auspiciousness
In Hinduism, Purnima (full moon day) is considered auspicious. On all Purnima Tithi, many Hindus fast. After Ugadi, Gudi Padwa, and Vaisakhi, Chaitra Purnima is the first Purnima in the Hindu Panchang.
As previously said, Chaitra Purnima is also known as Cheti Punam. This fast assists a person in receiving Lord Satyanarayan highest blessing.
It is also said that a local who observes the Chaitra Navratri fast sees his or her unfulfilled wishes come true. It also aids in the removal of all hardships and aches from one's life.
Worried about hardships or stuck in them? Take a call today and Consult an Astrologer.
---
Festivals Of Chaitra Month
The arrival of spring is also related to the month of Chaitra. Holi, the spring festival of colour, is observed on the full moon day (Purnima) of Phalguna, the month before Chaitra, exactly 6 days after the Chaiti festival.
Chaitra is the first month of the year in lunar religious calendars, beginning with the new moon in March/April. The first of Chaitra – known as Gudi Padwa[3] in Maharashtra, Chithirai Vishu or Puthandu in Tamil Nadu[4], and Ugadi in Karnataka and Andhra Pradesh — is celebrated as New Year's Day.
Chaitra Navratri, Ram Navami, the birth anniversary of Lord Ram, which falls on the 9th day of Chaitra, and Hanuman Jayanti, which occurs on the last day (Purnima) of Chaitra, are all prominent festivals in the month. People in Bengal celebrate Charak Puja. During this month, Madurai hosts the world-famous "chithirai thiruvizha," which takes place on the banks of the Vaigai River.
Chitterai is the first month of the Tamil calendar, beginning with the Sun's arrival into Aries in mid-April.
The Tamil word "chithira pournami" means "full moon day," and it is an auspicious day for Amman.
Chaitra is regarded as a very auspicious month, as it was during this month that the universe was first created.
"Chaitra," which means "Spring" or "Aries Sign," can also be used as a name.
The god Brahma created the cosmos on the first day of Shukla paksha (first fortnight / first half of the month) in the month of Chaitra, according to the Sloka Chaturvarga Chintamani. Planets, stars, ruthu (seasons), years, and lords of years were all gradually added.
The fifteen days of Shukla paksha in this month are dedicated to fifteen deities. A different god is honoured on each day of the month.
May a festival to keep a fast and get the blessings of Lord Satyanarayana to bless all of us equally and bring an auspicious time ahead. Best wishes!
Attract Good Luck With Your Personalised Horoscope On The Auspicious Day Of Chaitra Purnima! – Get Your First Consultation with 100% Cashback!
With Ganesha's Grace,
The GaneshaSpeaks.com Team
Astrologers trained by Shri Bejan Daruwalla.
---
---
Get 100% Cashback On First Consultation