Cheti Chand 2023 – Know Everything About Sindhi New Year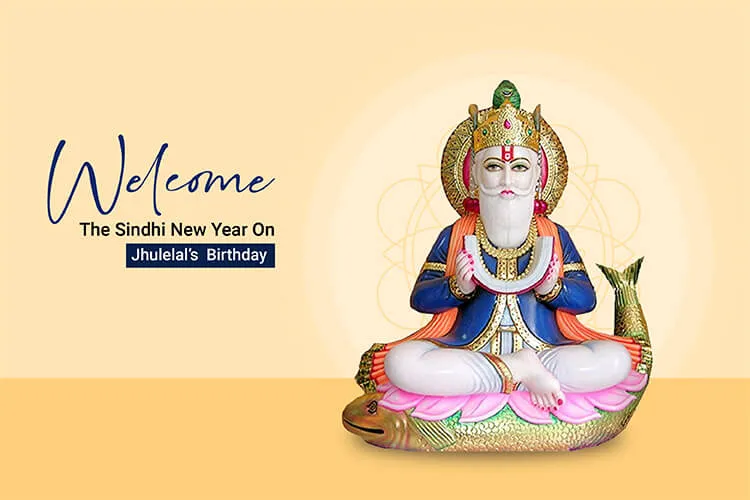 India is a wonderful place in the world with a variety of religious and cultural frameworks that celebrate innumerable festivals with zest. Cheti Chand is another fest that is well-known pertaining to the Sindhi community. It is the birthday celebration of Varun Dev (Water God) Sai Uderolal who is famously known as Jhulelal. It is believed to be an extremely auspicious day and it is observed with huge fanfare. For Sindhis, Cheti Chand symbolises the start of the New Year. Similar to Gudi Padwa is the Marathi New Year, Cheti Chand coincides with the same day.
The worship of water, the boon of life, is carried out on this day. Many people go to a lake or the banks of a river on the Full Moon day to offer 'Akho' along with rice added in milk and flour. If a river or such waterbody is not nearby, they can perform this ritual at a well too.
---
Sindhi New Year – Cheti Chand 2023 Date And Auspicious Muhurat
Cheti Chand normally falls on the first day of Chaitra Shukla Paksha, i.e. the start of the month Chet (Sindhi month) as per the Hindu calendar. It may sometimes also occur on the second day. This depicts the timeframe of the festival between March and April as per the Gregorian calendar. This year the Sindhi New Year will be celebrated as per the below date and muhurat:
Cheti Chand: Wednesday, 22 March 2023
Cheti Chand Muhurat: 06:33 PM to 07:16 PM
Pratipada Tithi Starts: 10:52 PM on Mar 21, 2023
Pratipada Tithi Ends: 10:10 PM on Mar 22, 2023
Which day is your luckiest one in the week? Read all about it here and make the most of it.
---
What Is the Significance Of Cheti Chand?
Sindhis revere this festival to celebrate the birthday of Jhulelal who is also known by the name of Uderolal. He is known to be their patron saint. The reason why Cheti Chand holds extreme significance for Sindhis is the belief that on this day Varun Dev had come to life as Jhulelal. He had done so to save the Sindhi group of people from the tyranny of a leader who intended on destroying Sindhi culture and Hinduism. This day is also regarded as auspicious for worshipping and offering gratitude to the God of Water.
Chaitra is regarded to be an important month that is referred to as 'Chet' by the Sindhi community. Moreover, each new month as per their Panchang begins with the New Moon i.e. 'Chand'. Hence, the fiesta is celebrated with full enthusiasm and the day is named as Cheti Chand.
Cheti Chand is deemed to be highly beneficial and promising to start new endeavours. Are you trying to begin a new endeavour and still doubtful about it? Let the stars provide you guidance this year by accessing your Free 2023 Horoscope Report.
---
Cheti Chand Celebrations
Sindhis conduct various rituals and pray for forty days. This offering is known as Chaliho. After this, they celebrate the grand fest of Cheti Chand. Many of them also conduct fasting on this day and break it once they complete the ceremonial offerings with fruits. Rituals can be performed as below:
Take Behrana Sahib, an offering consisting of an oil diya, cardamom, sugar, fruits and Akho to the lake or a river. A statue of Lord Jhulelal is also carried along.
Light Jyot Jagan, a diya made of wheat flour with five wicks.
Immerse Behrana Sahib in the water, and sing Pallav to appease the Lord and receive blessings. Distribute the prasadam.
You can carry out charitable activities such as giving food and clothes to the needy.
Not sure about the right astrological remedy for you, avail your Free Remedies Suggestion Report and know the best remedy for you based on your birth chart.
After paying their homage to Jhulelal, people belonging to the Sindhi group showcase their affluent culture. This is done through multiple activities like drama, dance, music and folk talents. People also prepare delicious meals to relish with their family and friends. Moreover, they meet and greet one another with the phrase "Cheti Chand Jyon Lakh Lakh Vadhaiyan Athav". Jhulelal Jayanti or Sindhi New Year is all together a grand event of fervour, joy, and elegance.
Attract Good Luck With Your Personalised Horoscope On The Auspicious Day Of Cheti Chand – Get Your First Consultation with 100% Cashback!
With Ganesha's Grace,
The GaneshaSpeaks.com Team
Astrologers trained by Shri Bejan Daruwalla.
---
---
Get 100% Cashback On First Consultation