Mesha Sankranti 2023 : Date, Timings and Significance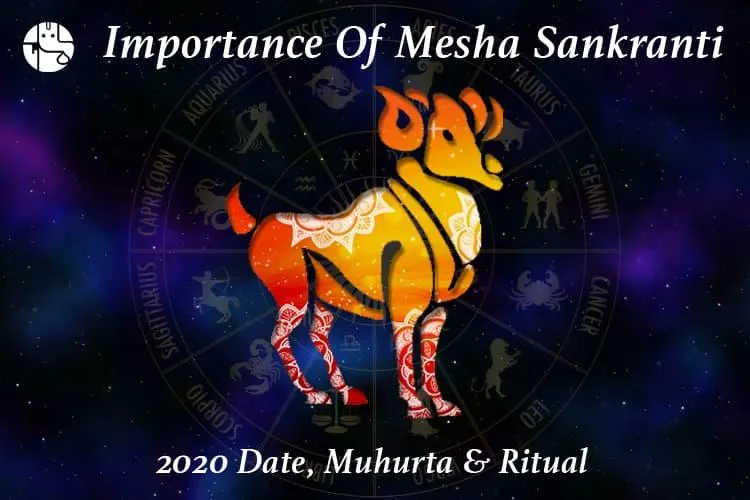 Introduction: Mesha Sankranti marks the beginning of the New Year in the traditional Solar calendar. On this day, the Sun enters the sidereal Aries or Mesha rashi and so it is called Mesha Sankranti. Regional New Year festivals also take place on this day like Vaisakhi in Punjab, Pana Sankranti in Odisha and, on the next day, it is celebrated asPohela Boishakh in West Bengal, Vishu in Kerala and Puthandu in Tamilnadu respectively.
Mesha Sankranti Date,Timings & Muhurta 2023: In 2023 Mesha Sankranti will be occurring on Friday, the 14th of April, in the Purva Ashadha nakshatra. Below is a table with the exact timings of the commencement and closing of the Mesha Sankranti festival along with the Punya and Maha Punya kaal Muhurta.
Sunrise (New Delhi)
14th April, 2023
05:57 AM
Sunset (New Delhi)
14th April,2023
06:46 PM
Punya Kaal Muhurta
13th April, 2023
10:55 AM to 06:46 PM
Maha Punya Kaal Muhurta
13th April, 2023
01:04 

AM

 

to 05

:20 P

M

Mesha Sankranti Moment
13th April, 2023
03:12 AM
---
2023 Mesha Sankranti Phalam Benefits:
Mesha Sankranti festival is considered to be an auspicious period where people perform Puja rituals to gain special blessings from deities like Lord Shiva and Goddess Kali. Below are a few noteworthy points:
It is a fruitful period for people who are engaged in laborious tasks.
An economically good time as commodities costs would be normal.
A gainful phase for people to get stability in life.
A healthy prosperous period for people of different nationalities to interact with each other as well as a yielding time lap for substantial rise in grains and stocks of countries.
Make your life stable by getting complete analysis of your past, present and future. Order our Online Janam Patri/Kundli and foresee what you can achieve with your potential.
---
2023 Mesha Sankranti Rituals & Celebrations
The given rituals are followed during Mesha Sankranti:
People worship Lord Shiva, Hanuman ,Vishnu and Goddess Kali on this auspicious day. Taking a holy dip in the sacred waters of Ganga,Yamuna and Godavari is considered beneficial.
'Pana', a traditional drink prepared out of the pulp of the Mango fruit, is consumed by people on this day.
Adhering to the Punya Kaal Muhurta while performing Puja rites is highly recommended for getting benefits of past good deeds.
The most important aspect of Mesha Sankranti is eating 'Satvik' or pure hygienic vegetarian food and refraining from any bad habits.
Chanting stotras or Holy mantras along with hymns while performing rituals or commencing celebrations is mandatory for each community.
After performing rituals as per the given Muhurta, it's time for people to celebrate the festival of Mesha Sankranti or Maha Vishuva Sankranti. It is celebrated as per various solar regional calendars in India.
In Odisha the first day of the year is celebrated on the same day of Sankranti if it occurs before Hindu midnight. It is called Pana Sankranti by the people of Orissa.
The state of Tamilnadu celebrates Sankranti after sunrise and before sunset as the year commences on the same day. If Sankranti or Sankranthi occurs after sunset the year begins on the following day. Puthandu is the name of Mesha Sankranti in the state.
According to the Malayalam calendar, the day is divided into five parts from sunrise to sunset. If Sankranti takes place within the first three parts then the year begins on the same day or it could commence on the following day. Precisely, Sankranti occurs till Madayana or midday and, if not, it would be observed on the next day. Kerala celebrates Mesha Sankranti by the name of Vishu.
While in West Bengal Sankranti takes place between sunrise and midnight of the day and the year begins on the following day. If it occurs after midnight, the year begins on the next following day. It is popularly known as Naba Barsha or Pohela Boishakh.
Besides the given four states, Mesha Sankranti is pompously celebrated as Bihu in Assam and Vaisakhi in Punjab.
Ganesha Wishes All A Very Happy Mesha Sankranti or Maha Vishuva Sankranti.
To Get Your Personalized Solutions, Talk To An Astrologer Now!
With Ganesha's Grace,
The GaneshaSpeaks.com Team
---
---
Get 100% Cashback On First Consultation