Hanuman Jayanti 2023, learn ways to please Hanumanji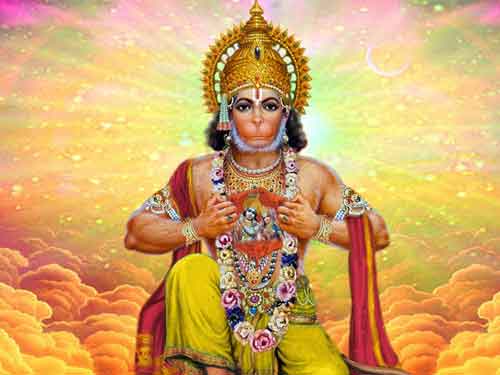 मनोजवं मारूततुल्यवेगम।
जितेन्द्रियं बुद्घिमतां वरिष्ठम्।
वातात्मजं वानरयूथमुख्यं
श्री रामदूतं शरणं प्रपद्ये।।
The birth date of Ram devotee Hanuman is celebrated on the full moon day of Shukla Paksha of Chaitra month. Hanumanji is also known by the names Mahavir, Pawanputra, Sankatmochan, Anjaniputra, Bajrang Bali etc. Hanuman is considered a unique confluence of devotion and power. He is an immortal deity. He did not attain death. Hanumanji is also considered as the form of Lord Shiva. Tuesday and Saturday are considered auspicious for the worship of Hanumanji. Let us know the story of Hanumanji's birth and some special ways to please him:
Hanuman Jayanti 2023 Date April 6, Thursday
Birth story of Hanumanji
Hanumanji was the son of Kesari and Anjana. For this reason, he is also called Anjaniputra and Kesarinandan. According to a belief, Vayudev, who was sitting in the kingdom of Indra, had sent Hanumanji in the womb of Mother Anjani, that is why he is also called Vayuputra and Pawanputra. In many Hindu almanacs, the birth of Hanumanji has been said to be in the midnight of the Chaturdashi of the month of Ashwin, while in many places on the Chaturdashi of the Krishna Paksha of the month of Kartik. But both of them have the same reverence and faith towards Hanumanji. A story related to Hanumanji is very popular that once Hanumanji was very hungry. So looking at the sky, he saw some red colored thing, but without any delay, he jumped on it and went ahead and swallowed this red thing thinking it to be a fruit. In fact, the thing that Anjaniputra had eaten thinking it to be a red fruit, was the Sun God, when he put it in his mouth, there was darkness all around. At the behest of mother Anjani, the son of Pawan took out the sun god from his mouth. There is also a story related to him that Indra had hit the son of wind with a thunderbolt. Due to this his chin became crooked, due to which he got the name Hanuman.
Hanuman Jayanti Festival
In Hinduism, Hanuman Jayanti is celebrated amidst full devotion and gaiety. It is believed that all the wishes of a devotee who has faith and faith in Sankatmochan are fulfilled, keeping this in mind, devotees throng Hanuman temples from early morning on the day of Hanuman Jayanti. After duly worshiping the Hanuman idol, he is offered a vermilion robe. On Hanuman Jayanti, Sava Mani is organized on behalf of the devotees in various temples. On this occasion, the round of Bhajan-Kirtan, Hanuman Chalisa, Ramayana, Sunderkand continues throughout the day. Special decorations are done in temples on Hanuman Jayanti.
How to celebrate Hanuman Jayanti
Since Hanumanji was born at the time of sunrise, there is a ritual of worshiping him and performing aarti during this period. On the day of Hanuman Jayanti, devotees should offer sandalwood mixed with saffron, vermilion or red cloth to the Hanuman idol. By doing this one gets positive energy and gets rid of obstacles. Kaner flowers are especially dear to Hanumanji. Hanumanji gets pleased quickly even by offering churma mixed with coconut and grapes. To get the blessings of Hanumanji, chant this Hanuman Chalisa, Sunderkand and Hanuman Mantra.
Some facts related to the worship of Hanumanji
It is said that the idol of Hanumanji should be in a standing position, because this idol helps in moving forward in life. Hanumanji immediately fulfills the wishes placed at his feet.
The line of Hanuman Chalisa 'Bhoot pishach nikt nahi aawe, Mahavir jab naam sunawe' shows that nothing is impossible for Hanumanji, he is worshiped to protect from magical powers and evil spirits.
Any mantra should be chanted five times or in multiples of five in front of Sankatmochan.
Hanumanji likes the fragrance of kewra, jasmine and amber very much, in such a situation, Hanumanji is soon pleased with their fragrant incense or incense sticks.
Sindoor is very dear to Hanumanji, in this case offering vermilion to him gives special results. It is said that by applying this vermilion on the forehead, the devotee becomes powerful, energetic and restrained like Hanumanji.
If the people who are affected by the ill effects of Shani worship Hanumanji, then they get relief from their sufferings. Because according to a legend, Hanumanji had broken the pride of Shani Dev and then Shani Dev had promised him that he would never hurt the devotees who worship him i.e. Hanumanji.
Learn life mantra from Hanumanji
We learn to be a true devotee from the life of Sankatmochan. We can get the sutras of life from the character of Hanumanji in Ramkatha. That is, by getting qualities like bravery, service, humility, devotion, courage, gratitude and decision-making ability from them, you can move forward on the path of success. Be it finding Sita or bringing Sanjivani herb, Hanuman ji completed every difficult task obeying the orders of his Lord and even after doing so much, he did not have any ego in him. Rather, he kept giving the credit of his bravery to Shriram only. In this way, everyone can make their life successful by taking inspiration from Hanumanji's life. Get Hanuman Yantra and worship it with complete purity and get complete control over life. Get Ram Raksha Yantra to invite peace and prosperity.
don't forget to read this article
Gudi Padwa 2023: Know why and how Gudi Padwa is celebrated
Mahashivaratri 2023: Know how to please Bholenath
With the blessings of Ganesha
Ganeshaspeaks.com