Are You All Set For The 2023 Chaitra Navratri?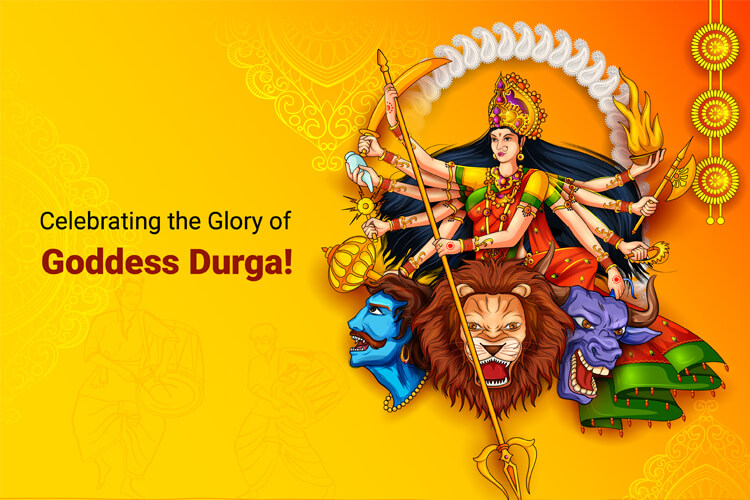 Yet another festival in the Hindu calendar that is full of fervour and enthusiasm! Yaas, we are talking about Navratri, the grand fest of 9 nights, celebrated across the states of India. In theory, people observe four types of Navratri in a year. The Sharada or Shardiya Navratri is the most famous of all. It is celebrated post-monsoon and observed to glorify the Divine Feminine Goddess, Durga Maa.
Chaitra Navratri, on the other hand, is another seasonal fest wherein Ghatasthapana Muhurta is given the utmost importance. It is mainly celebrated in the Northern parts of India.
Chaitra Navratri And Ghatasthapana Significance
Chaitra Navratri, as the name suggests, is celebrated for 9 days wherein each day is devoted to 9 different forms of Maa Durga. It is said that Durga Mata comes down from heaven to reside with her followers during these days. Hence, it is believed to be the most beneficial phase. Ghatasthapana ritual is deemed to be the most auspicious one during Navratri as it symbolises the start of a nine-day-long celebration. As per the Hindu scripts, conducting Ghatasthapana with the onset of Navratri is considered to be sacred. Kalash Sthapana is another famous name for Ghatasthapana.
Chaitra Navratri 2023 Date, Time, and Muhurat
Chaitra Navratri will start with the festival of Gudi Padwa as celebrated in Maharashtra and Goa, whereas Ugadi as per the celebration in Andhra Pradesh, Karnataka and Tamil Nadu. So, the festival will start on March 22, Wednesday which is the day of Ghatasthapana this year. The muhurats for the same are as below:
Ghatasthapana Muhurat: On March 22, 2023, Wednesday at 06:23 AM to 07:32 AM
Chaitra Navratri first day (22 March 2023) – Pratipada Tithi, Maa Shailputri Puja, Ghat Sthapana
Chaitra Navratri second day (23 March 2023) – Dwitiya Tithi, Maa Brahmacharini Puja
Chaitra Navratri third day (24 March 2023) – Tritiya Tithi, Maa Chandraghanta Puja
Chaitra Navratri Fourth Day (25 March 2023) – Chaturthi Tithi, Maa Kushmanda Puja
Chaitra Navratri Sydney Day (26 March 2023) – Panchami Tithi, Maa Skandamata Puja
Chaitra Navratri Sixth Day (27 March 2023) – Shashti Tithi, Maa Katyayani Puja
Chaitra Navratri seventh day (28 March 2023) – Saptami Tithi, Maa Kalratri Puja
Chaitra Navratri eighth day (29 March 2023) – Ashtami Tithi, Maa Mahagauri Puja, Mahashtami
Chaitra Navratri ninth day (30 March 2023) – Navami Tithi, Maa Siddhidatri Puja, Durga Mahanavami
Ghatasthapana Muhurat Meaning
Carrying out the Ghatasthapana rituals on the third day of ruling Pratipada is considered to be the most favourable or Shubh Muhurat. If for some reason, one is unable to adhere to this time frame, the puja can be performed in the Abhijit Muhurat. You can also avail the benefits of Chaitra Navratri Group Puja Online to remove negativeforces from your life.
This Chaitra Navratri Puja vidhi needs to be performed at a proper muhurat because it is intended for invoking Goddess Shakti. Hence, it is prohibited to conduct it during Amavasya or during the night to abstain from enraging Goddess Shakti.
Abhijit Muhurat is an auspicious time during the middle phase of the day and it lasts for approximately 51 minutes. It acts as a powerful time to banish many Doshas and is believed to be the most beneficial Muhurat for starting auspicious activities in life. Though the Chitra Nakshatra and Vaidhriti Yoga are positively aspected, they are seen as unfavourable to conduct the Ghatasthapana vidhi. In addition to this, the afternoon time is highly preferable to conduct this ritual during the ruling Pratipada time.
History Of Chaitra Navratri
As per Hindu sacred texts, Goddess Durga was permitted by Lord Shiva to go and stay at her parents' house for 9 days. It is believed that Maa Durga killed the demon Mahishasur during these 9 days, which signified the triumph of good over bad. Devotees also believe that the worship of Maa Durga bestows internal strength to them. Since then, the Navratri festival started being celebrated with full zest and cheer.
How beneficial will the year 2023 be for your life? Grab your detailed 2023 Yearly Report and know it all now!
Ghatastapana – Chaitra Navratri 2023 Puja Vidhi
Collect the puja items like clean soil, an earthen pot with a broad opening, 'Sapta Dhanya' or seven different grains, mini brass vessel or Kalash, sacred thread, fragrance or perfume, coins, betel nuts, mango leaves, Akshata, unpeeled coconut, a red cloth, Durva grass, and marigold flowers.
Prepare the Kalash by adding a layer of soil at the bottom of the earthen pot before invoking Maa Durga. Place the grains underneath the soil. Continue this way till the pot is filled with the layers of soil to the peak level.
Add some water in the Kalash or brass vessel and place the fragrance, betel nuts, Durva grass, Akshata and some coins in this vessel.
Keep 5 to 6 mango leaves on the opening of the brass vessel and cover it.
Tie the holy thread around the red cloth containing the unpeeled coconut. Then place this on the top of the Kalash.
In the end, place this brass vessel on top of the earthen pot. Now the puja setup is done and you can invoke Goddess Durga in it.
You can also appease Maa Durga during this Chaitra Navratri by performing an authentic Durga Saptashati Puja with our experts.