Hanuman Jayanti 2024: Celebrate The Banishment Of Evil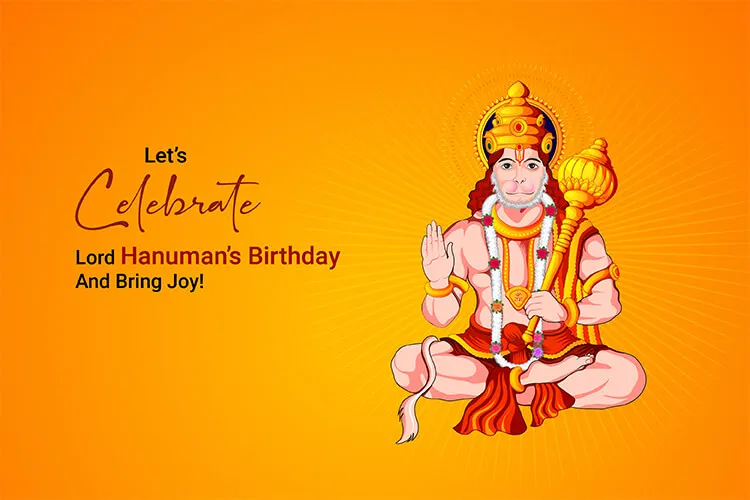 After the celebration of the glorious Ram Navami fest, the holy Hanuman Jayanti follows with full opulence. Yaas, it's the birthday of Hanuman who is highly adored by all! He is known to be one of the outstanding heroes from the great Indian Epic 'Ramayana'. The Hindus, especially the loving devotees of Lord Hanuman celebrate this occasion with immense devotion and zeal. The diverse facets of Hanuman are recalled and worshipped on the festival of Hanuman Jayanti.
---
Hanuman Jayanti 2024 Date And Tithi
Hanuman Jayanti is celebrated in the lunar month of Chaitra wherein a variety of spiritual discussions are organised in many Hindu temples. This year, Hanuman Jayanti will be observed on the following date:
Hanuman Jayanti: April 23, 2024, on Tuesday
Purnima Tithi Starts: 03:25 AM on Apr 23, 2024
Purnima Tithi Ends: 05:18 AM on Apr 24, 2024
---
Significance Of Lord Hanuman
As per the famous saying from early Indian traditions, if one wishes Lord Rama to neutralise all their sorrows, the Lord can only be reached through Hanuman. Therefore, this festival is the most suitable day to seek Lord Rama & Hanuman's blessings. One can feel immense power in Lord Hanuman who is a universal devotee of Lord Rama. He bestows one with joy and destroys the problems. It is also said that reciting the famous 'Hanuman Chalisa' continuously can aid in removing misery and gaining magical powers. Fab, isn't it! The strength of Hanuman has led many in becoming His ardent fans.
Hanuman Puja performed with an end-to-end procedure along with reciting Sunderkand is said to neutralise problems from life. Book this online Puja performed by expert Pandits to bring auspicious events and divine protection.
---
The Legend Of Hanuman
Many people recall Hanuman's mischievous character that he displayed during his childhood. As per one tale, he travelled across mountains, ascended higher in the sky to eat the Sun, thinking it was a fruit. Rahu, the malefic planet, was headed towards the Sun to form an eclipse and saw Hanuman. He tried to stop Hanuman but failed as the latter was stronger than him.
Rahu approached Lord Indra, the King of Gods, for help. To resolve the matter, Indradev threw his Vajra (thunderbolt weapon) that hit Hanuman who then went numb. Vayudev found out about his son being unconscious on the ground and got so enraged that he made life difficult on Earth. Soon the Gods realised their mistake and brought Hanuman back to life. He was then blessed with multiple boons.
---
Tales And Facts About Hanuman
Several heroic tales testify how he lived and these stories are recalled even today, especially during the preparations of Hanuman Jayanti.
Ramayana depicts Lord Hanuman as one of the key characters and an ardent devotee of Lord Ram. He supported Lord Ram along with the big vanarsena (humans in monkey forms) in the long-standing battle against Ravana, the demon king.
One can also find his role signified in Mahabharata, Puranas and a few Jain texts as well.
He is believed to be a monkey God and a manifestation of Lord Shiva.
One tale showcases Lord Hanuman possessing the ability to undertake distinct forms on his will, seize clouds, shift mountains, break rocks and also fly as fast as the holy bird Garuda.
Every demon failed to stand against Him because of His profound power and strength. Undoubtedly, it was a priceless gift bestowed by the Gods since His childhood.
---
Hanuman Mantra
लाल देहि लाली लसे, अरू धारी लाल लंगूर ।
वाजरा देह दानव दलान, जय जय जय कापि सुर ।
मनोजवं मारुततुल्यवेगं जितेन्द्रियं बुद्धिमतां वरिष्ठ ।
वातात्मजं वानरयूथमुख्यं श्रीरामदूतं शरणं प्रपद्ये ।
Chanting this shloka as much as possible is considered auspicious particularly on Hanuman Jayanti. It helps nullify troubles and sorrows, and fills one with the needed strength to overcome the struggles easily. Repeating it innumerable times deems highly favourable to get closer to the Lord. And to receive the blessings and grace, there's no other day as promising as the Lord's birthday!
May the Lord Hanuman protect you from all the fears and banish the evil forces from your life. Praise and appease the divine, and celebrate a happy Hanuman Jayanti.
With Ganesha's Grace,
The GaneshaSpeaks.com Team
Astrologers trained by Shri Bejan Daruwalla.
---
---
Get 100% Cashback On First Consultation