Poila Baisakh 2023 & Its Rituals & Powerful History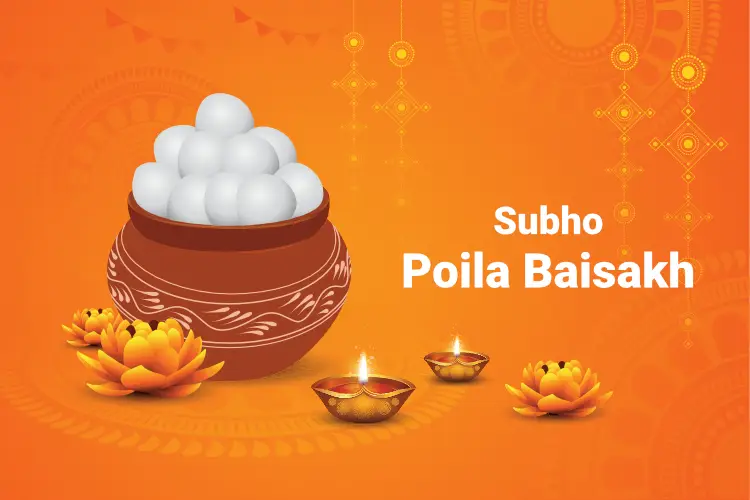 Poila Baisakh is another Bengali New Year. According to the Bengali calendar, it is not only the first day of the year, but it is also an emotion. Bongs might have a crazy day. The atmosphere begins to set with the arrival of 'Chaitra,' the final month of the Bengali calendar. When we step down the lanes and by-lanes of every Bengali housing or colony, we get the impression that a new beginning is beckoning. This day in April represents a fresh start for most families, which Bongs secretly anticipates.
The famous Bengali Poila is celebrated on the first day of the first month of the Bengali calendar, which is known as Baisakhi. Every year in the middle of April, all Bengalis around the world celebrate this festival.
From a profitable company to retaining healthy relationships, everybody is out to reach and refresh current relationships. Often, since it is a New Year, they aim to cut all bad ties and cancel all pending financial obligations during this period.
---
Significance Of Poila Baisakh
Since it is the harvest season, people pray to Lord Ganesha and Goddess Laxmi for God's blessings on their lives and households.
Many prayers are chanted on this day because people believe it will bring them peace, good health, long lives, and then stable lives. After the prayers, it is considered an auspicious day to start new businesses and even pay off old debts. They agree that the first day of the month should be celebrated appropriately and that the rest of the year will be perfect.
Will your year be perfect? Find out now with your Personalised 2023 Report.
Mughal Emperor Akbar introduced the Bengali calendar in 1584. The aim of creating a new calendar for the city was to collect taxes. The Bengali calendar is unusual in that it combines the Hindu Solar Calendar with the Hijri lunar calendar.
---
Poila Baisakh 2023 Date & Timing
On Bengal 15 April, Poila Boishakh is to be celebrated. On this day, the Bengali are able to say Shubho Nobo Borso new year to each other. The month of Baisakh is considered to be very favourable in Bengal. All good works such as marriage, marriage, entrance to the home, grooming, shopping are completed at this moment. Fairs in several places of Bengal are also held on this day.
---
Rituals To Be Followed During Poila Baisakh
The day begins in the morning with believers observing the first-morning rising sun, which they hope would be auspicious.
Following that, a religious procession is held, and this form of the clustered parade is known as Prabhat Pheris. This is well worth seeing! Garad sarees, which women wear, are a one-of-a-kind outfit. These sarees are white with bright red borders. They have new flowers on their heads. Women adorn themselves with oversized gold earrings and strong gold jewellery. They seem graceful, and several white pearls complement them. Men wear traditional kurtas and dhotis, which are primarily white. Men wear tikka, which is purchased from a mosque. Following the parade, the men and women sing and dance to a variety of popular folk songs. Aside from that, the women in the households cook lavish meal. This meal includes rice, fish, green chillies, onions, and various sweets. Rangolis are made at home and often in front of the house, and this tradition continues to this day. The remainder of the day is spent meeting friends and consuming and enjoying delicious meals.
Dance services dominate the evenings of the special day. From folk songs to skits to traditional theatre performances, there is something for all.
---
Panjika-Bengali Almanac on Poila Baisakh
Bengalis scramble to get their hands on a copy of Panjika before the launch of the Bengal New Year, Poila Baisakh. Panjika is a Bengali archive, a year-long handbook that will help you find festival timings, auspicious dates and times for anything from weddings to house warming, Horoscopes, beginning a trip, launching a company, and more. Panjikas are an important part of the Poila Baisakh celebrations in India and Bangladesh and in Bengali cultures in Australia, Sri Lanka, Malaysia, and Japan. The most well-known among Bengalis is Benimadhab Seal's Panjika. Don't forget to look at the national panchang.
---
Gifts on Poila Baisakh-Bengali New Year
At the Poila Baisakh festival, people dress up in new clothes and share sweets with friends and family. Young people prostrate themselves at the foot of elders, seeking their blessings. To win love, loved ones give presents and greeting cards. Traditional handicrafts are the best because they are both eco-friendly and attractive ways to decorate your house. People pay visits to their families, mates, and loved ones to wish them "Shubho Nobo Borsho" (Happy New Year).
Bring prosperity to your family today with an authentically attuned Lakshmi Yantra.
---
Subho Poila Baisakh/Happy Poila Baisakh
On the auspicious day of Poila Baisakh, pray to Lord Ganesha first and recite the Poila Baisakh mantra:
"Om Shreeng Hreeng Kleeng Glaung Gang Ganapataye Var Varad SarvaJanmay Vashmanay Tha Tha."
On Poila Baisakh-Bengali New Year, recite the Rinn Harta Mantra:
"Om Ganesh Rinnam Chhindhi Varenyam Hoong Namaah Phutt" to stay debt-free during the Bengali New Year.
Chant the Shaktivinayak Mantra:
"Om Hreeng Greeng Hreeng" to attract happiness, good luck, financial progress, and prosperity during the Bengali New Year. On Poila Boishakh-Bengali New Year, Ganesha wishes "Shubho Nobo Borsho!" (Happy New Year!)
Attract Good Luck With Your Personalised Horoscope On The Auspicious Day Of Poila Baisakh! – Talk To Expert Astrologer Now!
With Ganesha's Grace,
The GaneshaSpeaks.com Team
Astrologers trained by Shri Bejan Daruwalla.
---
---
Get 100% Cashback On First Consultation