Expert Vastu Tips For The Correct Position of Septic Tank
To construct any structure, it is important to understand that many other factors play a role in energizing a particular place or a house. Not just this, but there is also a specific way in which you can construct a place for it to emit positive vibes. This is called Vastu Shastra which literally translates to the "science of architecture".
In this case too, there is a certain manner in which you can build your Septic tank so that its placement is fruitful and devoid of any negative energy that can hamper your progress in life. We shall discuss some of the septic tank vastu tips that can assist you in placing the septic tank in the best way possible.
What is a Septic Tank?
With the evolution of modern architecture, new design models using space technology has changed the face of how a house is built. Right from re-designing the anatomy to implementing new technology, architecture has made a great difference in how we look at structures. Septic tank is one of the added components in recent times.
A septic tank/Cesspool/Cesspit is underground storage of wastage. It is a place that holds all your waste from the household, be it from the washroom or the kitchen. So, before all this waste is disposed of from the house, it stays for a certain period before leaving the house area. This is the same reason why it is said to have a pessimistic impact on the people living inside the house. Therefore, it is advised to place and build the septic tank in such a way that it does not affect the house in any negative manner.The waste accumulated does contain negative energy because the waste ranges from human excreta to pale food from the kitchen. Thus, it is very important to build the septic tank as per Vastu to rid oneself of the negative vibes and gain as many positive ones with the help of Vastu Shastra.
Septic Tank Location As Per Vastu
Below are the essential points to be taken into consideration while constructing a septic tank as per Vastu Shastra:
Similarly, there are significant points that should be avoided while constructing a septic tank as well. These are:
Apart from the tank itself, it is also consequential to apprehend how the pipeline is built and how it plays a pivotal role in the construction of the tank. Here are some substantial points to be highlighted:
Now, we know the do's and don'ts while making a septic tank, but how does the direction of the tank affect the house and the energy. Here is a list of things that aids in knowing the bad influence that a septic tank can have if placed in the wrong direction.
Septic Tank Vastu Remedies
However, if you have already built your septic tank and facing problems, then one can change its direction with immediate effect. But, for that, you may have to close the one operating and built a new one in the correct location as per the septic tank Vastu.
But it is crucial to conduct a Hanuman Pooja before you close the one currently operating. Also, make sure that the pooja is done by a Brahmin under the guidance of an expert in the field of Vastu.
If you are still confused, you can contact our online Vastu experts and take their advice. Wherever the location of the house is, be it about constructing a septic tank for a south-facing house, east facing, north-facing or west facing. Our experts have a solution to all your problems.
Related Links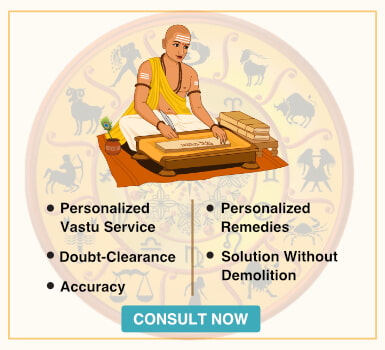 Day Guide
Comprises of events likely to happen, hourly guidance & precise timeframes

Life Meter
Know the percentages of different aspects of your physical and mental state

Compatibility
Check out how well will your wavelengths with others match