Things To Consider For Backyard & Frontyard As Per Vastu Shastra
A house can only be perfect as per Vastu if every corner of the house is given equal importance in the process of its establishment. As all the places are vital to us, applying the science of Vastu Shastra becomes very climacteric in its essence.
The same goes for the construction of the exterior portion of the house, be it a backyard or a front yard, for it is very influential and its designing may definitely have an impact on the inhabitants. Depending on how you frame this place, you may receive its positive and negative effects.
Backyard or Garden has been quite popular for people who want to maintain a cheerful vibe in the house because this place can be very useful in growing your plants and also to create an optimistic aura. It can help you to be closer to mother nature and make you feel more relaxed and peaceful. Several parameters are taken into account while constructing the backyard under Backyard Vastu, a science that helps in using the space to its maximum capacity.
Vastu for Backyard : Things To Follow
There are very specific elements that need to be implemented while setting up a backyard for your house. Depending on the framework and design, it will produce certain vibrations that may or may not help the people living in the house. 
Here are a few crucial points that can help in deciphering the best outcome as per backyard Vastu:
As specified in the Vastu books, the

backyard should be constructed in the Eastern or the Northern direction

. In addition to this, it is also believed that keeping an open space for the backyard/front yard in the North or East direction is very favorable and may yield fruit-bearing results for the inhabitants.

Besides, this direction also brings in the morning rays that are scientifically proven of great help to the human body. Not only does it provide the much-needed sunshine but it also generates a lot of positivity and vibrancy.

If your house is West-facing, then it is advisable to not leave any open space on the front side (entrance of West) and build your backyard on the rear side (Eastern-side) say our experts. 

On a similar note, if your house is South-facing, then do not leave any open space on the front side (entrance of South) and construct the backyard on the rear side of the house

(North-side) as it helps to obtain maximum benefits pertaining to health.

Keeping the area clean and taking the utmost care of this area becomes all the more essential. One must try to

balance all the five natural elements in such open spaces

as is suggested by experts. Hence, take proper care of the plants you grow and the items you place here.

To add further, keeping the five important elements of nature (water, earth, fire, air, and space) in proportion may assist in maintaining a healthy lifestyle. Hence, one can always place a water fountain, a small pool, grow plants or maintain a garden to retain the overall energy of the place. Know more Vastu tips for gardens and plants.
Things To Avoid as per Backyard Vastu : Don'ts
Vaastu Shastra is all about perfect designing, placing and utilizing the given space in the house. As much as there are rules that we need to adhere to, there are also many aspects that one must avoid when constructing the backyard as per Vastu.
There are negative implications of not sticking to the rules of Vastu which can harm the family living in the house. From being affected by bad health to losing money and cheerfulness in life, there are several inauspicious events that the misplacement can bring. Find below the things to avoid while making the backyard/front yard:
Try to avoid using metallic and plastic furniture in the backyard, as is suggested in the Vastu shastra.

According to the backyard for Vastu, it should not be built on the

West and South direction

for it may bring bad omens.

This place should not be filled with too many things that it gets jam-packed. With open spaces, it becomes easier for the vibrations and energy to flow around.

As it is very difficult to maintain big plants and trees, it's best to abstain from growing such plantations in the backyard as they need a lot of attention.
Vaastu Shastra as a subject has many parts to it, each part dealing with how a structure is perfectly built. Here, Vastu for the backyard is one such essential part that helps in constructing your backyard in the best possible way. Not only does it impart sound health and peace to the dwellers but it also makes sure that nothing negative touches you after establishing things in compliance with the backyard Vastu. For further assistance, connect with our Vastu Experts who may provide you with the correct guidance in detail!
Read Articles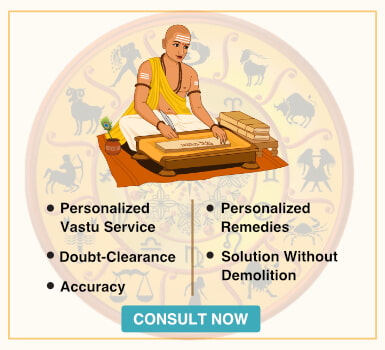 Day Guide
Comprises of events likely to happen, hourly guidance & precise timeframes

Life Meter
Know the percentages of different aspects of your physical and mental state

Compatibility
Check out how well will your wavelengths with others match