The Sun In 6th House: Vedic Astrology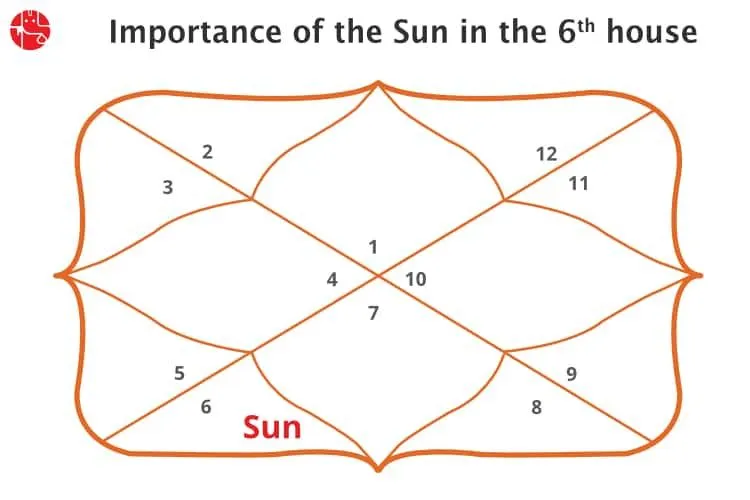 The 6th house in Vedic Astrology is associated with the health and well-being of the individual. And the broader view of health includes the building of an ability to face and fight the adversities of life. We all commit mistakes, face challenges and have shortcomings. How do we deal with the difficulties & challenges is what defines us as persons. Well, the 6th house includes all that goes in dealing with those difficulties and challenges. Essentially, the 6th house is about your fears and how do you overcome them. So, a person who has Sun in his/her 6th house will be more involved in the day to day activities of life, more than most other people.
---
The Areas Affected Due to The Sun in The Sixth House:
Profession
Health and well being
Relationships
Finance and wealth
Attitude towards people
---
Positive Traits/Impact:
Well, the 6th house is about eliminating risks and ensuring one's safety & security. Thus, the presence of Sun in the 6th house makes the native a very cautious person. They also are very cautious about their health, that is the reason why they do not suffer from any major health ailment.
Besides, the 6th house also signifies rise or elevation to a higher or more responsible level of position after continuous efforts spanning a large number of days. They will become very determined and dedicated in their work. Those who have Sun in the 6th house will try very hard to inculcate skills which can help them move ahead in the employment market. They will be able to increase their personal worth and value. They want to distinguish themselves from the rest of their colleagues and outperform them, which will win them much acknowledgement and laurels.
At the same time, generally, the natives of Sun in the 6th house are not egoistic. They mingle with people easily. Their overall temperament is not aggressive and they get along with everybody quite nicely according to the Sun in 6th house Vedic astrology.
---
Negative Traits/Impact:
Well, the position of Sun in the 6th house will create a personality which is centred around health, following the daily routine and work. However, what they also need to focus on is self-improvement without getting obsessed about the same. They should analyse themselves physically and psychologically and eliminate their drawbacks and weaknesses and move closer towards perfection. They will discover themselves by practising the virtues of love all, serve all.
The natives of Sun in sixth house may be quite tough as employers. They may be very bossy and demanding. Their subordinates may not like to work with them. As for employees who are in this planetary placement, they may be very demanding and unduly conscious of their rights, as per career astrology of Sun in 6th house.
Also, the employees who are in this solar placement seek a perfect work situation. They expect their boss to be like a good father, who is understanding and appreciative. However, this may not be the case always, which may disturb these employees.
Besides, natives who have Sun in 6th house are very duty-conscious. Thus, they should ensure not to get dominated or exploited while pursuing their duty. They should hold on to their independence and keep their views and opinions crisp and clear. They should work towards the fullfilment of their task rather than get into inter-personal issues.
---
Conclusion
The natives of Sun in 6th house are always fighting fearful and inconvenient situations and trying to establish safety & security in their lives. They attach a lot of importance to their health and also well-being. They can be valiant fighters and dynamic heroes who can do everything to improve their lives and the lives of their near and dear ones.
---
Sun in the Houses
Importance of Houses in Astrology
Importance of Planets in Astrology
---
---
Get 100% Cashback On First Consultation