The Sun In 4th House: Vedic Astrology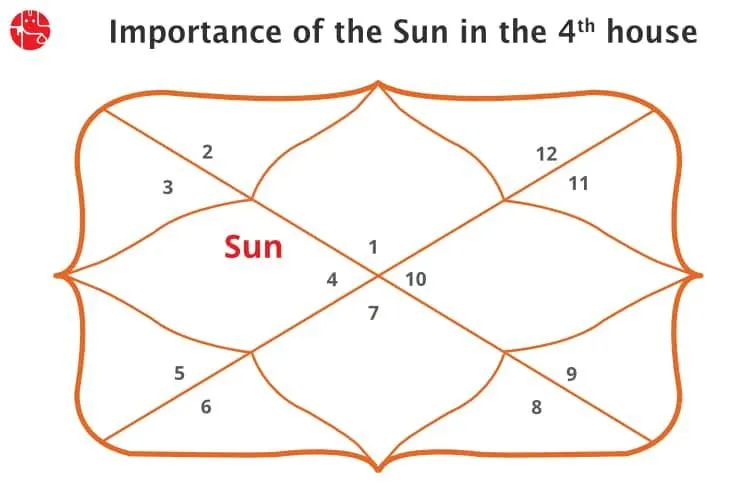 The 4th house in Astrology is also known as the Bandhu Bhava in Vedic Astrology. This house is about domestic happiness. In fact, it is all about the roots of the native. Things that attach them to their native place or the place of origin come under the influence of the 4th house. It includes property, house, land, cattle, real estate, vehicles and so on. Well, the presence of Sun in the 4th house indicates that the native will take a lot of interest in the family and domestic matters.
---
The Areas Affected Due to The Sun in the Fourth House:
Family life
Relationships
Social prestige
Attitude towards others
Education and learning
---
Positive Traits /Impact
The persons who have Sun in the 4th house will be more family-oriented and home-centric. They will take a lot of interest in domestic issues. They will take good care of their family members and try to ensure that their family members don't get into problems. These natives will strive hard to ensure that their family members enjoy high status.
Well, one of the distinguishing features of the Sun in 4th house natives is that they see the larger picture. They are far-sighted and not perturbed by small incidents or developments. They retain their calm in day-to-day activities. They also address their basic needs first so that they can move on and help others. They get better with age.
They are liked by the people around them. Other people acknowledge the helping nature of the Sun in 4th house natives. The natives of Sun in the fourth house are not exactly peoples' person but they give a lot of importance to the prominent persons in their life.
---
Negative Traits /Impact
There will come up moments in their life when they will feel very low and disturbed. They will want to give up all their goodness and the wants and wishes of helping themselves and others. This may be a very difficult phase and they will not see any light at the end of the tunnel. However, if they develop faith in the saying 'This too shall pass', they can come out of it sooner rather than later.
Also, they are under the strong influence of their parents, which can have its negative side. They may act against their life partner unreasonably as they follow their parents unduly. This may lead to marital disharmony, which may disrupt their life and happiness.
Besides, they are home-centric. They are the most comfortable and most effective at home. They are very much involved in their family life. They have a strong presence and voice in domestic affairs. However, at times they are likely to become quite dominating in their family life. They need to be careful on this front as nobody likes a tyrant.
There is also a possibility that they may consider themselves the best. It wouldn't be a problem if they had respected others. But that is not the scenario. They love themselves at the cost of others. This may damage their image and even their goodness. They may feel that their plan for the future is the best and nobody else does it so well. This may create differences between them and other people.
Do you Want More Money in Life? Read 2024 Career Report and Know How You Can Get it.…
---
Conclusion
They are closely attached to their family members and domestic happiness. They take good care of their near and dear ones. But they should ensure that they don't pamper them unduly. Just being there and helping them as and when needed is sufficient. Besides, ignoring things outside the home may not be a good way of living, there ought to be a balance.

Discover Whether You Will Have a Love or Arranged Marriage in 2024 by Reading the 2024 Marriage Report….…
---
Sun in the Houses
Importance of Houses in Astrology
Importance of Planets in Astrology
---
---
Get 100% Cashback On First Consultation