The Sun In 2nd House: Vedic Astrolgoy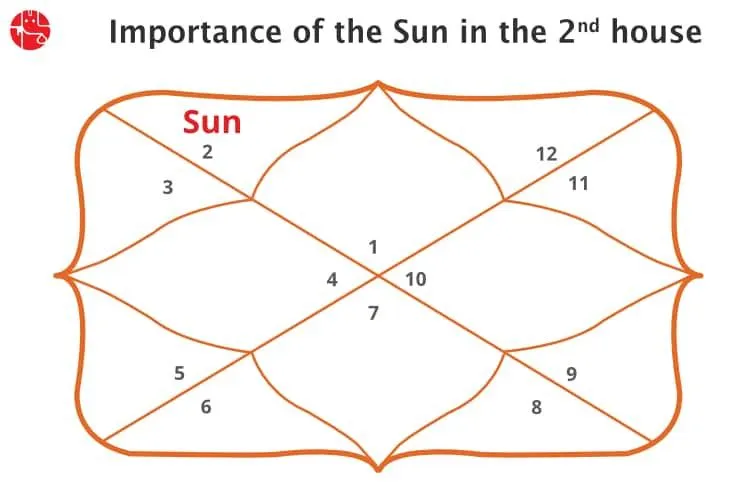 The 2nd house in Vedic Astrology is called the house of possessions. It stands for all that we own and possess like all the material goods, wealth and so on. However, the 2nd house also signifies our intangible belongings like our feelings, emotions and how we relate to our younger siblings and other near and dear ones. And, when the Sun, the most important celestial body is present in the 2nd house, it is bound to impact the above-mentioned areas of life majorly. Well, royalty is the overriding streak which is present in these individuals, they have a lot of money and they also know how to spend it extravagantly.
---
The Areas Affected Due to The Sun in The Second House:
Wealth and prosperity
Public and social image
Health and well-being
Professional aptitude
Aims, ambitions, and aspirations
---
Positive Traits/Impact:
The natives of Sun in 2nd house are very strong morally. Their high ethical standards endear them to a large number of people. Many want to befriend them. Also, they are very logical and responsible, which makes others trust them completely.
Besides, the natives of Sun in 2nd house are rich not just in values, they also have lots of money and wealth. What they own may be a dream for many other people. Their wealth and prosperity will also boost their confidence and self-esteem. This confidence helps them build a glorious career.
But they don't flaunt their wealth uselessly. They don't believe in showing off unnecessarily. On the contrary, they are more into things which are more sustained and deeper. They don't cater to the hollow things in their life.
On the other hand, they are more into art and nature. They like aesthetic things and beauty. They want things which add quality to their taste. For instance, they are very particular about the gifts which they buy for others. They want to give the best to their family members and friends. And their family members love them for all the loving, caring and sharing
Besides, the natives of Sun in 2nd house are admired for their good and efficient talk, which frequently caters to the intellectual issues. They are also adored for always keeping their commitment and never breaking their promises, according to Sun in 2nd house Vedic astrology.
---
Negative Traits/ Impact:
The natives of Sun in 2nd house should be careful about their finances. They should not buy and accumulate a lot many material possessions, especially the expensive ones. Admiring beautiful objects is one thing and spending excessive money to buy them is something quite different. They should adhere to frugality as far as is possible. Quality doesn't need to always be expensive.
Besides, the natives of Sun in the 2nd house are obsessed about doing the right thing or the right method. There are certain situations when this may cost you dearly. If the other person does not subscribe to your views, a conflicting situation is likely to arise.
Also, the natives of Sun in second house may always want to be safe and secure. They feel that no danger or threat should confront them. However, the desire for so much security is not good. They should not be in their comfort zone all the time. It may stop your growth and keep you stunted.
Everyone has their own unique qualities and flaws. What's yours? And how can you be the best? Know with Janampatri…
---
Conclusion:
The natives of Sun in 2nd house are richly endowed with wealth and relatively smooth relationships. However, you need to be guarded against excessive spending and obsession with the right method of doing anything.
---
Sun in House
Importance of Houses in Astrology
Importance of Planets in Astrology
---
---
Get 100% Cashback On First Consultation