Moon in Eighth House: Vedic Astrology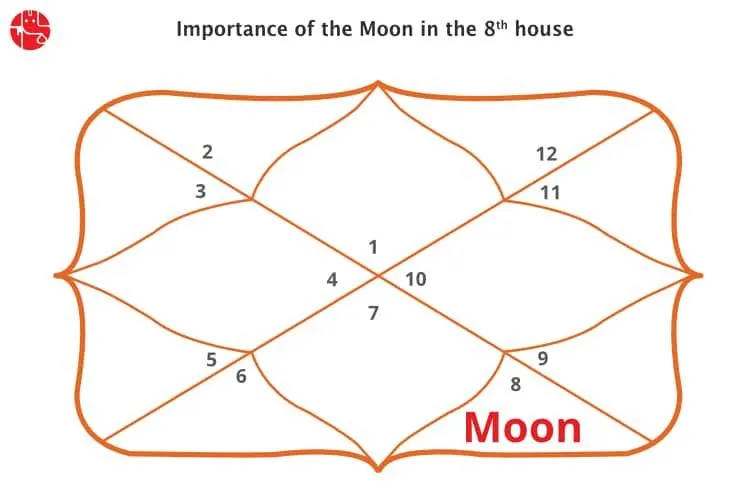 The presence of Moon in 8th house will influence life's longevity, the possibility of accident, death, the money and goods of others, the financial affairs of their partner, physical intimacy with their spouse and so on. The natives of Moon in the 8th house may get separated from their partners, which can be a major loss. Besides, they should keep a distance from water bodies such as ponds, rivers, lakes, etc. as there is a higher risk of dying from getting drowned. On the other hand, the proper placement of the Moon in the 8th house can increase the natives' life span and give them enough will power to get rid of adversities and crisis. Also, there is a possibility of getting unexpected gains and wealth from inheritance or other sources.
---
The Areas Affected Due to Moon in The 8th House:
Death
Finance
Life's Goals
Property
Partnership
---
Positive traits/Impact
Natives with Moon in the eighth house are hardworking and serious about their life goals. They try to gain knowledge from multiple sources. Besides, they can continue to stay calm even in the most challenging situations, which can be a very strong asset for them, both in professional and personal life. Also, the natives are loyal, honest and kind-hearted with others and always stand out against injustice. Natives who have this placement are open-minded and have a pool of creative ideas.
Presence of Moon in 8th house in the birth chart also indicates that the native is adaptable and flexible to various situations, possesses good psychic abilities, mostly enjoys good health and commands a strong thinking capacity. Besides, irrespective of their gender, natives of Moon in 8th house have some positive feminine qualities as per Moon in eighth house Vedic astrology.
---
Negative Traits/Impact:
When Moon is placed in 8th house, the natives are likely to be short-tempered, emotional and moody. Chances are higher that they will incur losses in business. Their natural ability to be strong in different situations may also take a backseat on several occasions. They are advised to respect their elders, show faith in the religion, stay away from gambling and invest carefully when it comes to business. Effects of the Moon in the 8th house could be damaging for the natives if they are suffering from muscular system disorders.
Besides, the placement of the Moon in the 8th house can make the natives emotional. Their stress will be reflected in their facial expression. In some cases, the will power of the native is completely drained, which makes them irresistible to any critical situation and often create conflicts in their marital relationships.
The gravest risk which the natives of Moon in 8th house face is from the water bodies. The placement of planets put them at danger from the water bodies. They should refrain from swimming.
---
Conclusion:
To sum up, it is seen that the natives who have Moon in their 8th house may be strongly disturbed by the ups and downs of life. The most important point is how do they face these circumstances and address the complexities of life. Natives are advised to stay calmer and not to waste efforts in thinking about their past. What's gone is gone, and you can make your tomorrow brighter and shinier by staying positive and learning lessons from the past and not repeating the mistakes.
---
---
---
Get 100% Cashback On First Consultation