Moon In Tenth House : Vedic Astrology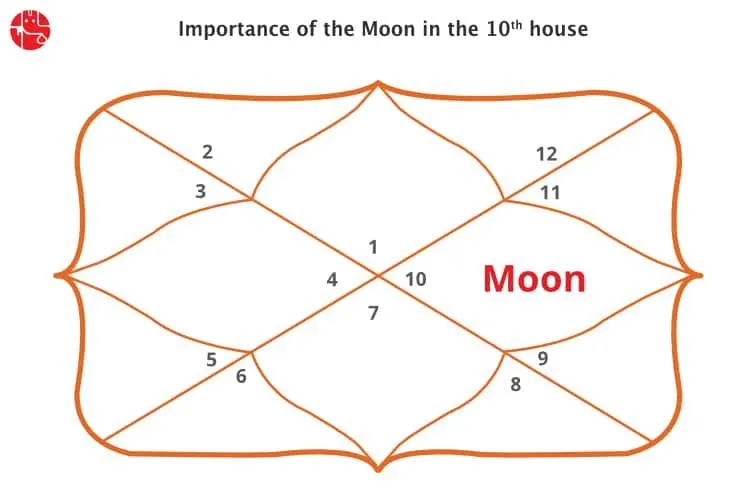 The areas ruled by 10th house are profession, occupation, honour, fame, promotion, and so on. The Moon in the 10th house deals more with their profession and related areas. So, when Moon is placed in the 10th house, it may better the professional prospects of the natives. The natives of Moon in 10th house seek to learn new things, and they usually have a clear vision of what they want to achieve in life. They often switch their jobs if they find that the present one is not gainful and if they are helpless to evolve their skills in the prevailing situation. However, when it comes to putting in a lot of hard work, they are not the best at it.
---
The Areas Affected Due to Moon in The 10th House:
Profession
Occupation
Leadership
Success
Goals
Fames
---
Positive traits/Impact
When Moon is placed in the 10th house, it indicates a requirement for recognition, popularity, acknowledgement and achievement. It is likely that the natives will be very charismatic in their personality and character. They are emotional, and indeed their emotionality will be at its best when they lead a responsible and structured life; however, it can take them some time to get there. It is also likely that they may change their goals, targets and aspirations frequently in order to get the finest or perhaps the perfect fit in accordance with Moon in 10th house transit.
Moreover, they believe in non-violence and in a crisis, they came up with an exceptionally bright solution that brings peace among people, which eventually makes them famous and of course, a kind person for society. Their open-mindedness and clear view in life distinguish them from others which make them one of their kind. They are strong desirers of peace.
The natives of Moon in 10th house can work well with people as they have a strong instinct of what the public wants. They are less likely to be home-centric, and they will invest more of their energy into their career and public life as per the Career predictions for Moon in the 10th house.
---
Negative Traits/Impact:
There is nothing which does not have both positive and negative in it. The same holds true for the natives of Moon in the 10th house. Astrology tells us that natives who have debilitated Moon in 10th house may get obsessed with their professional success and thus, their personal relationships may take a back seat.
Besides, they may feel anxious about living up to their image or the expectations of their family members. The challenge lies in being too emotionally prejudiced. They are likely to feel the emotional whims very frequently. They will find it very challenging to determine their set and cherished goals. It is less likely that they may find real happiness if they move on in accordance with the expectations of others.
Besides, there is a possibility that the natives of Moon in 10th house may move towards things which may make them lose on their leadership qualities and moral values. They need to be cautious on this front. The natives of the Moon in the 10th house may even lose their patience and sustenance and give up their goals if they are unable to get desired success.
---
Conclusion:
In short, the natives of Moon in 10th house present a personality who can shine bright in their career as per profession predictions for the Moon in 10th house. They are usually very positive and spread their vibes wherever they go. Also, these natives can influence others in a big way. In fact, several people may change their lifestyles owing to the magnetism of Moon in tenth house native. They are much renowned for their leadership qualities and their efforts towards bettering the humankind.
---
Moon in different House
Importance of Houses in Astrology
Importance of Planets in Astrology
---
---
Get 100% Cashback On First Consultation