Best Vastu Dosh Remedies From Experts
Vastu is a science that gives a deep understanding of directions, geographic conditions, topography, physics and environment. It helps set things correctly with a balance between the five elements are fire, earth, water, air, and space. Vastu Shastra is a key to enjoy the maximum benefits in life. However, if the Vastu guidelines are not followed properly, then it may lead to a defect or a dosha.  Here we have provided some of the remedies on how to remove Vastu dosha from your home.
What is Vastu Dosha?
Before knowing the remedies, it is appropriate to know what a Vastu dosha or defect actually is. A Vastu dosha is simply the violation of any of the principles of Vastu Shastra. A Vastu dosha can occur in your home, office, shops, or showrooms. These Vastu doshas in your home or office often lead to disharmony in the family, obstacles in running your business or being unable to find a job despite being qualified. 
These doshas often result due to impulsive decisions without proper Vastu consultation. You might be thinking about how to clear these Vastu doshas or getting solutions for the defects in your house or office. You need not worry; as these empowering remedies can help revive health, wealth, and prosperity in life. 
Vastu Shastra Remedies Without Demolition
Many of you would want to clear the Vastu Dosha without demolition of the property. Hence, it becomes important to know which Vastu solution will work for your home or office. A Vastu dosha can be normally rectified by doing modifications in the rooms, changing interior colors or decors and rearrangement using regulators and energized items. Mostly all the Vastu Doshas have certain Vastu remedies. If you follow them appropriately, it can rightly bring in prosperity and happiness.
General Vastu Remedies for Home
You can perform below Vastu poojas to clear the Vastu Dosha. 
Vastu Shanti Pooja should be conducted to purify the home which has been left vacant for a long time.

Conduct rituals for Shri Ganesh Pooja, Navagrah, Shantipath and Agnihotra Yagya with the help of qualified brahmins.
Perform Grah Shanti Pooja every year to remove negative effects from life
Recite mantra " Om Namo Bhagvati Vaastu Devtay namah " every Tuesday morning for 108 times.
Perform Rudri Pooja every Monday and on Amavasya (no Moon) day.
If you observe a bare wall while entering your home or office, you should place a statue of Lord Ganesha or Shri Yantra

You should daily offer prayers to the Vastu Purush.
Few vastu products that will help you to remove vastu dosha from your house or flat.
Vastu Solutions Using Other Methods
Crystals are tools for communication between human beings and the mother earth. They connect the elements of space and the energies of earth. They activate energy flow in the atmosphere thereby making your place more delightful. One of the major functions of the crystals is to cleanse and transform negative energies present in the surrounding. With the help of a Vastu expert, you can choose the best suitable crystal to clear the Vastu Doshas from your home or office. 
Here are some other methods you can apply to correct Vastu defects:
You should not plant a cactus in your house.
You should refrain from placing the statue of Lord Hanuman in the South-East. 
All the doors in your home or office need to open inside. This way the positive energy remains inside.
The hinges of doors should not be making any noise. If so, you should grease them periodically.
All the doors should open towards your right side.
You should not put the beds under a beam.
The ceilings of rooms should not have five corners.
You should keep the rooms open on the North-Eastside.
While climbing the stairs, you should face towards either the North or the East.
Cupboards and beds should be arranged very close to the South-West wall keeping them distant from the North-East wall.
You should face towards North-East while drinking water.
One should try to sleep pointing their head towards South direction in the South-West corner of their house. 

You should not have pictures or photos portraying violence in your home or business space.
You should keep the North-Eastside of a room or building as much clean, open and empty as possible.
Vastu adjusts the equation between cosmic energies and people working or living in the building. More so, it generates a rhythm in the atmosphere and balances the surroundings. People do implement Vastu remedies, but at the same time expect to have favorable results instantly. It is important to remember that it will take a little time for the effect and changes to be visible. Remaining calm will help you confront the positive effects of the remedies of Vastu Shastra. 
Related Links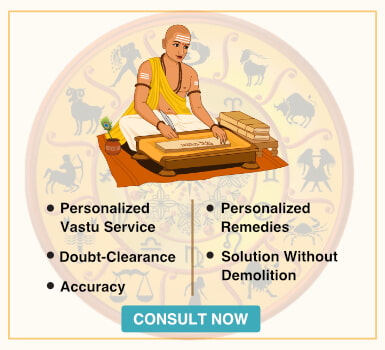 Day Guide
Comprises of events likely to happen, hourly guidance & precise timeframes

Life Meter
Know the percentages of different aspects of your physical and mental state

Compatibility
Check out how well will your wavelengths with others match