Mercury in The Twelfth House : Vedic Astrology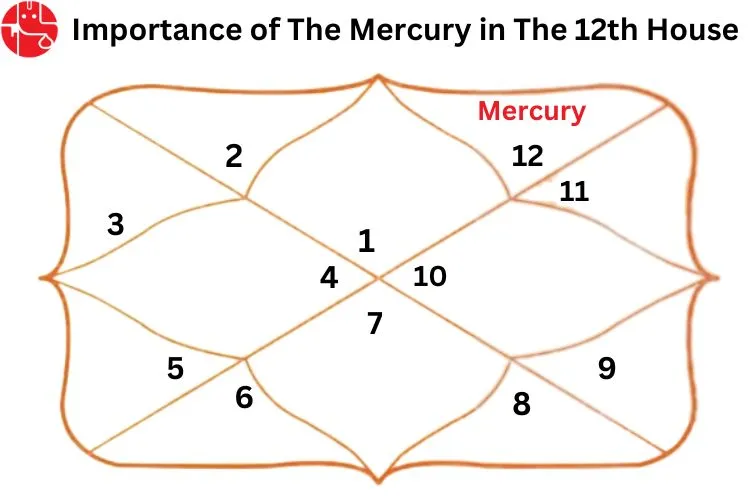 ---
How Does Mercury in The 12th House Affect it?
It is believed that Mercury is that planetary position in the twelfth house which stimulates the curiosity to study spiritual knowledge. Mercury is also known to be a planet of logic as well as information. It is also known to be the house of subtlety and self-destructive. 
Do You Want a Peaceful and Harmonious Life? Buy Janampatri and Fix Your Life's Problems.…
---
Mercury in The 12th House Meaning
Mercury in the 12th house means that the native is supernatural, and represents the realm of abstract, as well as spiritual matters. Mercury in the 12th house might produce very shy and clever people with the ability to trick other people. Those who have mercury in the 12th house in their horoscope, or who are experiencing this as a transit, might be prone to distort the truth and propagate real facts. The natives are known to be very preserved in nature. Also, they do not have a very interactive personality. These people are also known for their introverted nature. As far as career is concerned, these people are likely to make their career in a profession like journalism, poetism or as a media person. In their early 30s, the natives might face many struggles but might gain happiness in their mid-30s. Many times the natives are likely to make bad decisions that they might regret in their lifetime.
---
Areas Affected Due to Mercury in 12th House
Mercury in 12th House Love
Love seems to be complicated for the people with Mercury in the 12th house. Mostly it might be due to their temporary love affairs. No doubt the love affairs that these people have might be very passionate and they might spend a very good time together but they might break up in the end which might result in sorrow. These people might not share anything with anyone and might become boring.
Mercury in 12th House Marriage
These people don't have good luck in love, they might also see a second marriage. Cheating might be one of the reasons for a failed marriage or divorce. The native might opt for cheating due to an unsatisfied relationship with the partner, probably due to an unsatisfied intimate relationship. Also, the native or the partner might face fertility problems due to which they might have a problem in bearing a child. These problems might be solved by a good astrological guru. Expert advice is necessary for a successful marriage for people of mercury in the 12th house. Click here to take expert advice for a successful marriage.
Mercury in 12th House Career
As far as career is concerned, the natives might make a good career in social media platforms. They might specialise as a writer or an actor. These people are introverts and might gain success if they work on their own without any interference or help. These people might also gain fame in any kind of athletics due to their good physical appearance. They might also work as IT professionals as well as RJs. 
Mercury in 12th House Personality
The natives have a very curious mind which means that they might have a good inclination towards knowledge. The natives might also travel and might want to live their lives the way they want to without any interference from others. These people are not very interested in savings and believe in spending money on lifestyle as well as necessities. Their luck might favour them and they might travel to different places because of professional reasons.
---
Effect of Mercury in the 12th House on different zodiac signs
Mercury in The 12th House Aries Ascendant
People with Aries zodiac signs who have mercury in their 12th house might be aggressive. These people have a good understanding and knowledge due to their circle. These people also have a nature of jumping to conclusions too soon. 
Mercury in 12th House Taurus Ascendant
These people have a very different mindset as they have a habit of depending on their interpretations. They might also seem to be very quiet but reveal very little about themselves. At times it might become difficult to change their thoughts. These people also have a habit of overthinking due to which their imagination gets affected as well they are not able to execute any kind of conclusion.
Mercury in 12th House Gemini Ascendant
The natives have a very different outlook and probably they have an intellectual mindset on spiritual subjects. They have a very strong personality and are not afraid of protesting against unethical things. They have a mind of abstract ideas and believe in the power of the divine. These people generally look forward to the guidance of some kind of spiritual guru.
Mercury in 12th House Cancer Ascendant
They have a new outlook and sensitivity towards things that might not be seen physically. They are likely to gain spiritual knowledge about different concepts as well as have the curiosity to understand the spiritual field. These people tend to get emotional satisfaction only by discovering the universal truth of spirituality. 
Mercury in the 12th House Leo Ascendant
This zodiac sign has the power to get enlightenment on its own. The natives also get excited to discuss the concepts of spirituality and new ideas. These people might get misled or emotional because of the influence of other people. The natives are pure souls and have a heart of gold, due to which they tend to attract other people. They are creative and imaginative in whatever they do. 
Mercury in 12th House Virgo Ascendant
These people have a great tendency to do good research on certain subjects due to which they are very informative. They have a good habit of making their lifestyle healthy and thus, they focus on their diet as well as nutrition. The natives are happy researchers and might dig up good information for their benefit. 
Mercury in 12th House Libra Ascendant
The native is very responsible in handling situations and might have the courage to take a stand against the wrong. These people also are attractive and have a good ability to manipulate things for their good. Thus, these people are good at making their way as well as know how to utilise the right time.
Mercury in 12th House Scorpio Ascendant
These people are the ones who think a lot and consider things deeply. They all know how to use the power of spirituality to understand the mystery of life. They have a good sense of humour and their power of intuition can't be matched. They know how to use this power to attain real knowledge.
Mercury in 12th House Sagittarius Ascendant
It has a great philosophical importance. They get satisfaction in the subject of the universe as they gain a lot of pleasure in gathering this kind of knowledge. The natives admire enlightening the world with their better thoughts on spirituality.
Mercury in 12th House Capricorn
The natives might gain fame in the career of a writer or an author. These people work around the subjects of mental health. They have a good amount of knowledge and thus they might take it beyond the physical field.
Mercury in 12th House Aquarius
These people have a sense of intellectual curiosity as well as a desire to attain good knowledge. These people are also strong in their thoughts. These people love being around those who share secrets with them. 
Mercury in 12th House Pisces
The natives can promote anxiety for honesty. These people should be accepted for their innovative ideas otherwise they might feel bad as the pace of their emotional level is a little high. 
---
Positive Impact of Mercury in 12th House
The natives have a great imagination and creative mind, they are also known as visionaries. They are very interested in learning and gaining knowledge that helps them to improve their quality of life. These people also show interest in learning new subjects such as astrology, spirituality, occult sciences and religious matters. They also have a unique quality of mind where they might focus and concentrate on the subjects that interest them and gain a deep understanding of the deeper meaning of life. They have a very good imagination that improves their creative abilities. They also have a very strong sixth sense and might attain a great achievement for humanity. If anyone misleads them, their good qualities might go astray and they might also lose their direction in life.
---
Negative Impact of Mercury in 12th House
The natives tend to spend too much without thinking about saving. They might also spend a lot of their money to buy various unnecessary luxuries to present their good lifestyle in front of others. They might also spend more than what they earn and might have very little savings. They might listen to many influential people and turn their ways. They might not be able to save money and would have to face a financial crisis. They might start earning at a very young age with a low income, but reach a high position and get promoted to a very good position in middle age.
---
Mercury in The 12th House Remedies
It is believed that marriage needs to be avoided in the 25th year. 

Serving food to the dogs might help. 

Wearing a gold ring without any joints might help one. 

Saffron tilak might also help and work as a better remedy. 

Dark green colour needs to be avoided. 

Fasting on Wednesdays might help one. 

Worship Goddess Durga for a better life. 

Donating gram pulses, saffron and turmeric might also be of great help.
---
Wrapping Up
One might take the help of an astrology consultant to overcome the harmful effects of mercury in the 12th house. When you seek astrological guidance, our experts might always help you to improve your health, family life, and career. You might probably face hearing problems. You also need to be careful with your enemies because they might leave no stone unturned to demotivate you. You need to increase your self-esteem and be more confident in life so that you might ignore the little things that hinder your progress in life. Talk to our astrologers who might show you the right path to a happy and fulfilled life.
---
Effects of Mercury on Different Houses
Importance of Houses in Astrology
Importance of Planets in Astrology
---
---
Get 100% Cashback On First Consultation