Mars in The Tenth House : Vedic Astrology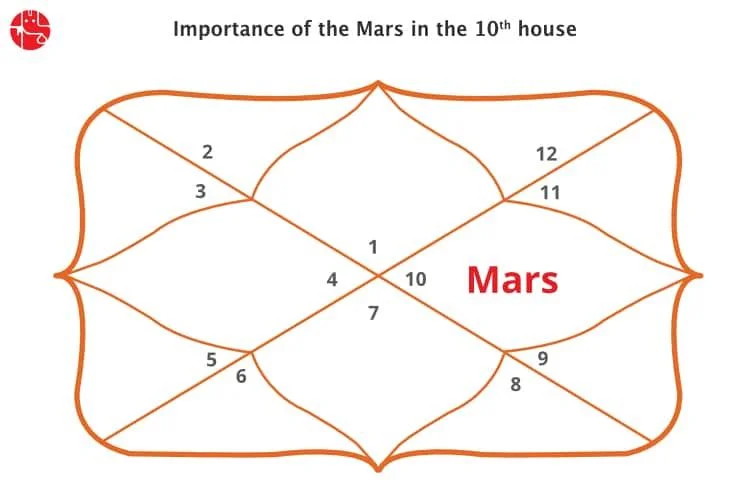 Mars is considered a malefic planet in our stellar system. It is red and tough. It can bring about aggression and violence in the behaviour of the natives. As for the tenth house, it deals with work, profession, occupation, honour and so on. So, when Mars is placed in the 10th house, the natives may be strongly career-oriented. They will maintain a constant and relentless motivation towards their professional goals.
---
The Areas Affected Due to Mars in The 10th House:
Work and profession
Leadership qualities
Energy and enthusiasm
Attitude towards people
Do You Want a Peaceful and Harmonious Life? Buy Janampatri and Fix Your Life's Problems.…
---
Positive Traits/Impact
The natives of Mars in 10th house may have good abilities to organise events and other requirements. However, they should not let these characteristics become a sort of obsession. People around them should respect their independence and their focused approach. These natives are quite task-oriented. If they can manage their time well, they can be at their best and most effective. In relationships, the natives of Mars in the tenth house take the lead when it comes to organising events.
With Mars is in the tenth house, you can be very much goal-oriented and competitive. They will easily thrive and flourish in career. They can even be pioneers in what they do. They will take the lead and guide others through both good and bad times. Besides, they will be quite active in their personal and professional life. These natives are more interested in pursuing their goals rather than winning the admiration of people around them.
When the natives have Mars in the 10th house, they are likely to be quite ambitious and determined in nature. They are like a powerhouse of energy and enthusiasm. They possess strong leadership qualities and can be very action-oriented. The tendency to take initiatives comes naturally to these individuals. They work very hard to maintain a better image at work and seek recognition therein.
The natives of Mars in the 10th house will be very effective in their work. They will bring in a lot of variety and innovation to their work. Their organizing and managerial abilities are exceptionally good. These individuals are self-reliant, logical and result-oriented. However, they tend to be dominating and demanding with their subordinates. They may even get into problems with their superiors.
The natives of Mars in the tenth house will realise that its important to be ambitious in life. And they will be ambitious not just in profession but also in other areas. And indeed, this approach will reward them. The natives will lead a lifestyle that will reflect their success. The natives will want to share their success with others.
The natives of Mars or Mangal in the 10th house will give a lot of importance to family. That is the reason why they will put in a lot of energy into their profession so that they can earn money for their family members. They may have a happy marriage. Further, they want to create a stable home environment for themselves and their near and dear ones. They may also not get into a relationship until they become financially well-off when they can support their spouse and later children.
Mars in the 10th house Vedic astrology makes the natives take their personal life as seriously as their work life. They will demand loyalty above everything else. They will look for a serious commitment and rarely get involved in flings. They will offer the same dedication in return. The natives will not be silly or spontaneous. They will be responsible and reliable and will protect their loved ones at all costs.
---
Negative Traits/Impact:
Mars in the tenth house astrology states that when others try to get in the way of natives, they ignore these people and continue to tread their path. Their bosses will appreciate the natives. They will be seen as people who get the job done very fast and effectively. However, the natives' colleagues will see them as very cold and calculative in their approach. The negative aspect of Mars may become all the more pronounced when Mars is debilitated in 10th house.
These natives are good at heart but their apparent behaviour may not be seen positively by some. It may cause problems to these natives as their professional growth is likely to be restricted as they may get seniors and colleagues who may not let them rise.
Read your 2024 Career Report to Discover How Planetary Transits in 2024 Will Affect Your Professional Life, Both Positively and Negatively……
---
Conclusion:
The natives of Mars in the tenth house will have the fire of Mars in them. This can be properly used in the profession and consequently the natives may rise very high. However, these natives will have to be very careful while dealing with people or else their growth may not be that much.
---
Effects of Mars in different houses
Importance of Houses in Astrology
Importance of Planets in Astrology
---
---
Get 100% Cashback On First Consultation