Mars In The 7th House: Vedic Astrology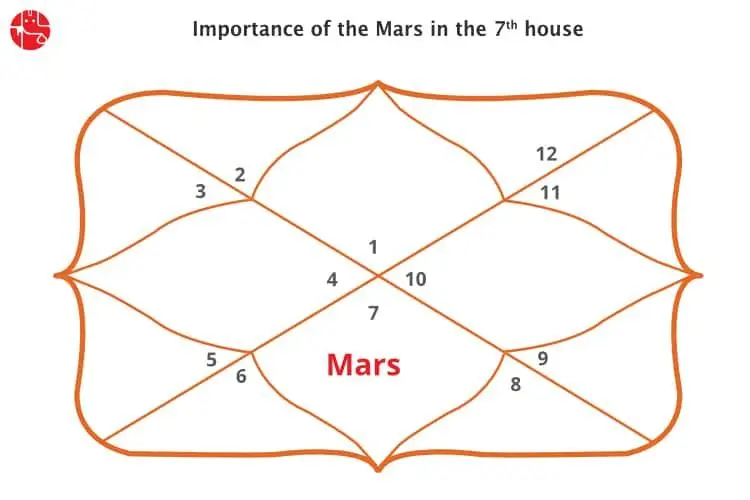 Mars in the natal chart of an individual makes him/her impulsive, aggressive, and energetic by nature. The placement of Mars in 7th house governs natives' relationships, especially their married life. It reflects both positive and negative influences on the natives' relationships. According to Vedic astrology, it is also found that the natives with this placement are intelligent and smart, but due to their aggressive nature, they cannot remain calm in situations and they are likely to have frequent outbursts to vent out their emotions. Such natives cannot deal with their anger and have less control over their minds. Individuals with this conjunction are likely to pursue professions like engineering, armed forces and business, etc.
---
Areas Affected due to Mars in 7th House:
Relationship
Marriage
Partnerships
Love
---
Positive traits/Impact
Placement of Mars in seventh house has its strength and weakness which reflects in the individuals' lives. When Mars in the natal chart brings about favorable outcomes, it revitalizes the individuals' relationships without a doubt. Married life of natives with this conjunction tend to be blissful and prosperous. Both the partners share their emotions and in case of adversity, they support each other. As stated in Mars in seventh house Vedic astrology, such natives feel no remorse for their past relationships (troubling memories) and encourage each other to leave their past behind. The man and woman of Mars in 7th house never mind what the society and other people think about them, their mutual trust and love is their greatest strength.
The natives with Mars in their 7th house share every moment of their life and have realistic expectations from their life partner. The natives of Mars in 7th house don't have deep-seated emotions, and their bond with their spouse or life partner is hard like a rock which cannot be broken easily. Physical pleasures between them bring happiness and clarity in their love life. Such natives treat each other with respect, kindness and have a great fondness for each other. These couples are also great listeners and never argue too much when facing adversary.
What's your Mars speak about you? Want to know? Get the janampatri and explore the hidden truth of your Mars.
---
Negative Traits/Impact:
Due to its furious and aggressive nature, Mars may also tend to have an adverse impact on the natives' relationships. Such natives experience incompatibility in their married life, they may argue too much and may not be committed to each other. In short, they may find their life less meaningful. These individuals have too many uncertainties and troubles in their relationship, and their actions may only make matters worse. It is also found that these natives might lose their sexual energy and love tendencies towards each other. Studies of Vedic astrology show that the negative influence of Mars in 7th house also has an inauspicious
effect on the natives' relationship.
Moreover, the adverse impact of Mars is likely to result in separation for these natives. Due to a lack of understanding and weak bonding between them, these natives tend to ruin their relationships. They may not be willing to adopt positive changes for the betterment of their relationship. In some cases, the marriage partners may have affairs outside of their marriage/relationship. The negative influences of Mars in 7th house can only be solved by appropriate remedies.
---
Conclusion:
Individuals with Mars in their 7th house experience both ups and downs in their life. It provides the individual with both physical and mental strength to overcome their life hurdles. The presence of Mars in the 7th house provides the natives a wonderful love life with loads of happiness. But when this conjunction creates a negative influence, it causes great harm to natives' relationships and gives rise to traumatic events in their love life.
Are you unhappy with your love life? Talk to our experts and experience the change.
To Get Your Personalized Solutions, Talk To An Astrologer Now!
Effects of Mars in different houses
Importance of Houses in Astrology
Importance of Planets in Astrology
With Ganesha's Grace,
The GaneshaSpeaks Team
---
---
Get 100% Cashback On First Consultation