GaneshaSpeaks Predicts Elections 2022 With 83% Accuracy
Published on March 16, 2022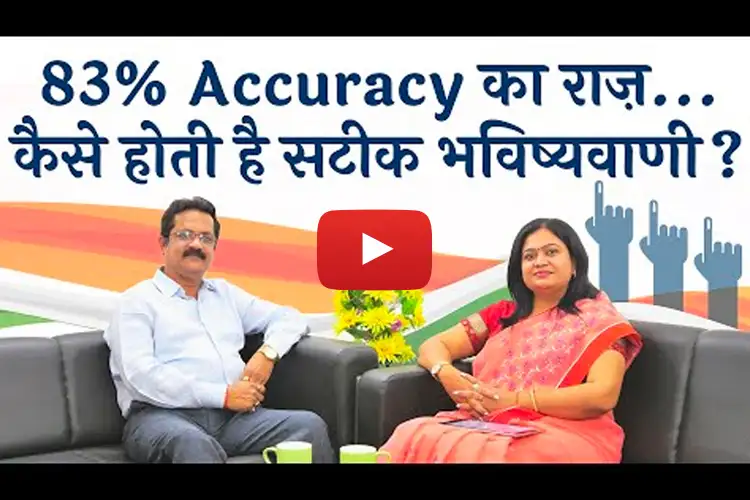 Right from 2021, GaneshaSpeaks was up to the task of predicting the future of the Mega Election 2022 happening in five states. Right from our first Election 2022 prediction Uttar Pradesh Election 2022: One Man Show or A Joint Government?, we knew how stars shine bright for Yogi Adityanath in UP Elections 2022.
As the elections got closer, the anticipation was high, and so were the stakes. With our team of expert astrologers, we started analysing the charts of all the major players, along with the underdogs like Chandrashekhar Azad 'Ravan' in UP.
From Captain Amrinder Singh's Punjab, N Biren Singh's Manipur, Navjot Singh Sidhu's Punjab, and Akhilesh Yadav's UP Campaigns to Archana Gautam's wild card and Mayawati's backout, we have covered them all, predicting their fate in this Mega Elections 2022, giving you a clue of the things to come!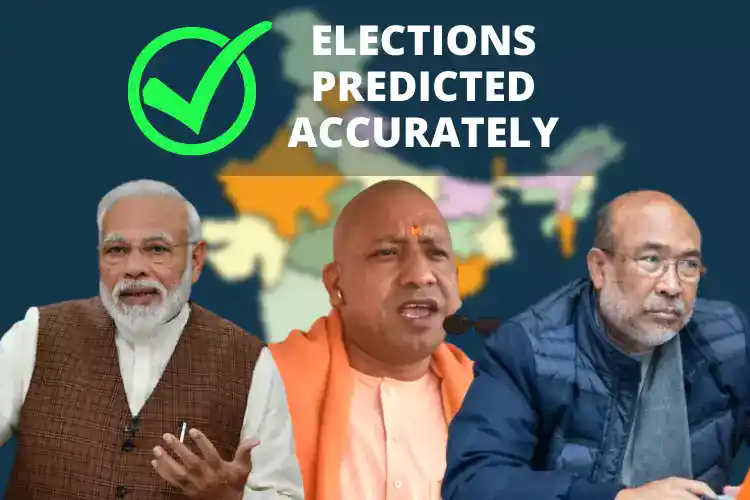 Out of all the predictions we made, it was with a staggering success rate of 83.33% accuracy we predicted correctly. This number once again stands for the testimony of the precision that Vedic astrology works with and how GaneshaSpeaks' experts can decode it to the T when it comes to making predictions.

Here is a rundown of all the things we got right, beginning with the state with the largest number of legislative assembly seats: Uttar Pradesh.
GaneshaSpeaks' Predictions for UP Elections 2022
Yogi Adityanath has won the UP elections 2022 with a landslide victory. He became the first CM of the state to retain power among seasoned players like Priyanka Gandhi and Akhilesh Yadav. In our article about Yogi Adityanath's UP election prospects on Jan 7, 2022, we predicted his win with the support of Saturn and Jupiter. You can read that article here.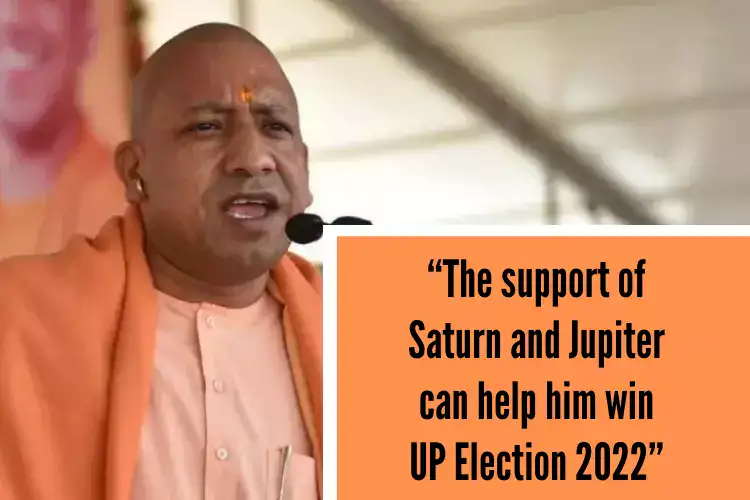 And when it comes to Priyanka Gandhi and Akhilesh Yadav, the planets did not paint a great picture! The transit of Saturn and Ketu hurt Priyanka Gandhi's cause, whereas Akhilesh Yadav's Vijay Rath came to a halt with transits of shadowy planets Rahu and Ketu. Read the predictions for Priyanka Gandhi and Akhilesh Yadav here.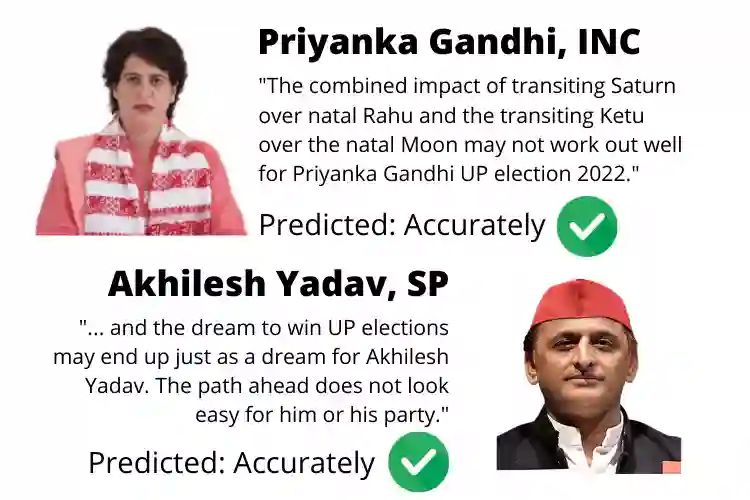 Not only that, these are the predictions we made for other candidates in UP, and one can see how they hit the bullseye all the time!
Archana Gautam
"at present, Ketu is transiting over natal Jupiter, which may also bring obstacles in her political career. Despite having some good planetary conjunctions, she may not get the desired results in the upcoming UP election 2022."
From Winning Chances Of Archana Gautam As Congress Candidate In UP Election 2022 written on Feb 06, 2022.
Jayant Chaudhari
Jayant Chaudhari's alliance with Akhilesh Yadav didn't bring him great success. His party only won 8 seats out of 33 contested.
"Also, the transit of Ketu over the Moon indicates differences with his key allies or associates on many issues, which might also harm his chances of winning."
From UP Election 2022: Can Jayant Chaudhary Bring SP-RLD Alliance To Power This Time? written on Feb 02, 2022.
Chandrashekhar Azad 'Ravan'
He lost to Yogi Adityanath in Gorakhpur (Urban) seat.
"He will be able to make a mark in UP, but a win over the seasoned players of Uttar Pradesh politics doesn't look easy for him if we look at his planets."
From Chandrashekhar Azad in UP Election 2022: Is UP Ready for 'Ravan' Raj? written on Jan 27, 2022.
Aseem Arun
For Aseem Arun, we predicted a good win with him overcoming all the challenges he faced. This ex-IPS's win from the Kannauj seat proved us right again!
"Due to these Jupiter transits, Aseem Arun is likely to be in a positive state for the next three years. The only possible issue can be created by Rahu transit in Aries in April 2022. However, Aseem Arun is more than equipped to overcome these challenges and be successful with his political venture."
From Aseem Arun Joins BJP: Can an IPS Succeed As Political Aspirant? written on Jan 25, 2022.
GaneshaSpeaks Predictions for Punjab Elections 2022
Though Punjab has its own story of a surprise to unfold, we predicted the fate of many candidates accurately. The list includes Congress candidate Navjot Singh Sidhu, now ex-CM Charanjit Singh Channi, and the CM before him, Captain Amrinder Singh.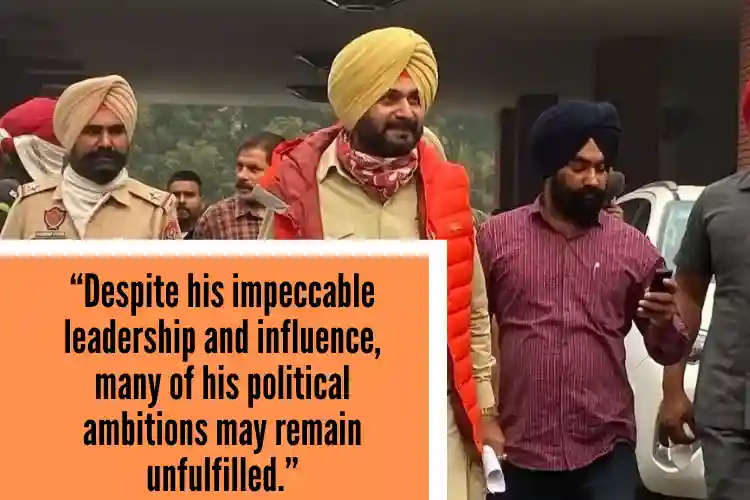 Navjot Singh Sidhu lost to Jeevanjyot Kaur of AAP. As predicted, his political ambitions remained unfulfilled. He was also criticising Charanjit Singh Channi, then CM of Punjab, from his own party. For the latter also, we predicted how the results wouldn't be in his favour. The same can also be said about Captain Amrinder Singh's newly formed Punjab Lok Congress. You can read More about Navjot Singh Sidhu Election Predictions here.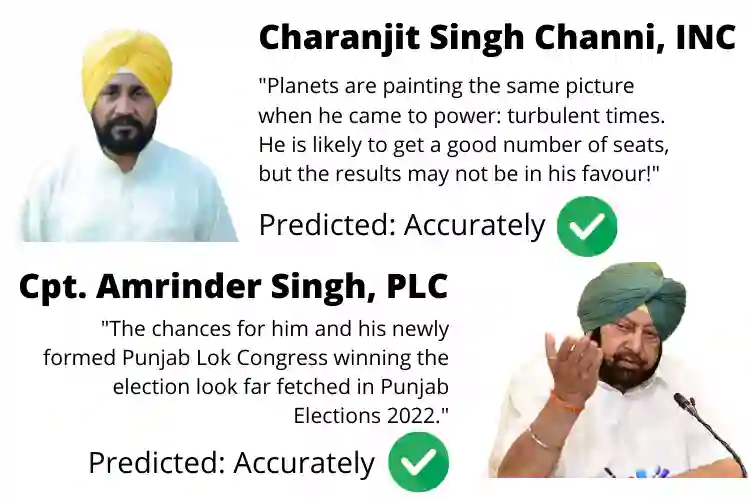 You can read more about Charanjit Singh Channi and Cpt. Amrinder Singh's predictions here. Apart from these, we also predicted Shiromani Akali Dal's Sukhbir Singh Badal's fate as accurately as ever.
Sukhbir Singh Badal
"Jupiter's transit over his natal Jupiter may help him a little and save him some votes this election, but overall, a clean sweep looks a little difficult for Sukhbir Singh Badal."
From What Sukhbir Singh Badal's Planets Predict About His Run In Punjab? written on Feb 1, 2022.
GaneshaSpeaks Predictions for Uttarakhand Elections 2022
In Uttarakhand Elections, CM Pushkar Singh Dhami was defeated by Bhuvan Chandra Kapri. The former has resigned from the post of the CM, too, which aligns perfectly with what we had predicted in our predictions for Pushkar Singh Dhami. The Rahu Ketu transits have hurt his cause in Uttarakhand Elections.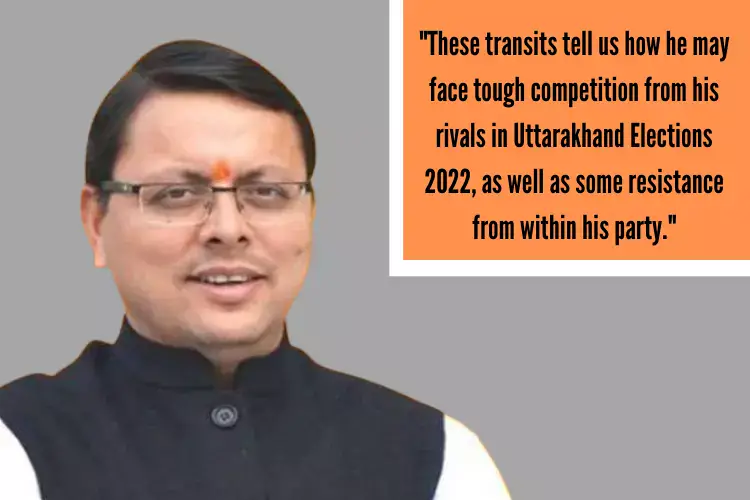 The other story from Uttarakhand Elections 2022 consists of Harak Singh Rawat leaving BJP to join Congress for his daughter-in-law Anukriti Gusain's ticket. We predicted 'a rocky road ahead' for Harak Singh Rawat, and the defeat of Anukriti Gusain proves the accuracy of the planets, once again!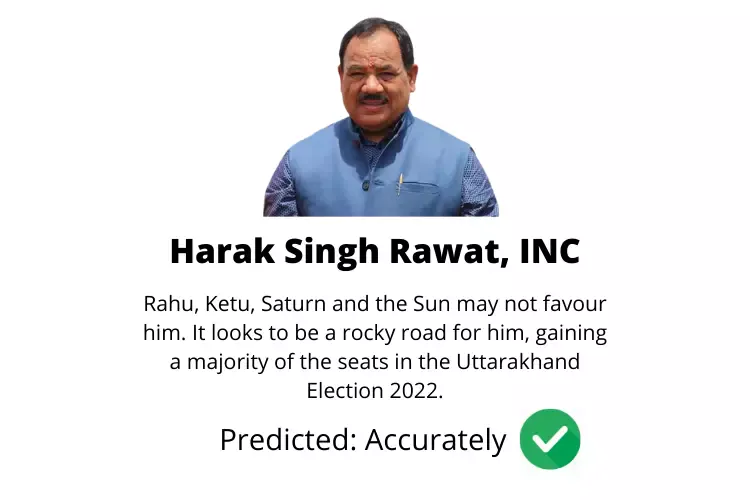 You can read more about Harak Singh Rawat's Election 2022 predictions here.
GaneshaSpeaks Predictions for Manipur Elections
For Manipur Elections 2022, the top contender was undoubtedly N Biren Singh, who hasn't lost an election since 2002. The planets once again told us how the unbeaten run wasn't going to stop this time either. With the help of the transits of Jupiter and Venus, he always stood an excellent chance, and the results have proved that right!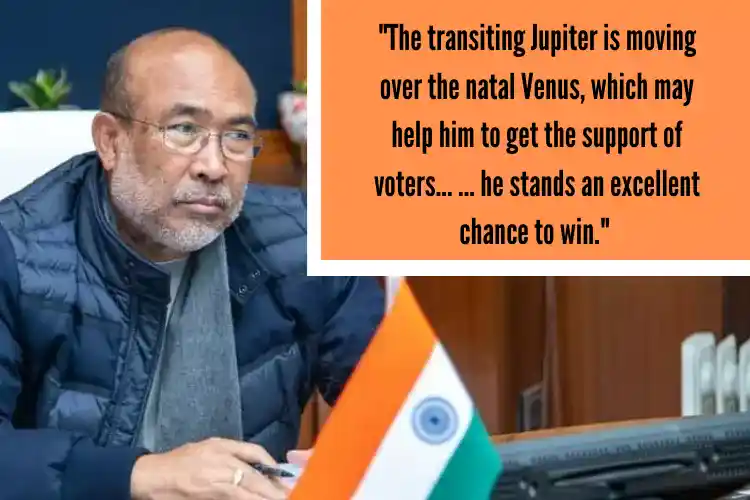 You can read more about our N Biren Singh Predictions Right Here.
To have a look back at our full coverage of Elections 2022, you can head on to:
All Assembly Elections 2022 Predictions.