Yogi Adityanath's Planetary Rally in UP Elections 2022: Tough or Easy?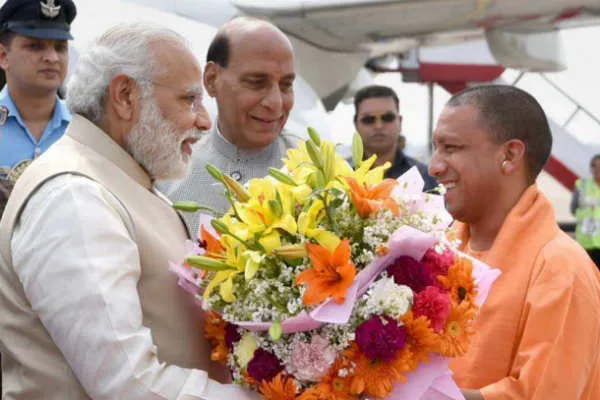 The stage is set for the UP Assembly Elections 2022. All political parties have started showing their strengths in the poll-bound states. And now once again Yogi Adityanath is going to enter the UP elections. UP CM Yogi Adityanath may contest the 2022 election from the Mathura assembly seat. PM Narendra Modi is also supporting Yogi Adityanath but will he get the support of stars in winning UP Assembly Elections 2022? Let's dive into his solar chart and have a look at which planets will support him and which may stop him from winning the election.
---
Which Planets Support Yogi Adityanath?
Born on Jun 5, 1972, in Pauri Garhwal, Yogi Adityanath has a conjunction of Sun, Mercury and Saturn in Taurus. Due to this conjunction, Yogi Adityanath is disciplined, focused, determined, and considered a great leader.
The presence of Mercury in a favourable house makes him proficient with his political outlook and analytical skills. When it comes to working, he takes it very seriously and expects others to do the same.
All these planets together may help him in the UP Assembly Election 2022, but there are other planets too that are supporting him in the horoscope, so let's have a look at it. But before that, do you know which planets are supporting you this year? Know with your Free 2023 Report.
---
These Planets Make Adityanath A Strong Candidate
In Adityanath's horoscope, Mars and Venus are present in Gemini, which is considered a very attractive combination. This conjunction strengthens his willpower and keeps him loyal to their beliefs. This yoga blesses him with strength and energy.
As Venus gives sweetness to his speech, at the same time wrath of Mars can also be seen in his speech. He is hard from the outside, but this combination keeps him soft from the inside. Mangal does affect our lives in many ways, and to understand the planet's role in your life, you can access your Free Mangal Dosha Report.
For Yogi Adityanath, Jupiter's aspect on Mars and Venus can be seen in his acts and words, but will it be enough to win the UP Election 2022, or are any transiting planets having an adverse effect on his horoscope?
---
Which Transit Can Cause Problems For Yogi Adityanath?
At present, in Yogi Adityanath's horoscope, Jupiter is transiting over the natal Moon. This might help him immensely in making strategies and implementing them. Rahu is transiting in Taurus, which is over the three major planets of birth. This may bring unexpected challenges in his life.
He will also be under the influence of Shani Sade Sati till mid-2022, which can create problems for Yogi Adityanath. However, while Saturn is in Taurus, he will make every effort to develop definite plans and move ahead with his work.
However, till April 2022, he may face some difficulties but he will get the support of Saturn and Jupiter which can help him win UP Election 2022. Which planets will support you and which planets are against you?
Know with your Janampatri & Get 100% Cashback On First Consultation.
Also Read: Will Planets Approve Priyanka Gandhi's Strategies To Win The Elections?
Our expert astrologers can guide you about your birthstone as per your zodiac sign. Feel free to contact us.
---
---
Get 100% Cashback On First Consultation