Ketu in The Twelfth House : Vedic Astrology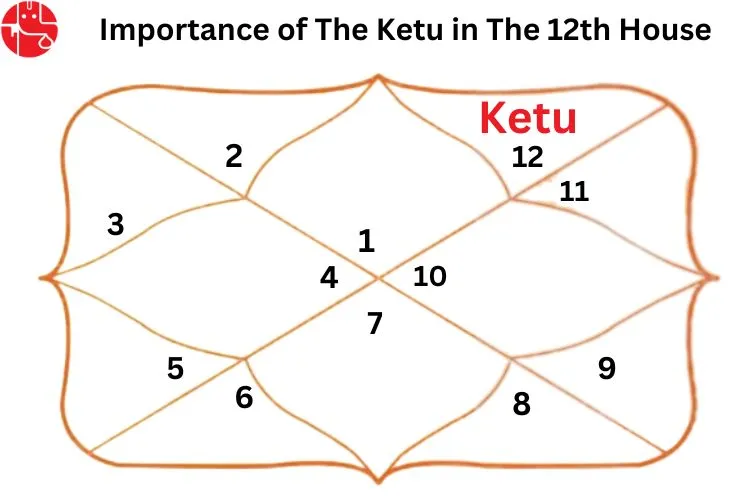 ---
Ketu in The 12th House Vedic Astrology
Ketu in the twelfth house indicates that natives are mostly introverts and like to socialise only with a few people. These people have affection and empathy for everyone who is attached to them. They are likely to experience depression and loneliness in their lives and relationships. Also, people with Ketu in the 12th house in the navamsa chart might face many difficulties in managing financial affairs as well as might get confused in choosing the right job and the right direction in life. Often, they might not get that motivation in their career, but they might return with more energy to elevate themselves spiritually and have unwavering faith in God.
Ketu in the 12th house of Vedic astrology is also known as the house of the unconscious. It signifies dreams as well as the hidden emotions of a person. This position might also be called the house of Moksha, or house of sorrows, house of demise, and house of divination. Ketu – also known to be the planet of detachment, difficulties and spirituality sits in this 12th house! It might be said that, if it's affirmative, then the person might become spiritual and wise. If it's weak, then the result might not be that favourable.
---
---
Positive Impact of Ketu in The 12th House
The natives have an inclination towards spirituality which is very good as their goal is to enlighten themselves.

These people are blessed with luxurious lifestyles and are satisfied with the quality of their life. 

They believe in meditation and are committed towards the divine path of God. 

These people have a bright career in astrology, spiritual teachers as well as tarot card readers.
---
Negative Impact of Ketu in The 12th House
The natives are quite wealthy and live a luxurious life due to which they might unnecessarily spend money and have a habit of overspending. 

If there is a combined position of Venus, Moon and Mars in the second house then it might increase harmful effects. 

This position of Ketu might bring sleep disorders to the native and also result in health issues. 

Though they might get a good lifestyle, there are also chances for them to accumulate debts. Also, the majority of the natives might live their life in hardship.

Due to their inclination towards spirituality, they might witness an unhappy marital life. 

These people might fall into depression and might also get addicted to alcohol. 

They might also not have good relations with their siblings.
---
Remedies for Ketu in The 12th House
Avoid hitting dogs, and it is better to keep one so that you might take care of dogs. This might lessen the negative impact of Ketu on your life. 

A cat's eye stone might be one of the remedies. 

You might also please Lord Ganesha by worshipping and reciting Ganesha Chalisa as it might benefit you a lot. 

Donating Milk, blue clothes, sugar and gold might help. 

Reciting the Shiva Panchakshari and Ketu Stotram might be of great help.

Donating black mustard seeds on Thursday is a good remedy. You might also keep a fast on Thursday and lessen its negative impact.
---
Wrapping Up
To counteract the negative effects of Ketu in your residence and enhance the quality of your life, You might Talk With an Astrologer Online and take solutions that might help you to lessen the effects of Ketu.  It is advisable to do puja and present laddoo to Lord Ganesha to receive his blessings. To be treated with dignity and respect in society, you might always endeavour to stand your ground and have a strong moral code. To counteract Ketu's negative impacts, it is also advised to have a dog as a pet. Another option is to sleep with a Saunf under your pillow.
---
Effects of Ketu in different houses
Importance of Houses in Astrology
Importance of Planets in Astrology
---
---
Get 100% Cashback On First Consultation