Ketu In The Ninth House: Vedic Astrology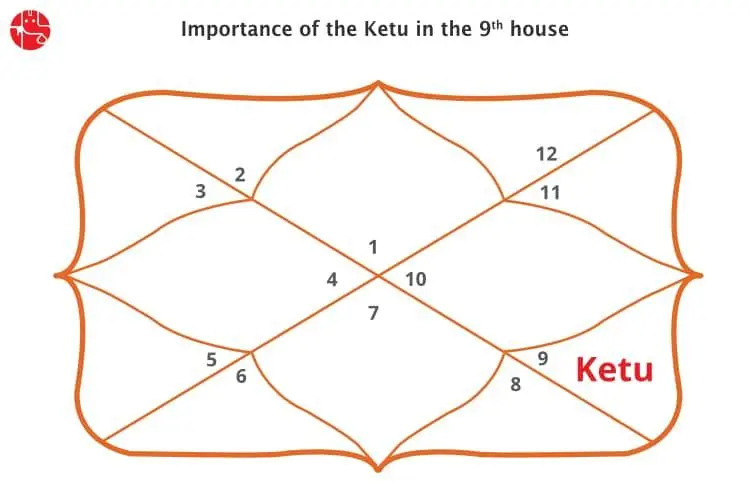 ---
Introduction
The planet Ketu is about the ultimate height and subsequent fall of materialism and the return towards spirituality. Ketu is also referred to as a half planet, the south or descending Node of the Moon also called the tail of the dragon. It is a shadow planet as it is invisible and is just a point in the cosmic arrangement. Ketu is considered the karaka of Moksha, the reason of liberation. It is a malefic planet but not as malefic as Rahu. It bestows the natives with various mishappenings in life, with the intention to help us reach emancipation. As for the 9th house, Ninth house relates to foreign travel, fortune, luck, meditation, spirituality, higher learning, and pilgrimages. When Ketu is positively located in the ninth house, it makes the person spiritually inclined and religious.
---
The Areas Affected Due to Ketu in the 9th House:
Charity and philanthropy
Writing and creativity
Attitude towards people
Loyalty and faithfulness
When Will I Get Married – Accurate Marriage Predictions from India's Top Astrologer, Get 2024 Marriage Prospects Report…
---
Positive Traits/Impact
When Ketu is placed in the 9th house, it may acquire some characteristics of Mercury. It may provide extra intelligence, the flair for writing, association with religious, social or charitable organizations, association with welfare bodies including orphanages, old-age homes, child welfare shelters etc. In other words, the natives may get more oriented towards helping others particularly the weaker and the needy sections of society.
Besides, the presence of Ketu in the 9th house may create ghostwriters of speeches and books, besides other literature for the political leaders, prominent business tycoons among others. However, it is unfortunate these ghostwriters are not paid that well for their wisdom and work.
Some natives of Ketu in the 9th house may become victims of romantic advances by the opposite gender, who can be their near relatives and friends. However, in all likelihood, these natives will rebuff the individuals who make these advances. The natives may have a good marriage. In the scenario where Saturn or Venus are not associated with the 9th or the 3rd houses, the matter ends there itself. However, if Venus or Saturn are associated with Ketu in the 9th house, declining these advances may lead to blackmail or bring a bad name to these innocent individuals.
The natives of Ketu in the ninth house may prove to be very helpful followers and advisers. They may get involved in politics and may strongly support certain political leaders. However, there is a possibility that these natives are misused by the politicians as they may not get the dues for their help and services. These natives can not flatter nor are they cunning, thus they may suffer in not getting their dues.
As per Ketu in the 9th house Vedic astrology,the innocence of these natives does not mean that they are always at the receiving end. Some people help these natives rescue them from financial or other such adversities. Those who help them are more likely to be not their kith and kin but people from outside the extended family.
---
Negative Traits/Impact:
Also, the natives of Ketu in the 9th house may suffer in matters of inheritance. They may not get their legitimate share from their father or ancestry as others are likely to usurp and encroach on their rights. They may be deceived by their siblings or siblings of their spouse. They may even be tricked by distant relatives or by those who are not at all related to them.
The natives of Ketu in the 9th house do not make any efforts to increase their popularity or fame. It is quite likely some mischievous writers and publishers may steal their writings and these natives seldom seek or get compensation or legal damages for the theft. The problems of Ketu in the 9th house can be solved by proper remedies.
Are You Not Happy With Your Love Life? Then Why Wait When the Solution is One Step Away! Get 2024 Love Life Report……
---
Conclusion:
The natives of Ketu in the 9th house may be inclined towards philanthropic and charitable pursuits. However, sometimes they tend to be naive, which can make them vulnerable. Thus, they should be very careful in financial and other dealings or else their life may become very problematic.
---
Effects of Ketu in different houses
Importance of Houses in Astrology
Importance of Planets in Astrology
---
---
Get 100% Cashback On First Consultation