Snake Horoscope 2021

Snake Chinese Horoscope 2021: Personality Traits Of Snake Chinese Zodiac
In the Chinese Zodiac, the Snake occupies the sixth place. The years of birth of the Snake are: 1917, 1929, 1941, 1953, 1965, 1977, 1989, 2001, 2013, 2025. 
Snake dominated people are mostly considered as sophisticated and humorous at the same moment. Even when life gives them troubles, they would face it with full calm. We can call them Self Sufficient ducks. Surprisingly, the health of a snake also depends on its chromosomes. Don't judge them based on their calm nature, they are super alert 24×7. Let's come to the overall Snake fortune in 2021, it is quite good. Things might go with the flow as desired. But, don't blame anyone if it does not as you must pour efforts from your end too. 
Snake Chinese Zodiac Horoscope 2021: Predictions Summary: 
Add this year in the list of your favourite years. You would witness showers of positivity and optimism and that will work as a lucky charm for you. How interesting does that sound! You would have a good life both professionally and personally. Hey job holders, be ready to get the promotion in your job (don't take this line for granted, you ought to pour your efforts too). If people turn against you, stay real alert and sharp instead of crying in the locker room.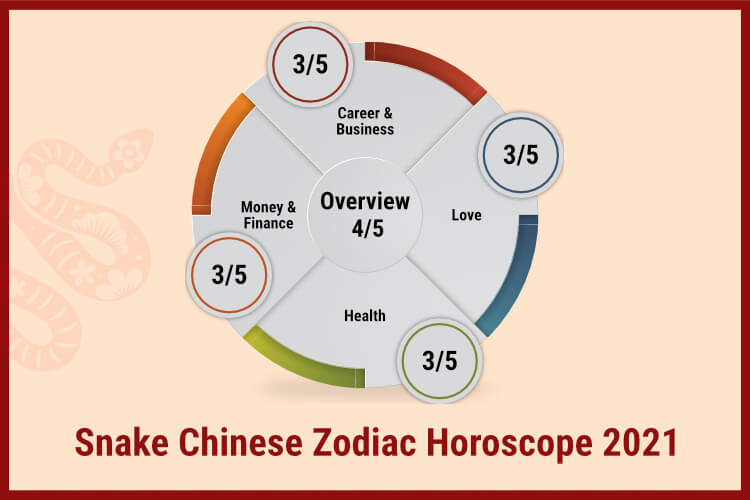 Snake Chinese Zodiac Horoscope 2021: Overview : ⅘ 
Starting from work, someone might come who can help snakes to achieve their goals at critical situations. Your income will continue to increase in a very fine manner. Snakes are the ultimate warriors when it comes to hard work and yes, this year will be fruitful. Time for actual results! We highly advise you not to be carried away, remember your roots from where you have come this far. Everyday, Wake up with a new approach to learn in life. The 2021 year can be a whole new chapter of your life. You just can't imagine how special this year is for you. We recommend you to use this extremely well, otherwise you would regret your whole life if not used properly. More than just luck, snakes are made up like this only. Hardly anyone can stop them to be victorious. 
Snake Chinese Zodiac Horoscope 2021: Career and Business: ⅗ 
Don't blame us for 3 stars as every thing has a particular reason behind it. See, as mentioned earlier, it's not difficult to achieve great heights in career, but no compromise in putting efforts. For the newcomers joining the workplace, a fine year for improvement and seeking more experience. Try learning new skills from seniors rather just focusing on your CTC. Hola businessmans, we understand that this year might seem quite busy and hectic, but we must inform you that rapid development and expansion can be seen. We suggest you read all the confidential documents of the company carefully. 
Snake Chinese Zodiac Horoscope 2021: Love: ⅗ 
Not a bad love story this year for the snakes as per fortune prediction. All the singles out there, if you are really thinking to be mingled then throw out your shade of Shyness and be little good at expressing. A generic advice to everyone, don't be greedy in love instead learn to care. This is how a relationship lasts longer. If someone is getting married this year then plan in advance rather than preparing married cards at the last moment. 
Snake Chinese Zodiac Horoscope 2021: Compatible signs in 2021: 
The snakes are super compatible with the OX and Rooster natives. They are super comfortable with each other in terms of sharing healthy space. We can say that they are flexible both for marriage and in business. Just keep the mutual understanding at the top, end of the debate. 
Snake Chinese Zodiac Horoscope 2021: Money and Finance: ⅗ 
Snakes will have a good amount of wealth. Due to your outstanding work performance, chances of increase in salary is pretty obvious. Count bonuses, commissions and dividends in the list too. Good opportunities to earn money might arrive at your door, consider involving your friends too in such chances. 
Snake Chinese Zodiac Horoscope 2021: Health: ⅗ 
These three star ratings might turn to 1 as well if you neglect your health. Better to be safe than sorry. Parents are advised to take care of their children with more alertness. Snakes who work under too much pressure can spare time to take enough rest and eat regularly. Elders can live freely and participate in leisure activities too. No need to worry much, just be little aware and alert.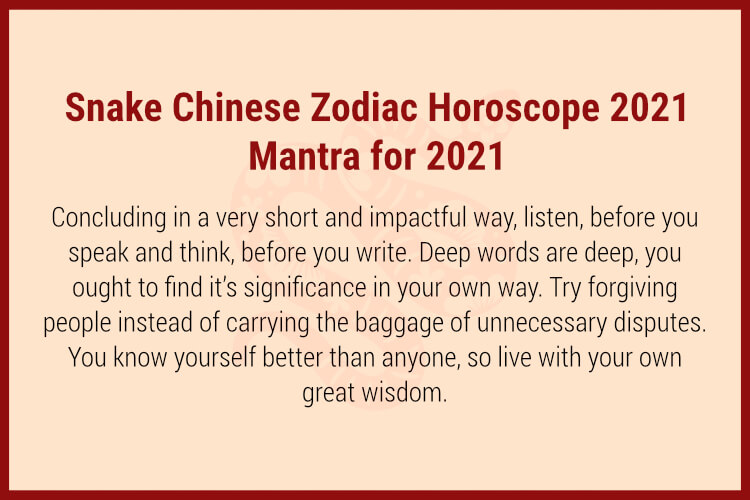 With Ganesha's Grace,
The GaneshaSpeaks.com Team
Read 2021 Horoscope of Other Chinese Zodiac Signs:

Ox Horoscope 2021

Tiger Horoscope 2021

Rabbit Horoscope 2021

Dragon Horoscope 2021

Horse Horoscope 2021

Sheep Horoscope 2021

Monkey Horoscope 2021

Rooster Horoscope 2021

Dog Horoscope 2021

Pig Horoscope 2021

Rat Horoscope 2021

Day Guide
Comprises of events likely to happen, hourly guidance & precise timeframes

Life Meter
Know the percentages of different aspects of your physical and mental state

Compatibility
Check out how well will your wavelengths with others match