Rabbit Horoscope 2021

Rabbit Horoscope 2021: Personality Traits Of Rabbit Chinese Zodiac 
In the Chinese Zodiac, the Rabbit occupies the fourth place. The years of birth of the Rabbit are: 1939, 1951, 1963, 1975, 1987, 1999, 2011, 2023.
In 2021, the overall Rabbit fortune is just so-so. But taking 2021 for granted can be a big mistake. Great achievements in a career are difficult, but they will not encounter too many difficult problems. They can focus more on savings rather than increasing the expenses. Singles, it will be quite difficult for you to find true love. The family life of married people can be reasonably simple. Based on Rabbit's forecast of fortune in 2021, they are more likely to get sick due to their poor immunity. To defeat every sickness of life, you ought to have a healthy lifestyle. Vo kehte hain Jo fit hai woh hit hai. (They say, those who are fit are hit)
Rabbit Horoscope 2021: Predictions Summary: 
As mentioned in personality traits, you will have average results. This New Year can add many problems and barriers to your romantic relationship. However, until the lunar month of April 2021, conditions will remain somewhat favourable. To make yourself happy in a relationship, experiment with your relationships and do everything you can.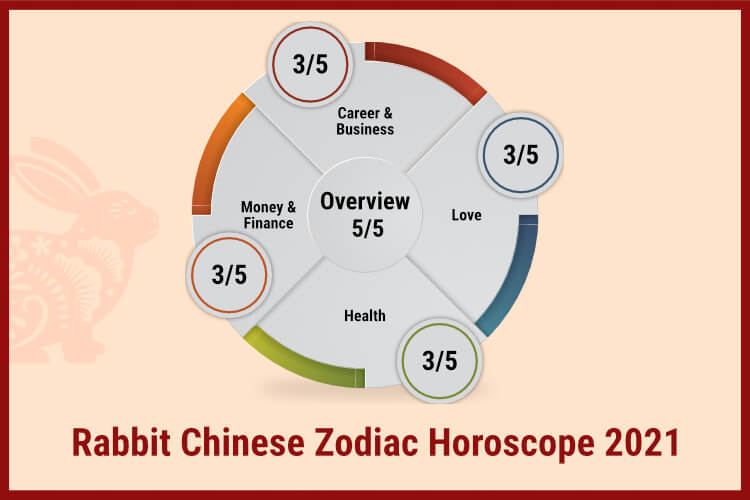 Rabbit Horoscope 2021: Overview : 5/5 
Rather than feeling bad about the inconvenience, think wisely about making important decisions and live life to the fullest. Let accept this fact that the Year 2021 is no exception, therefore remain flexible and analytical in all circumstances. There might be some situations where the Rabbit world needs to adopt the things as per the situation rather than being frustrated and angry. Keep in mind, your ability to be extremely patient is one of your greatest qualities, which always leaves time for your opponents or competitors to suffer the consequences of their errors. Overall, except for some period of the lunar year during which he will happily have the opportunity to relieve pressure, perseverance, observation and listening, these are the key virtues that will allow the rabbit to improve his chances of success in 2021. Moral of the story, enjoy whatever you have with you and walk in life with utmost awareness and wisdom. 
Rabbit Horoscope 2021: Career and Business: ⅗ 
According to the Rabbit fortune prediction in 2021, people born in the year of Chinese zodiac Rabbit will make little achievements in their respective career. Undoubtedly, Rabbits works amazingly well based on their dedication and determination towards work, but they have limited abilities and courage, which can be overcomed. Sad Story! New graduates need to apply for the right job instead of falling into a job trap. Those who are about to retire this year, focusing on your health should be your topmost priority. 
Rabbit Horoscope 2021: Love: ⅗ 
The fortune of the Rabbit people's love relationship is not bad. Believe it or not, these relationships affect them a lot. Eventually, you will need to find solutions for your frustrations as it will only lead your love life to the worst. Cmon, to solve your marriage issues without losing your mental balance, you have to think deeply. It is not the ideal time to get pregnant especially during the first 6 months of this year. We advise you to enjoy the time with your partner rather than trapping into arguments.  
Rabbit Horoscope 2021: Compatible signs in 2021: 
The natives of Rabbit have a strong friendship with the natives of Goat and Pig. Relationships will go well, particularly in love. No need to be worried much about. Bear in mind that the Pig native is also a trustworthy commercial associate. You can give a shot in trusting them with calculated faith and a wide smile. 
Rabbit Horoscope 2021: Money and Finance: ⅗ 
If we can describe this in short then earning steady income would be the right words. No such drastic change. Eat, sleep, earn income on time and repeat. If you are thinking about promotion then this year might disappoint you. Good news is this is going to be an interesting year in terms of professional projects and activities. A piece of professional advice to you, be aware of your capabilities and accept only the tasks that you can complete on time. 
Rabbit Horoscope 2021: Health: ⅗ 
Your health is expected to be in a good place this year. Woohoo! Thanks to the Ox year who would protect your health and keep it stable. You might get a cold or another minor illness in the winter. Altogether, your health will be fine if you can stay focused on your lifestyle. Just make sure, you eat a little more healthy food than usual.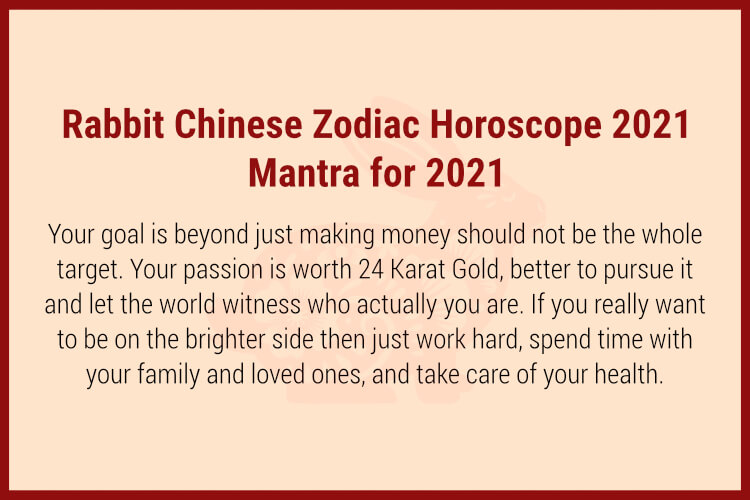 With Ganesha's Grace,
The GaneshaSpeaks.com Team
Read 2021 Horoscope of Other Chinese Zodiac Signs:

Ox Horoscope 2021

Tiger Horoscope 2021

Dragon Horoscope 2021

Snake Horoscope 2021

Horse Horoscope 2021

Sheep Horoscope 2021

Monkey Horoscope 2021

Rooster Horoscope 2021

Dog Horoscope 2021

Pig Horoscope 2021

Rat Horoscope 2021

Day Guide
Comprises of events likely to happen, hourly guidance & precise timeframes

Life Meter
Know the percentages of different aspects of your physical and mental state

Compatibility
Check out how well will your wavelengths with others match