Sheep Horoscope 2021

Sheep Chinese Horoscope 2021: Personality Traits Of Sheep Chinese Zodiac 
In the Chinese Zodiac, the Sheep occupies the seventh place. The years of birth of the Sheep are: 1931, 1943, 1955, 1967, 1979, 1991, 2003, 2015, 2027, 2039
Sheep Chinese Zodiac is a Yang and represents the Fire component. Its qualities and attributes compare with Cancer. Being a Yang, Sheep natives show masculinity and hopefulness and are active with their methodology. Contrarily, the Fire component inserts a sense of adventure inside them, which makes them ruling, forceful, and on occasion, indiscreet. Since Sheep is the eighth Chinese creature zodiac sign and the number 8 is related to abundance and fortune in Chinese Astrology, these natives are generally showered with karma and success. 
Sheep have a modest nature and are sort of dependent on other people. Sheep locals work enthusiastically, which makes them devoted and relentless. Nonetheless, they perform inadequately with the additional weight, since they can't deal with it well.
Ladies under this sign are known for their incredible dressing sense and taste of food. These natives set everything aside for those they love and care for. 
Sheep Chinese Zodiac Horoscope 2021: Predictions Summary 
The Sheep Horoscope for 2021 predicts a troublesome time during the year of the White Metal Ox. This is because the Sheep and the Ox are practically opposite, which causes contention between the signs. With troublesome work and affirmation, you can manage this – despite the way that it very well may be inconvenient from time to time.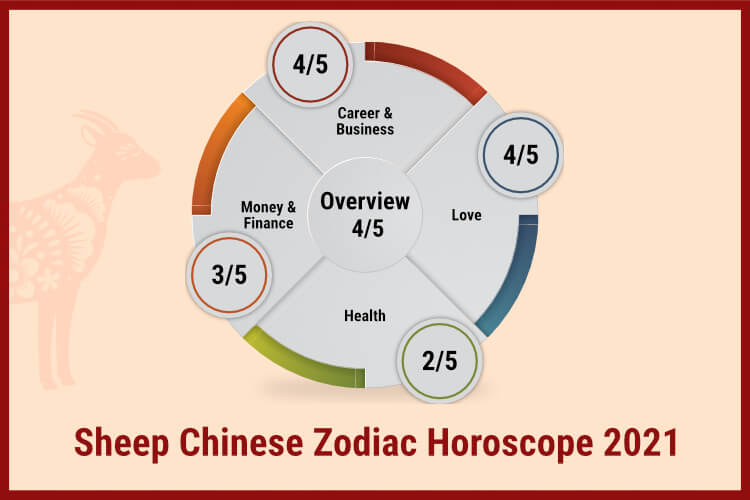 Sheep Chinese Zodiac Horoscope 2021: Overview ⅘ 
In light of the components of Chinese Astrology, Sheep Horoscope 2021 predicts a difficult year of the Ox for Sheep natives. Since Sheep and Ox don't share an amicable bond, Sheep natives should stay ready just as mindful consistently. As a result, you may lose focus on your objectives. With 2021 being a challenging year for Sheep, they are encouraged to stay low-profile and follow an essential methodology with each circumstance. Try not to settle on any significant option, money or individual, since stars are not for you. 
Nonetheless, because of the endowments of Di Jie, your fortunate star, you will have the option to resolve the issues with its support. Try not to turn out to be impulsive, and stay in understanding mode during falling apart conditions, as something great will undoubtedly occur at the following stage.
Sheep Chinese Zodiac Horoscope 2021: Career and Business: ⅘ 
Sheep 2021 Horoscope predicts a normal year for Sheep Chinese zodiac natives with regards to profession-related chances. On the off chance that you are working, at that point you may need to confront a significant workload, nonetheless, you will have the option to outperform that pressure with your optimism, hard work, and cooperative personal characteristics. During this time, Sheep natives may get a chance to go on work excursions, which they shouldn't give up. They should utilize this opportunity to learn, create themselves and display their insight and aptitudes. Be open about requesting help. Your professional partnership with Horse natives will prosper.
Sheep Chinese Zodiac Horoscope 2021: Love: ⅘ 
Sheep Horoscope 2021 for love matters uncover that the year of the Ox will be significantly about you since you have begun to appreciate your own company. Accordingly, you turning out to be narcissistic isn't unexpected for individuals around you. Since this sort of nature will simply pull you back from love, you need to get back ready and meet new individuals. Put on a decent outfit, go out, hang with your companions and meet new individuals. We don't promise you to meet "the one", however, you will experience some intriguing characters. 
For those in a relationship or wedded, Chinese Horoscope 2021 predicts negligible battles and clashes among them and their accomplices. Consequently, Sheep are encouraged not to let these little things come in their manner and convey all the more to move out any misconception. Give regards to one another, and tune in to what others have to state.
Sheep Chinese Zodiac Horoscope 2021: Compatible signs in 2021 
The year of the Ox will be monetarily lucky for you. You will be most compatible with the Pig, the Rabbit, and the Horse with South and Southeast being your favourable directions. Gray, blue and black are your lucky colours. Number 3, 4, and 9 will prove to be lucky.
Sheep Chinese Zodiac Horoscope 2021: Money and Finance: ⅗ 
Sheep Horoscope 2021 predicts the chance of major monetary misfortune for Sheep natives, which is the reason you should not try to spend lavishly on materialistic things, and set a spending limit when going out. Try to save as much as you can, since a financial misfortune can hit you anytime. Abstain from acting hastily with regards to making any sort of venture, since you will lament your choice later. Try not to get or give loans to anybody, since you are just low on funds. There are odds of theft, which is the reason you are expected to stay cautious with your accounts.
Sheep Chinese Zodiac Horoscope 2021: Health 
The strength of Sheep natives will stay great over the year of the Ox. Accordingly, there won't be any significant occasions, in any case, dealing with what you eat or drink is the principle needed this year since you can endure torment in your stomach region, or with a terrible stomach-related framework. Sleep deprivation and cerebral pain can sometimes happen, which is the reason you should practice meditation or Pranayama to calm your nerves. Join a gym and utilize that chance to vent out your negativity and dissatisfaction. Take a morning walk, and dodge overthinking. Take care of your folks and grandparents.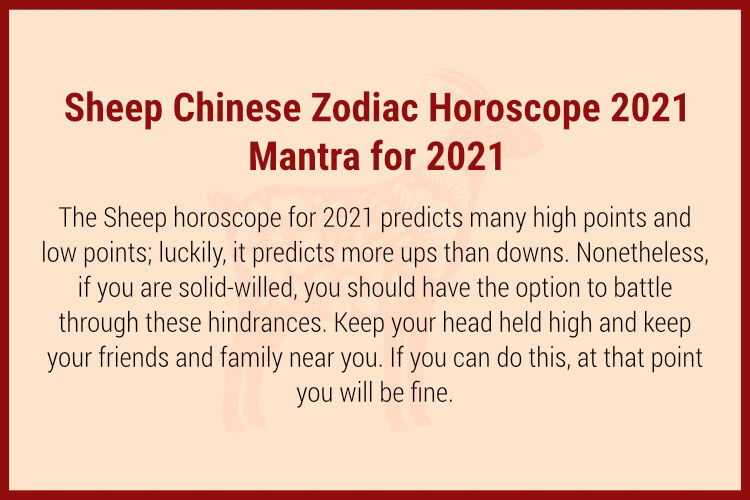 With Ganesha's Grace,
The GaneshaSpeaks.com Team
Read 2021 Horoscope of Other Chinese Zodiac Signs:

Ox Horoscope 2021

Tiger Horoscope 2021

Rabbit Horoscope 2021

Dragon Horoscope 2021

Snake Horoscope 2021

Horse Horoscope 2021

Monkey Horoscope 2021

Rooster Horoscope 2021

Dog Horoscope 2021

Pig Horoscope 2021

Rat Horoscope 2021

Day Guide
Comprises of events likely to happen, hourly guidance & precise timeframes

Life Meter
Know the percentages of different aspects of your physical and mental state

Compatibility
Check out how well will your wavelengths with others match