Monkey Horoscope 2021

Monkey Horoscope 2021: Personality Traits Of Monkey Chinese Zodiac
In the Chinese Zodiac, the Monkey occupies the ninth place. The years of birth of the Monkey are: 1932, 1944, 1956, 1968, 1980, 1992, 2004, 2016.
image 1
2021 foresees to be a prosperous year for the Monkey Zodiac sign. This year may be about reconnecting and spiritualism for you. There may be the development of new friendships and a reality check of the existing ones. The first half of the year would be focussed on career, and no opportunities should be missed in showcasing your talent, ambition and hard work. The year 2021 as per the Chinese astrology is the year of White Metal Ox. You may maintain a very fine balance of social life and professional life. The influence of Ox is very positive on the money front, hence try to make the most of this time. You may be blessed with numerous opportunities coming your way. Know more in detail about how the opportunities and prospects are in every sphere of life for the Monkey zodiac sign.
Monkey Horoscope 2021: Predictions Summary: 
Monkey zodiacs are advised to stay updated and diligent at your workplace, as there are many work prospects unleashing for you and definitely, you don't want to miss any. Along with an increase in finances, you may also be able to save more. Your sense of humour may help you build emotional connect when looking for love.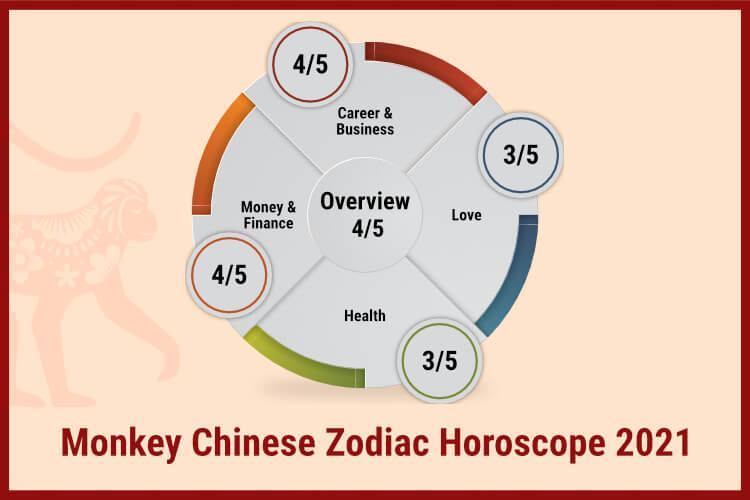 Monkey Horoscope 2021: Overview : 4/5 
Lady luck being on your side, you must be, after all, very glad to experience it. Auspiciousness by the stars is unfolding this year. The world is an oyster when it comes to opportunities for you, and make the most of it. Lucky stars may shower love in your life, and keep away troubles in your paradise. However, stay committed, as infidelity may not be favoured by Luck. The favourable months in 2021 for the Monkey is August, September, and October. Whereas, the unfavourable ones are June and November for the year 2021. 
Monkey Horoscope 2021: Career and Business: 4/5
As per fortune prediction, the career prospects would be very promising in 2021. The chances of getting a new job are quite high, you may land your dream job. Great news, isn't it? This is your ideal time to build rapport with your seniors and get a promotion or increment. Also, maintain a good rapport with your colleague, otherwise, you may face obstacles. Also, a nice time to start thinking about implementing new business ideas.
Monkey Horoscope 2021: Love: 3/5 
As per fortune prediction, singles may have one time flings, and they may have to wait for serious relationships. Married pals, you may need to stay loyal, as cheating could get issues in the relationship. During this time your friends may be there for moral support. You may need both your love and spiritual needs to be satisfied. We suggest you commit to a relationship where they may have emotional wellbeing, to avoid frustration. 
Monkey Horoscope 2021: Compatible signs in 2021: 
The best compatibility matches are with Rat and the Dragon. You are compatible in all aspects with these two signs. The least compatibility would be with Tiger. Monkeys and Tigers may have a lot of communication issues.
Rat helps in putting forward the merits of the monkey, a quality that helps in business and professional front. Dragon gets inspired and also supports monkeys' wisdom. 
Monkey Horoscope 2021: Money and Finance: ⅘ 
While dealing with finances, you can be very happy as you may see good gains. This could be because you are protected by the Sun. You will be happy to hear one more good news as you may benefit from various sources of income, besides your regular income. It is smart for the year-end to make any investments, such as in property or vehicle.
Monkey Horoscope 2021: Health: ⅗ 
Inner peace may be what Monkeys may want in 2021. Try to do a lot of yoga, meditation, and stretching exercises. You may be full of vitality, during the year 2021. You may face some minor health issues only towards the end of 2021. To maintain health, visit the doctor regularly, and maintain a healthy diet as well. February and August are the months to look out for health risks.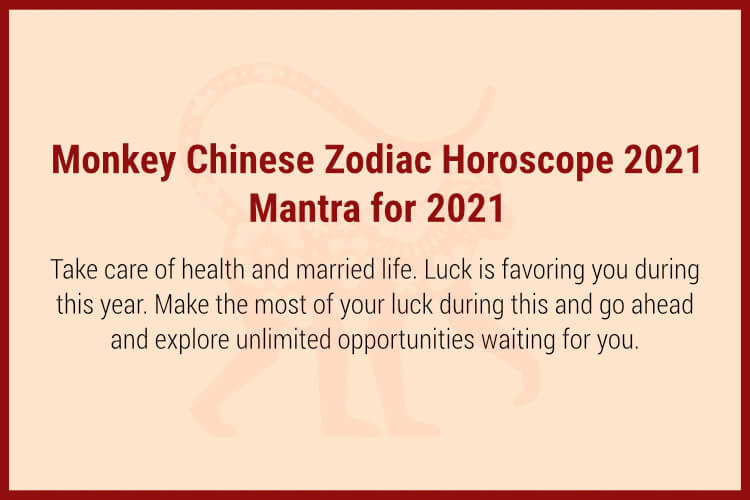 With Ganesha's Grace,
The GaneshaSpeaks.com Team
Read 2021 Horoscope of Other Chinese Zodiac Signs:

Ox Horoscope 2021

Tiger Horoscope 2021

Rabbit Horoscope 2021

Dragon Horoscope 2021

Snake Horoscope 2021

Horse Horoscope 2021

Sheep Horoscope 2021

Rooster Horoscope 2021

Dog Horoscope 2021

Pig Horoscope 2021

Rat Horoscope 2021

Day Guide
Comprises of events likely to happen, hourly guidance & precise timeframes

Life Meter
Know the percentages of different aspects of your physical and mental state

Compatibility
Check out how well will your wavelengths with others match