Tiger Horoscope 2021

Tiger Chinese Horoscope 2021: Personality Traits Of Tiger Chinese Zodiac
In the Chinese Zodiac, the Tiger occupies the third place. The years of birth of the Tiger are: 1914, 1926, 1938, 1950, 1962, 1974, 1986, 1998, 2010, 2022.
A stable year, at least in comparison to 2020, which had a double-whammy of being the year of the Rat and a leap year. Before you feel so overwhelmed, let us inform you that even though this year is going to be more stable than last year, you will still have to work hard to maintain your relationships and see progress at work and in your hobbies. You can find great success this year but you need to be more focused on your work. Apart from this, it is an ideal year for your health. Singles, we have more good news for you as well, read the full article to know. January and February might sound like a slow month but don't feel down. It's very important for you not to lose the balance while facing the obstacles. Mark our words, don't react much on the troubled water as fortune favours the bold. 
Tiger Chinese Zodiac Horoscope 2021: Predictions Summary: 
Tiger Horoscope 2021 predicts that the Chinese New Year 2021 will provide you great opportunities. Singles, just keep reading, will tell you about your predictions summary super soon. For committed ones, you can finally hear the marriage bells ringing. Yaayy! Take note of your actions and words, therefore, and stay patient.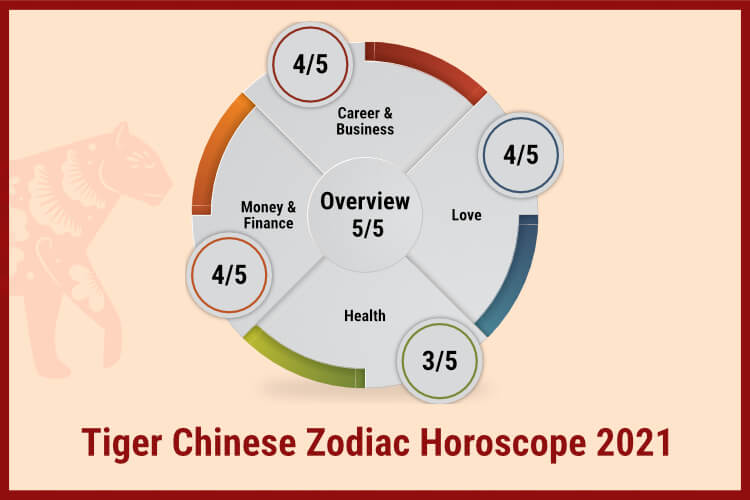 Tiger Chinese Zodiac Horoscope 2021: Overview : 5/5 
Happy to see five star ratings? You must be happy after all. Victories will be unfolding your hard work this year. In any aspect of your life, keep a positive attitude while working or studying anything. Specially to the married ones, now is the ideal time to remind your partner how much they mean to you. Singles, keep reading, the wait is about to over :). Some lucky stars will shower good fortune in life when you are in trouble. Don't be totally dependent on them, you must take care of your health. 
Tiger Chinese Zodiac Horoscope 2021: Career and Business: ⅘ 
As per fortune prediction,your career would be smooth in 2021. Chances of promotion are quite high, just you need to be vigilant. Great news, isn't it? This is your ideal time to use your intelligence and outstanding work abilities to obtain promotion chances. However, with the present situation, those of them who are very critical of themselves won't easily feel satisfied. On the business front, you need to be smart while hiring new employees for your business  growth. 
Tiger Chinese Zodiac Horoscope 2021: Love: ⅘ 
The time has come for singles! As per fortune prediction, singles are most likely to have a sweet cute relationship as they meet more suitors. "Here goes the six outside the stadium for the singles." You just need to develop your personalities and need to enhance your personal charm. We suggest you to go out to parties, chill out with friends and make more good friends. To the married pals, you guys will live happily and barely have quarrels. It is best to reject any unnecessary fights this year. 
Tiger Chinese Zodiac Horoscope 2021: Compatible signs in 2021: 
The best compatibility matches with the Horse and the Dog. Basically, you are compatible in all aspects with these two signs. The Tigers are not going to have a successful partnership with some people  born in the year of the monkey. Though Monkeys and Tigers respect, trust and appreciate each other but this time their cards are not much favourable.
Tiger Chinese Zodiac Horoscope 2021: Money and Finance: ⅘ 
While dealing with new projects, you might face a limited resource of ideas and you can be lacking inspiration to proceed further. Also, If you are thinking of changing your job then June 2021 is the best month in doing so. In the year of Ox 2021, between May and October, Tiger natives will be forced to focus on long-term financial plans, paying attention to incurring costs. It is a smart idea to review the financial situation and make the necessary adjustments. 
Tiger Chinese Zodiac Horoscope 2021: Health: ⅗ 
Keep yourself away from risky activities. There is no such problem in health until you meet any dangerous activities. It does not mean that you won't take care of yourself. Adding more to it, don't play by water, don't go to dark places & don't quarrel with others. As simple as that! 
One last thing, stay healthy.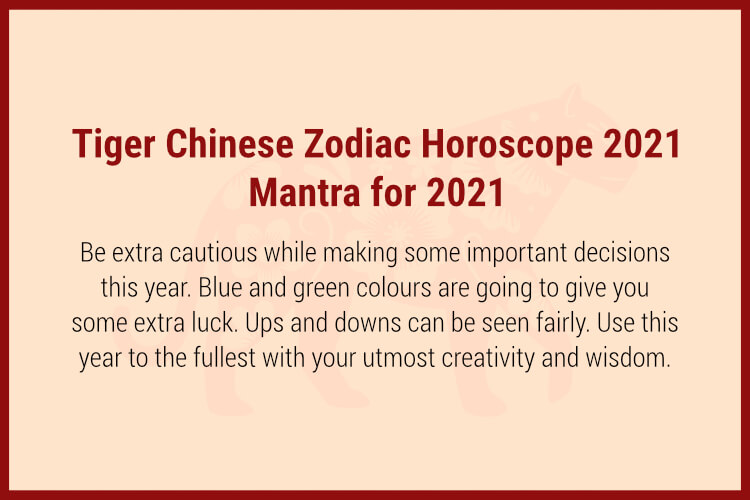 With Ganesha's Grace,
The GaneshaSpeaks.com Team
Read 2021 Horoscope of Other Chinese Zodiac Signs:

Ox Horoscope 2021

Rabbit Horoscope 2021

Dragon Horoscope 2021

Snake Horoscope 2021

Horse Horoscope 2021

Sheep Horoscope 2021

Monkey Horoscope 2021

Rooster Horoscope 2021

Dog Horoscope 2021

Pig Horoscope 2021

Rat Horoscope 2021

Day Guide
Comprises of events likely to happen, hourly guidance & precise timeframes

Life Meter
Know the percentages of different aspects of your physical and mental state

Compatibility
Check out how well will your wavelengths with others match