Ox Horoscope 2021

Ox Horoscope 2021: Personality Traits Of Ox Chinese Zodiac 
In the Chinese Zodiac, the Ox occupies Second place. The years of birth of the Ox are: 1961, 1973, 1985, 1997, 2009, & 2021. 
The Ox is the second of the 12-year animal cycle that appears in the Chinese zodiac. Nonetheless, people born in the years of the Ox will have a pretty good year, especially in wealth and love. A friendly warning for the Ox, major changes in personality and of clarifying many personal and professional aspects. It is obvious that you probably haven't enjoyed it in a long time, but this year will turn the tables. You will enjoy a life full of peace, quietude and well-being in the relationship. This is what you deserve the most since long back. Apart from this, you may have some minor troubles that can be dealt easily. 
Ox Horoscope 2021: Predictions Summary: 
According to traditional chinese astrology, 2021 will prove to be quite advantageous. Hola single, pack your bags up as you will get a chance to meet the love of your life. All the married individuals out there, be careful as the entry of third person might take place. So, be extra careful. Career oriented pals, forget about everything and just work hard and diligently, this year is filled with financial rewards.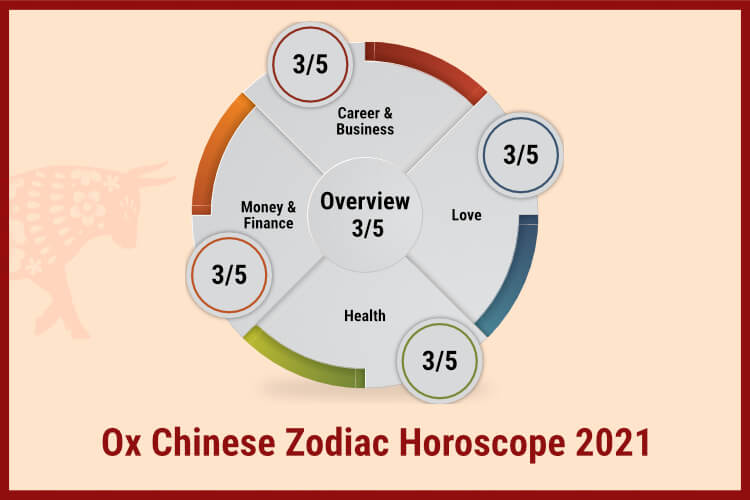 Ox Horoscope 2021: Overview :
⅗ 
Starting from Feb.12, 2021 and lasting until Jan.31,2022, the prediction is valid for 2021 (year of the Ox). For Ox, this year is synonyms with hard work, discipline, loyalty and a fair appreciation of tangible reality. Time to give your 100% efforts. Before launching any of the projects in 2021, it's essential to plan carefully each and every stage, let it consume more time but quality must not be compromised. 
One thing that might throw some curveballs at you this year is the Tai Suay Star, which will be in your sign this year. This will leave you a bit stressful, unfocused, and emotional. When you feel that way, it's best to lean on someone to make you feel better. When life upsets you, feel no shame in starting with a clean state. 
Ox Horoscope 2021: Career and Business: ⅗ 
Don't get crazy as you are likely to take plenty of projects at work. Although some of these tasks will be challenging, some of them may also be exciting too. It's best to continue to collaborate with your friends on these projects. We can say, better to have the power of two people's minds. Pro tip alert, always carry the approach of learning from co-workers. This will help you to grow well amazingly .
Ox Horoscope 2021: Love: ⅗ 
You won't see the same love and relationship between males and females . Boys would fall in love after meeting girls in parties and other social occasions. Hey singles, feel lucky and smile ahead. Now for girls, a bit of bad news. The fortune in love is not as good as boys but it is suggested to take the initiative to pursue your love bravely instead of just waiting for them. For committed ones, you really need to avoid fights with your partner this year. 
Ox Horoscope 2021: Compatible signs in 2021: 
Ox natives are compatible with Snake and Rooster natives. They're going to have a great relationship in both love and business. They complete each other beautifully at all levels. Here, there is no compatibility of the Ox zodiac sign with the Goat. Still, they can try hanging around if they wish so, just carry courtesy. 
Ox Horoscope 2021: Money and Finance: ⅗
Great news for you! People born in the year of Ox have a very good luck in their wealth prospects. The source of great income would be from your investment. When you'll invest during this year in any project, it's fairly important for you to learn more about it. Just chill and work wisely as money isn't going to be a major problem this year.
Ox Horoscope 2021: Health: ⅗ 
Health is neither too good nor too bad. As simple as that! Particular attention must also be paid to diseases related to the respiratory system, throat, and stomach. Those born in the year of the Ox need to think of regularly playing a sport. It can be anything, it just needs to be pushed towards good activities for a better physique.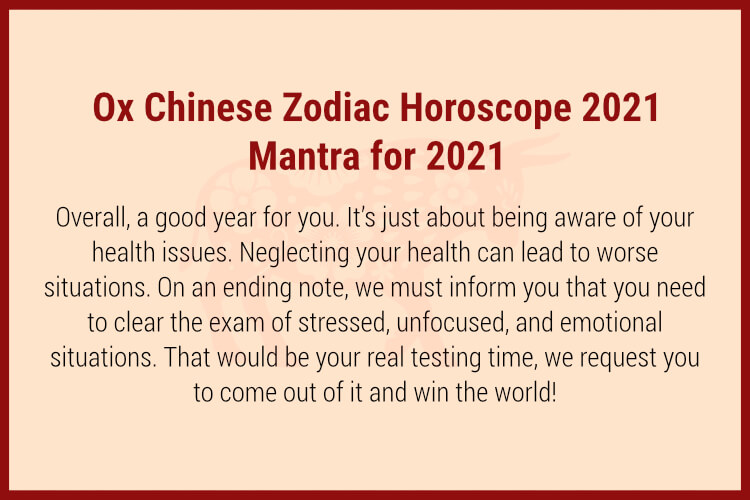 With Ganesha's Grace,
The GaneshaSpeaks.com Team
Read 2021 Horoscope of Other Chinese Zodiac Signs:

Tiger Horoscope 2021

Rabbit Horoscope 2021

Dragon Horoscope 2021

Snake Horoscope 2021

Horse Horoscope 2021

Sheep Horoscope 2021

Monkey Horoscope 2021

Rooster Horoscope 2021

Dog Horoscope 2021

Pig Horoscope 2021

Rat Horoscope 2021

Day Guide
Comprises of events likely to happen, hourly guidance & precise timeframes

Life Meter
Know the percentages of different aspects of your physical and mental state

Compatibility
Check out how well will your wavelengths with others match