Chinese Zodiac Dog Horoscope 2021: Traits and Significance

Chinese Zodiac Dog Horoscope 2021: Introduction
In the Year of the Ox, based on the elements of Astrology, the Chinese zodiac Dog horoscope 2021 predictions for its natives illuminate every aspect of their lives, highlighting the most significant causes, opportunities, obstacles, and other considerations. Let us know what the future holds for Dog Natives in terms of love, marriage, academics, career, profession, health, income, and other aspects of their lives. 
 What are the Chinese Zodiac Dog's Birth Years? 
1934, 1946, 1958, 1970, 1982, 1994, 2006, 2030, 2042, 1934, 1946, 1958, 1970, 1982, 1994, 2006, 2030, 2042, 2030, 2042, 2030, 2042, 2030, 2042, 
Traits As Per Chinese Zodiac Dog Horoscope 2021: 
Among the five elements, the Chinese Zodiac represents Yang and Earth. Those born in the Year of the Dog are said to be kind, loving, and selfless, prioritising the needs of others. They are known for being there with those they love or care for, listening and offering a shoulder to cry on. They reassure others and assist them in overcoming negative feelings by speaking wise and positive words to them. 
Natives born under the Chinese zodiac Dog have a high social status. They rarely behave conservatively and stick their nose into other people's affairs, but it is a rare sight to see. They typically have a benevolent heart and are overly worried for others. When in a relationship, they expect simple gestures from their spouse and prioritise their families and loved ones. Since they are conservative and old-school at heart, they enjoy all things classic. They are incredibly hardworking and cheerful, as well as foresighted and dedicated to their work. 
They are said to get along well with Tiger and Horse natives in terms of affection and compatibility. When combined with the Chinese Zodiacs Sheep and Dragon, however, things can go wrong.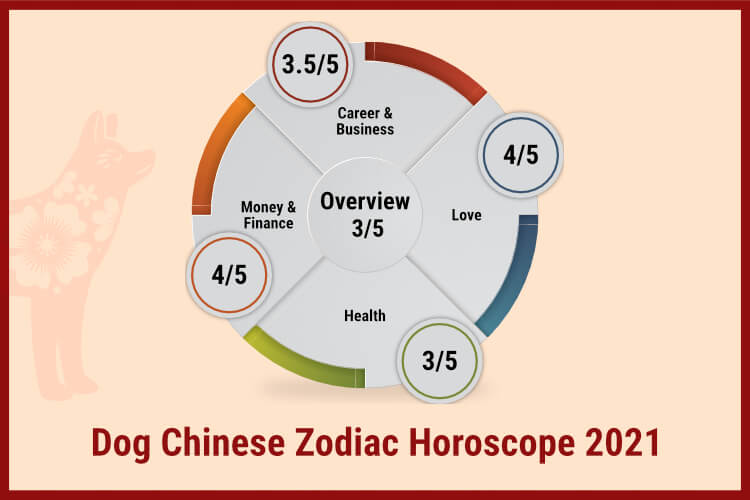 Chinese Zodiac Dog Luck Prediction 2021: Brief
The Year of the Metal Ox, according to Dog Horoscope 2021, will bring some disputes to Dog natives. Conditions will not always be favourable to them, and they will need to remain alert and cautious when confronted with threats and obstacles. Stay out of wars and squabbles, and think before you talk, as something can be used against you. On the plus hand, during the Year of the Ox 2021, you will make substantial financial progress. A rise in your credibility can create fear among those around you, whether at work or in a company. As a result, stay alert when seizing any opportunity that comes your way.
Chinese Zodiac Dog Career Horoscope 2021: 
The Chinese Zodiac Dog Horoscope 2021 forecasts a meteoric increase in their professional lives. This means the Dog Chinese Natives will be able to meet their long-term targets and goals this year. This year, they are likely to be promoted or receive a raise. They must, however, maintain patience and perform well when putting in their hard work and efforts without being embroiled in office politics. You can, however, find yourself being suppressed by your superiors, which is why you should exercise caution at work. 
Chinese Zodiac Dog Finance Horoscope 2021: 
In terms of prosperity and finances, the Chinese Zodiac Dog Horoscope 2021 forecasts a prosperous year for Dog natives in the year of the ox. You'll start investing and establishing new sources of income. You will also make every effort to keep your expenditures under control and prevent overspending or excessive purchases. As per the Chinese zodiac Dog horoscope 2021,  natives who work in real estate, property management, freelancing, or consulting can encounter a variety of opportunities and benefits. Dog natives should think carefully before making any investments or applying for a loan, according to the Finance Horoscope 2021. Unexpected gains, such as a lottery win or a bonus, are possible. 
Chinese Zodiac Dog Love Horoscope 2021: 
Dog in the Year of the Ox 2021, according to the Love Horoscope, will have a more favourable love life. Passion, romance, good communication, and gratitude will be the themes of this year. Many who are single would have the best chance of finding a compatible partner this year. You'll be able to interact effectively with your potential match and speak up about your feelings without fear of being judged. Many who are married may experience problems in their marriage and may unknowingly stray away. Married couples should be loyal and transparent when dealing with their partner in the year 2021 and reveal their likes and dislikes. Chinese Zodiac Dog Horoscope 2021 shows that many who are in a relationship will decide to marry. 
Chinese Zodiac Dog Health Horoscope 2021:
The Chinese Zodiac Dog Horoscope, as per Dog astrology 2021, shows that the Year of the Metal Ox will bring mixed results in terms of wellbeing. Minor illnesses such as colds, cough, and body aches will affect people born under the Chinese Zodiac Sign Dog. They can experience digestive issues such as acidity, indigestion, and so on. They can become irritable and fidgety as a result of these ongoing issues. Therefore they should eat a balanced diet, exercise regularly, incorporate Yoga and Pranayama into their everyday routine, and limit their salt intake. Spicy and fatty foods should be avoided at all costs. Prepare your meals at home rather than ordering them. 
Chinese Zodiac Dog Horoscope 2021: Things To Remember
Apart from the above considerations, there are several other variables to consider when performing multiple tasks. We have given some suggestions focused on Dog Fortune In 2021 that will assist you in planning your activities and achieving favourable results. 
For Chinese Zodiac Dog, the southeast and northeast directions are considered favourable.
According to Chinese Zodiac Dog Horoscope 2021 predictions, the colours yellow, purple, and red are lucky for Dog Natives.
The Chinese Zodiac Dog is said to be lucky with the numbers 2 and 8.
The Chinese Lunar Months of January, October, and November are deemed favourable for Dog natives.
The Chinese Lunar Months of March, June, and August are said to be unfavourable for Dog natives to perform any auspicious task or practise, according to the Chinese Zodiac Dog Horoscope 2021.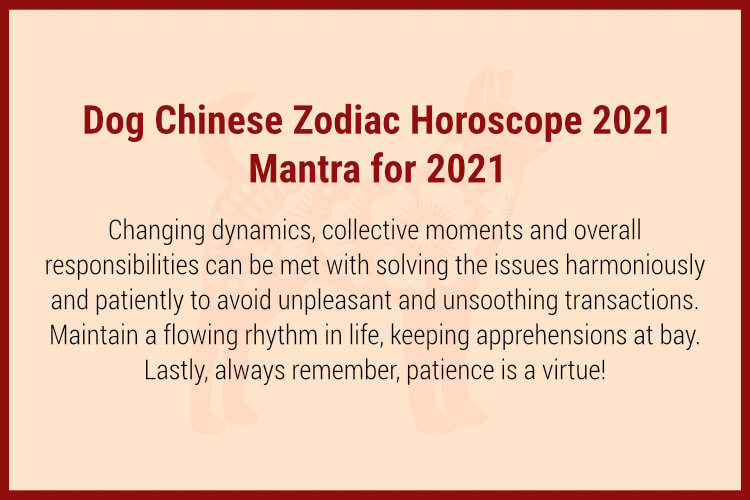 Know More about Chinese Horoscope and Compatibility
With Ganesha's Grace,
The GaneshaSpeaks.com Team
Read 2021 Horoscope of Other Chinese Zodiac Signs:

Ox Horoscope 2021

Tiger Horoscope 2021

Rabbit Horoscope 2021

Dragon Horoscope 2021

Snake Horoscope 2021

Horse Horoscope 2021

Sheep Horoscope 2021

Monkey Horoscope 2021

Rooster Horoscope 2021

Pig Horoscope 2021

Rat Horoscope 2021

Day Guide
Comprises of events likely to happen, hourly guidance & precise timeframes

Life Meter
Know the percentages of different aspects of your physical and mental state

Compatibility
Check out how well will your wavelengths with others match