Dog Horoscope 2021

Dog Horoscope 2021: Personality Traits Of Dog Chinese Zodiac
In the Chinese Zodiac, the Dog occupies the eleventh place. The years of birth of the Dog are: 1934, 1946, 1958, 1970, 1982, 1994, 2006, 2018.
A better year, with comparison to 2020. This year is going to be favorable in terms of finances. Hence do not worry. The year of Ox may raise some issues and conflicts for the Dog. Situations may not always work in your favor, so be attentive to your surroundings. Hence, please make sure you think before you speak, or take any actions. Apart from this, an ideal year, for your career, as there may be a rise in your career graph. Along with career, love also seems very favorable.  It is the year of love, romance, communication, respect. In short, love is in the air for the Dog natives. Are you happy to hear it? Of course! You must be because life without love is a tree without fruits. 
Dog Horoscope 2021: Predictions Summary: 
Dog Horoscope 2021 predicts that the Chinese New Year 2021 may provide amazing career and finance opportunities. Make the most of it Dog natives. Love life is favorable, in fact, you will meet someone special in the first half of the year, and mind you it would not be about flings, but about stable relationships. Yayy!!! This year you may finally take the plunge in your thought to start a family rather than any flings of adventurous relationships.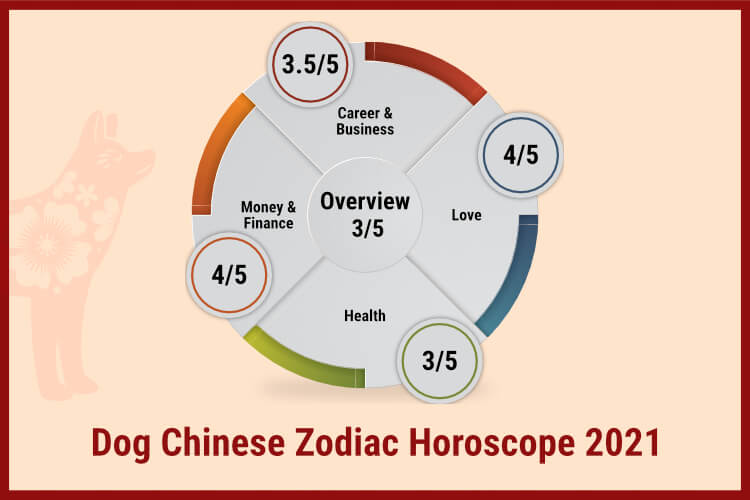 Dog Horoscope 2021: Overview : ⅗
Unwavering loyalty and respect may be displayed along the year of metal OX.  A busy time in keeping with the daily hustles of life, but will end up victorious. The year to look about flair and aptitude avoiding all the disadvantageous negotiations.  Selfless support from your loved ones is definitely going to be there. Sedentary life may not bear any amazing fruits for the Dog, during the year of the Ox. However, with compassion and the spirit of conciliation may make way for the year ahead.
Dog Horoscope 2021: Career and Business: 3.5/5 
Chinese astrology 2021 for Dog shows up victorious results, so do not let the anxiety take over your mind. Dogs may achieve long term goals and may also get promoted this year. 
Hurray to that one! Patience is what may be expected from you during the year of the metal Ox. So, don't let anything take you down instead keep the hard work and efforts flowing ahead. You may feel surpassed by seniors at work. However, try to remain calm at the workplace during this phase. 
Dog Horoscope 2021: Love: ⅘ 
Romance and love are in the air for the Dog, says your Horoscope 2021. You may find your soulmate during this time and will continue having conversations of complete delight and fun!
Married people may see some turbulence in the relationship. However, you are advised to stay loyal as there may be problems in the relationship because of dishonesty and lack of communication. Those who are in a relationship are likely to tie a knot! Yayy!! Onnittelut to that one!
Dog Horoscope 2021: Compatible Signs in 2021: 
The best compatibility matches with the Dog is Tiger, Rabbit and the Horse. The worst compatibility is with Ox, Dragon and Sheep. The Dogs may have a successful partnership with Tiger in work for smooth endings, Horse to steady fast work and with Rabbit related to honesty. 
Along with the general compatibility between Tiger and Dog, their compatibility is perfect for marriage as well. 
Dog Horoscope 2021: Money and Finance: ⅘ 
While you may spend lavishly during the year on expensive things, you may set aside money as savings. The financial situation for 2021 would be good, as there may be an increase in income, which may be because of the work initiatives that have grown. The grown opportunities may be specially noted with the natives working in real estate, property dealing, freelancing. Also, hooray! An unexpected win in the lottery, etc. So mazel tov!
Dog Horoscope 2021: Health: ⅗ 
The Chinese Horoscope for the Dog foresees to get mixed results for health. Try to keep your immunity intact as you may suffer from seasonal diseases. Also, keep a balanced diet and exercise regularly. There may be issues with digestion and acidity, etc. Stress may be the reason for the dramatic increase in diseases, but yoga and meditation may help overcome it.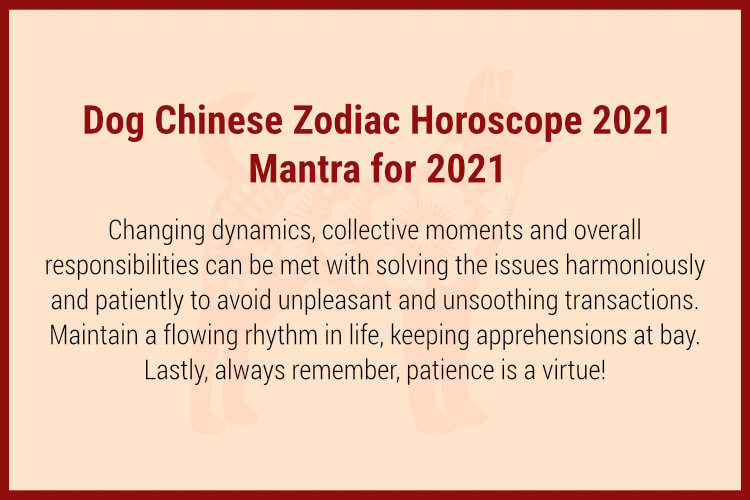 With Ganesha's Grace,
The GaneshaSpeaks.com Team
Read 2021 Horoscope of Other Chinese Zodiac Signs:

Ox Horoscope 2021

Tiger Horoscope 2021

Rabbit Horoscope 2021

Dragon Horoscope 2021

Snake Horoscope 2021

Horse Horoscope 2021

Sheep Horoscope 2021

Monkey Horoscope 2021

Rooster Horoscope 2021

Pig Horoscope 2021

Rat Horoscope 2021

Day Guide
Comprises of events likely to happen, hourly guidance & precise timeframes

Life Meter
Know the percentages of different aspects of your physical and mental state

Compatibility
Check out how well will your wavelengths with others match