Pig Horoscope 2021

Pig Horoscope 2021: Personality Traits Of Pig Chinese Zodiac
In the Chinese Zodiac, the Pig occupies the twelfth place. The years of birth of the Pig are: 1935, 1947, 1959, 1971, 1983, 1995, 2007, 2019, or 2031. 
This animal zodiac sign is also called the 'Boar', which is the twelfth and the last sign to be registered under Chinese astrology. Speaking about personality, Most Pigs are quite Calm and Chill. A satisfactory soul. They are straightforward, frank, and they also demand everyone to do the same. How unique! However, they lack communication skills sometimes and their hot temperament also comes in the list of their weaknesses. Over and above, the graph of good fortune is not upto the mark. Let's quickly look at the 2021 prediction for Pig. 
Pig Horoscope 2021: Predictions Summary: 
Mixed results can be seen this year. Hey Pigs, prepare yourself for both O's i.e, opportunities and obstacles. Don't get defeated no matter how worse the situation it might turn. Avoid making major decisions in life this year. In professional life, try moving out of your shell. The overall luck is something that is lacking this year, but don't feel down, keep on reading to attain basic wisdom based on your Chinese Zodiac Horoscope.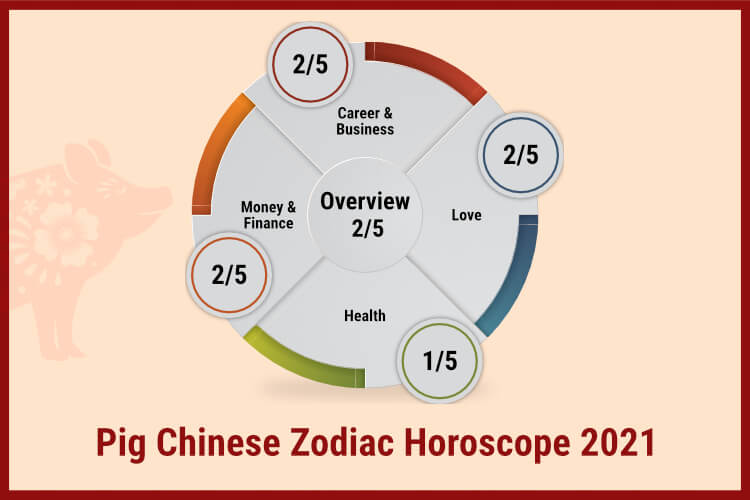 Pig Horoscope 2021: Overview: ⅖ 
This year is filled with a lot of fluctuations by month, especially during the first half of the year. Many of you might be thinking, "when will good fortune take place?" So, hold your horses Pigs, we understand your emotions and that's the only reason that we will give you some healthy guidance and clear look upon this year. In the latter half of 2021, Pigs are likely to meet their ideal compatible partners and even they might knot for wedding. Apart from this, pay double attention to the changes in your career and health this year. Don't force yourself for frequent business trips as you might feel exhausted both physically and mentally. Hey, we are not encouraging you.. LOL… just guiding you as per Chinese astrology prediction. Feel no shame in questioning yourself regarding your past deeds and think about improving it in the present time. Most of the time, however, the Pig 2021 horoscope will be stable with little or no extra packed drama. So, no need to feel bad about 2021, it's just a year to enjoy what you've got.
Pig Horoscope 2021: Career and Business: ⅖ 
There are two major guidance that should be followed; 1) You will need to work harder than usual, & 2) Extra efforts need to be made even when working on group projects. Some may even quit the job real soon. Some individuals are also at risk of being laid off considering the unstable market environment in 2021. Same goes with entrepreneurs, their career luck is also so-so. Let's talk about the bright side, using talent and experience, the Pig natives are going to make a fine impression at work. Hey champions, close your eyes, take a deep breath and think I am capable of interesting ideas, I am intelligent enough to fight against every obstacle, I am the ultimate champion. 
Pig Horoscope 2021: Love: ⅖ 
In love, the Pig natives are very sensitive and romantic. They might become jealous or possessive if they are neglected. Those who are already in a relationship, please don't invite any drama or mess. For the single pals, everything is good except your communication skills that must be improved. 
Pig Horoscope 2021: Compatible signs in 2021: 
Here, the compatible sign that suits Pig is Goat. yes, you heard that right. They both match the best and they may fall in love at first sight only. Like a typical romantic movie (in general) in which both the Hero & Heroine Falls in love instantly. Same might happen with you only, not exactly like that but obviously. 
Pig Horoscope 2021: Money and Finance: ⅖ 
We understand that investment plays a very crucial part in one's life, but we suggest you think thrice before lending your hard earned money. Pro tip 2, you ought to get benefits from a robust stock market for the best rewards. Pigs will have neither too good nor too bad wealth fortune in the year 2021. 
Pig Horoscope 2021: Health: ⅕ 
It's hard to say but people with Chinese Zodiac Pig Sign might be lacking in health fortune in the year 2021. Youth can't be lazy. Wake up and lead the world through your dedication. This year, due to insufficient sleep major health issues can be witnessed. Elderly people, we request you to take extra care of your health.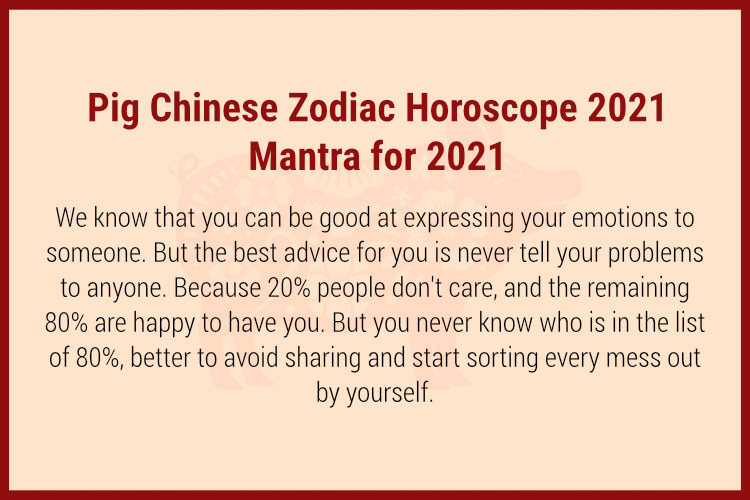 With Ganesha's Grace,
The GaneshaSpeaks.com Team
Read 2021 Horoscope of Other Chinese Zodiac Signs:

Ox Horoscope 2021

Tiger Horoscope 2021

Rabbit Horoscope 2021

Dragon Horoscope 2021

Snake Horoscope 2021

Horse Horoscope 2021

Sheep Horoscope 2021

Monkey Horoscope 2021

Rooster Horoscope 2021

Dog Horoscope 2021

Rat Horoscope 2021

Day Guide
Comprises of events likely to happen, hourly guidance & precise timeframes

Life Meter
Know the percentages of different aspects of your physical and mental state

Compatibility
Check out how well will your wavelengths with others match