Dragon Horoscope 2021

Dragon Horoscope 2021: Personality Traits Of Dragon Chinese Zodiac
In the Chinese Zodiac, the Dragon occupies the fifth place. The years of birth of the Dragon are: 1928, 1940, 1952, 1964, 1976, 1988, 2000, 2012, and 2024.
Career and wealth will be super favourable, but one needs to be attentive more. Promotions and increase in salary can also be seen. Nothing can be better than this! Even if they suffer, a person will not only give them a shoulder but walk with them in every difficulty of life. This signals for a love soul. On the other hand, 2021 is not an ideal year for them to begin a love relationship and get married. Take Time, know each other and act accordingly. The side business revenue is not big, so they don't have to put effort into it. So, all the Single Dragons out there, hold your horses and read the full details below.
Dragon Horoscope 2021: Predictions Summary: 
According to the Dragon Chinese Horoscope 2021, natives may have some mixed results this year. The year of the Ox 2021 will be when the stars are not fully aligned to your benefit and you will find it difficult to accomplish your goals. Don't be nervous as you can make the necessary changes to make your life better and prosperous once again 🙂 Remember one thing, pay utmost focus on your career and some other important areas of life.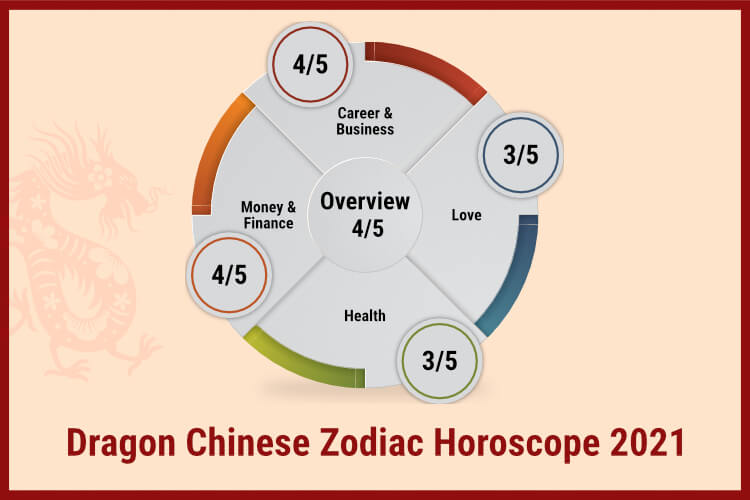 Dragon Horoscope 2021: Overview: ⅘ 
First of all, in 2021 nothing will be free nor easy for the Dragon. Important decisions to be made this year, we suggest you to kindly take advice from others before locking the final decision. Better to be safe than sorry. Want to hear some great news? Here you go, this year will be rewarding one. You need to pour your true efforts in order to gain maximum gain from your efforts. If you are not able to see the progress, don't feel down, just focus on putting your efforts as rewards might arrive slowly. Nowadays, noodles don't cook in 2 Minutes. Same goes with Reward, instant growth is rarely possible. Another good news is that there will be a transition from the Year of the Rat to the Year of the White Metal Ox.
Dragon Horoscope 2021: Career and Business: ⅘ 
Frankly speaking, in 2021, you will need to put a great deal of hard work into your career. The reason behind giving 4 out of five stars is because of the door of victory that is waiting for you. Yes, you guessed that right. Your career objectives may seem more challenging than they usually do. This year, make sure to be careful at work, particularly in terms of how you treat your coworkers. Based on Dragon's luck in 2021, for newly passed students, they should build up a strong self-confidence and not be defeated by the obstacles. 
Dragon Horoscope 2021: Love: ⅗ 
Hey, don't feel disheartened if your partner is not loving as much as you do. Time to carry the approach of unconditional love? You can think of it. Even if they reject your proposal for marriage, just accept the reality. Fact is fact, end of the debate. According to Dragon Fortune Prediction in 2021, married ones might not lead a stable life. If they really want, they ought to make necessary changes and show more maturity while dealing with household chores. 
Dragon Horoscope 2021: Compatible signs in 2021: 
The Dragon sign is compatible with the natives of Monkey and Rat. Interestingly, some of the Chinese zodiac's greatest compatibility is between these signs. The Dragon is not compatible with The Dog in 2021. We won't say that to keep yourself away from dogs completely, but just be careful with your words and nature. 
Dragon Horoscope 2021: Money and Finance: ⅘ 
Speaking about Money and Money, the Dragon will have a promising career in 2021. Any issues that emerge during the 12 months of this year can be quickly handled. Deal with wisdom and intelligence, not with any shooting game's squad. Buying more stock with accurate research might land you at a successful destination. One more thing, great achievement in the sales arena can be witnessed with some remarkable achievements. 
Dragon Horoscope 2021: Health: ⅗ 
We highly suggest that keeping your health good should be your top priority. The question might arise 'Why'? See, sadly the health fortune prediction in 2021 is not so good. Remember in childhood we learnt not to overeat the food. You need to actually implement that teaching this year. Say NO to junk food (Sometimes it's fine) & HI to healthy food. Hey Dragon girls, we know you care about your fitness, but make sure that you don't over diet.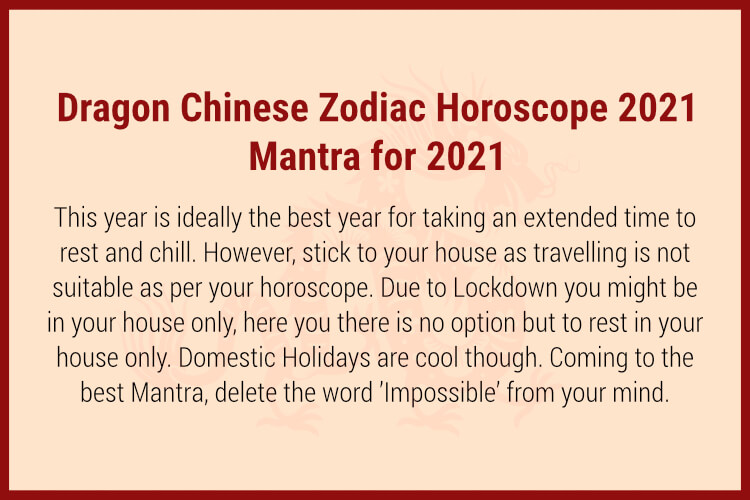 With Ganesha's Grace,
The GaneshaSpeaks.com Team
Read 2021 Horoscope of Other Chinese Zodiac Signs:

Ox Horoscope 2021

Tiger Horoscope 2021

Rabbit Horoscope 2021

Snake Horoscope 2021

Horse Horoscope 2021

Sheep Horoscope 2021

Monkey Horoscope 2021

Rooster Horoscope 2021

Dog Horoscope 2021

Pig Horoscope 2021

Rat Horoscope 2021

Day Guide
Comprises of events likely to happen, hourly guidance & precise timeframes

Life Meter
Know the percentages of different aspects of your physical and mental state

Compatibility
Check out how well will your wavelengths with others match