Rat Horoscope 2021

Rat Chinese Horoscope 2021: Personality Traits Of Rat Chinese Zodiac 
In the Chinese Zodiac, the Rat occupies the first place. The years of birth of the Rat are:1924, 1936, 1948, 1960, 1972, 1984, 1996, 2008, 2020.
Among the list of Chinese Zodiac animals, Rat ranks the first. Woohoo! It marks the initiation of a new beginning. Let us inform you about their characteristics. So basically, they signify wealth and success and are satisfied with what they have. How cool does that sound, being grateful for whatever stuff you are possessed with! But wait we are not done yet. Female rats are conventional in nature, well-organized and caring too. On the other hand, Male Rats natives are adaptable and creative to the new changes, but at the end of the day, they cannot lead properly. This year, you Rats are going to be blessed with good luck and sound income from work but that does not mean you'll don't need to pay attention. Kindly work with open eyes in order to avoid Catch-22. 
Rat Chinese Zodiac Horoscope 2021: Predictions Summary: 
According to the Chinese Zodiac Rat Fortune Prediction, 2021 will be a nice year for people born in 1948. In general, their wealth situation is going to be stable, so they can buy some lotteries to earn extra money. However, don't be too dependent on it. To deal with emergencies, it is advisable to accumulate some money.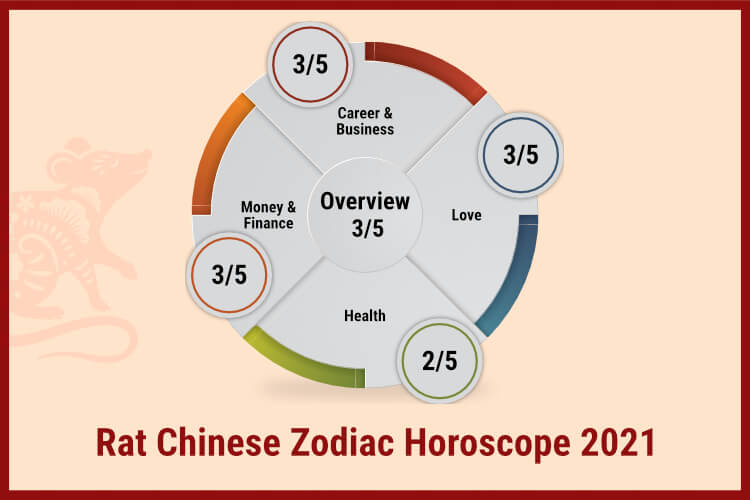 Rat Chinese Zodiac Horoscope 2021: Overview:
⅗ 
People born in the Year of the Rat have no bad luck in 2020-2021. Rather, Chinese astrology specialists suggest that this year of the Metal Rat is a good time to give birth as metal symbolises stability and longevity. Lucky Rats! However, the bad news is that the good fortune in health is unfavourable. 
The Rat horoscope for 2021 forecasts that this will be a bad year for travel. Although nothing will deter you from doing this if you want to go, it's better to warn you to skip it. Travelling will bring a little more trouble and bad luck. Adding more, simply travelling is likely to be a large expense. 
Rat Chinese Zodiac Horoscope 2021: Career and Business : ⅗ 
Especially in the year Ox 2021, new opportunities will come your way, better you hunt those opportunities. Businesswise, experimenting with an open mind can give you heights of success. Hey employed ones, your chances of getting a promotion are high. Mark our words, your hard work and extra dedicated working hours will be fruitful. Back to the entrepreneurs, the career problems would influence wealth a lot this year. So, be ultra-careful. 
Rat Chinese Zodiac Horoscope 2021: Love ⅗ 
Don't get panicked after seeing ⅗ repeatedly. Talking about love, possible love affairs can be seen but we must inform you that avoid going to entertainment places. You will be kick-starting this year with a good relationship but you ought to take advice or any help from the elders too. Precaution number 2, too much alcohol consumption can lead to grave troubles 
Rat Chinese Zodiac Horoscope 2021: Compatible signs in 2021: 
The rat is most compatible with both the dragon and the monkey. However, the natives born under these zodiac signs would have a very strong friendship, extraordinary even for marriage or business. Together, they will enjoy success, happiness, and prosperity. Apart from this, the rat isn't consistent with the horse. "Jaani Dushmans" in Chinese Zodiacs.
Rat Chinese Zodiac Horoscope 2021: Money and Finance: 3/5
Good news for you, Rat Chinese Zodiac has a pretty Good Luck in wealth. During this year, the Rat might take some risks, which could lead to financial gains from unexpected sources. Not every time your bed remains full of roses, towards the end of 2021, any sort of speculation, particularly gambling or real estate, must be avoided by the Rat natives.
Rat Chinese Zodiac Horoscope 2021: Health: ⅖ 
Sadly, health seems not to be in good books The natives may face issues such as breathing problems, heart pressure and other hidden damages. Don't worry, you just need to exercise and relax more. In between relaxing, try learning breathing methods that regulate the body, or participate in some activities. A Red warning, stay away from drinking alcohol as it will be unfavourable and risk your health.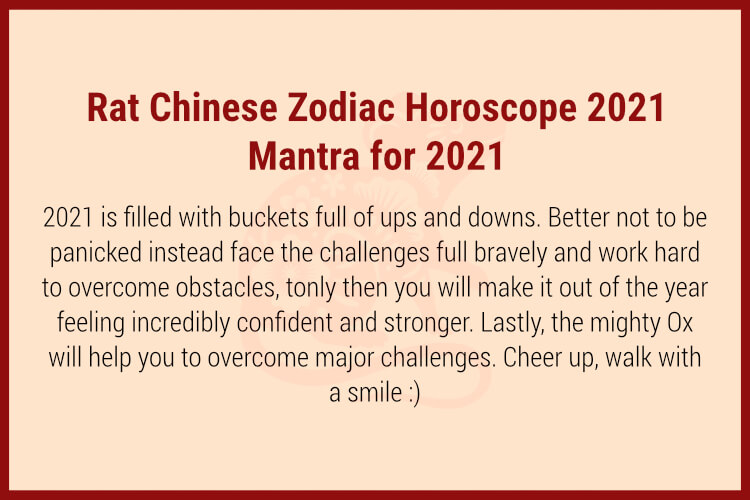 With Ganesha's Grace,
The GaneshaSpeaks.com Team
Read 2021 Horoscope of Other Chinese Zodiac Signs:

Ox Horoscope 2021

Tiger Horoscope 2021

Rabbit Horoscope 2021

Dragon Horoscope 2021

Snake Horoscope 2021

Horse Horoscope 2021

Sheep Horoscope 2021

Monkey Horoscope 2021

Rooster Horoscope 2021

Dog Horoscope 2021

Pig Horoscope 2021

Day Guide
Comprises of events likely to happen, hourly guidance & precise timeframes

Life Meter
Know the percentages of different aspects of your physical and mental state

Compatibility
Check out how well will your wavelengths with others match