Horse Horoscope 2021

In the Chinese Zodiac, the Horse occupies the seventh place. The years of birth of the Horse are: 1930, 1942, 1954, 1966, 1978, 1990, 2002, 2014, 2026, 2038
Horse Chinese Horoscope 2021: Personality Traits Of Horse Chinese Zodiac 
Horse ranks seventh among the list of Chinese Zodiac Animals. Horse natives have the Yang and Fire component and are similar to Gemini. Yang's component makes them masculine, and idealistic, although the fire component causes adventurous spirit, aggressiveness, and dominance. One of the significant attributes of Horse natives is that they are confident, defiant, and free, which makes them deal with themselves first. They hate any limits and can go about as troublesome children during their adolescence. 
Horse Chinese zodiac natives need to stay inspired and dynamic since they can get exhausted very easily and not generally remain in one spot for a more drawn-out period. They should work on being patient and acting casually. They are known for facing challenges, not having the option to deal with long-haul goals, and acting indiscreetly. They are known to have a few sentimental relationships since they fall all through adoration habitually. Nonetheless, finding the correct accomplice can make them settle down.
Horse Chinese Zodiac Horoscope 2021: Predictions Summary 
There will be progress from the year of the Rat (2020) to the year of the White Metal Ox. This is a year to gain from your errors and become a superior individual for it. While the year might be intense, it will be justified, despite any trouble. 
The Chinese horoscope 2021 predicts pretty normal karma for the Horses. Nonetheless, you can attempt to improve your karma by improving your Feng Shui. The Year of the Ox brings many good and bad times, which can affect the Horse's feelings.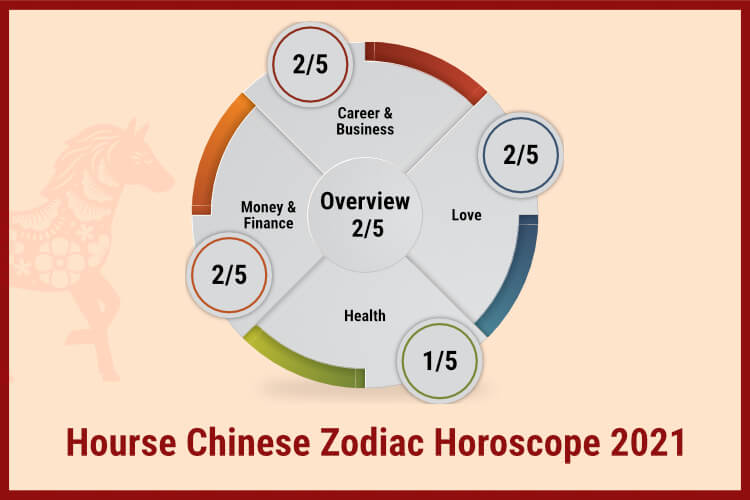 Horse Chinese Zodiac Horoscope 2021: Overview: ⅖ 
Horse Horoscope 2021 based on Chinese Astrology reveals an ordinary year for Horse natives in the year of the Metal Ox. Since this sign remains part of the brilliant impact of Tai-Suay, the locals are encouraged not to try to make any enormous ventures, since it can bring about misfortunes. Life in 2021 can be a thrill ride, which can make you grumpy, enthusiastic, and delicate on varied occasions. The most ideal approach to manage it is to gain from your past errors and stay persistent since that is all the best you can do this year. Notwithstanding, during difficult stretches, anybody closer or more connected (partner, companion, relative) to you will be there to help and support you. This will make you feel a lot better and more energetic.
Horse Chinese Zodiac Horoscope 2021: Career and Business: ⅖ 
Your workflow will be about normal this year. There will be occasions when you need to put in more work than expected, which can be upsetting. Be calm while making important decisions. Red and purple are going to be your lucky colours. South and Southeast are your lucky directions. Number 9 and Number 3 will bring you luck immensely.
Horse Chinese Zodiac Horoscope 2021: Love: ⅖ 
The Horse horoscope 2021 for love life represents a normal year for the natives. They will have an ordinary existence, and there won't be any indication of them getting hitched or entering any long-term relationships. Horse natives who are single need to control their feelings and not fall head-over-heels in adoration with anybody they have met in the Year of the Ox – 2021, since the odds of it turning out as an excursion or brief sentiment are high. Therefore, singles may need to confront a few difficulties when searching for an accomplice. 
Those wedded should realize how to stay inside their limits and keep an interval from their other halves while taking part in a discussion since an over-friendly attitude can make things worse in their conjugal life. 
Horse Chinese Zodiac Horoscope 2021: Compatible signs in 2021
The Chinese Horse is supposed to have good compatibility with the Dog, Tiger, and Sheep signs. Although, a relationship with the Ox and Rat can be hard. Be patient while making important decisions. Red and purple are your lucky colours, South and Southeast your lucky directions. Numbers 2, 3, and 7 will bring you luck.
Horse Chinese Zodiac Horoscope 2021: Money and Finance: ⅖ 
Those brought into the world under the Horse Chinese zodiac sign will have a start of the year brimming with progress and achievements. Try not to let the open doors cruise you by, try sincerely and the prizes won't neglect to show up. 
At work, you will appreciate numerous advantages and you will likewise travel a ton on business. Reconsider before you make a venture and go through your cash cautiously. In 2021, the Horse natives need to feel autonomous, free, and, most importantly, unsupervised by someone. Horses can't stand any positions that constrain them to be stuck in an office. Their dynamic nature causes them to favour occupations where they associate with individuals. The Horse natives like to be unique and make choices quickly. The professions that infer persistence and definite work are not for them. 
Horse Chinese Zodiac Horoscope 2021: Health: ⅕ 
Since they love sports and have an apprehensive way of life, the Horse natives are never going to pick up an excess of weight, remaining graceful until old age. They carry on long lives and their vitality never evaporates. Their wellbeing will be incredible in the first half of the year – albeit some minor dental issues may ruin their positive state of mind. As per the Chinese Horoscope, the finish of 2021 will make the Horse natives more inclined to some medical problems, specifically, pulmonary infections. Likewise, there is a danger of engaging in certain mishaps. To neutralize these hardships, the Horse natives are encouraged to give blood and to wear Feng Shui objects for insurance against infections and mishaps.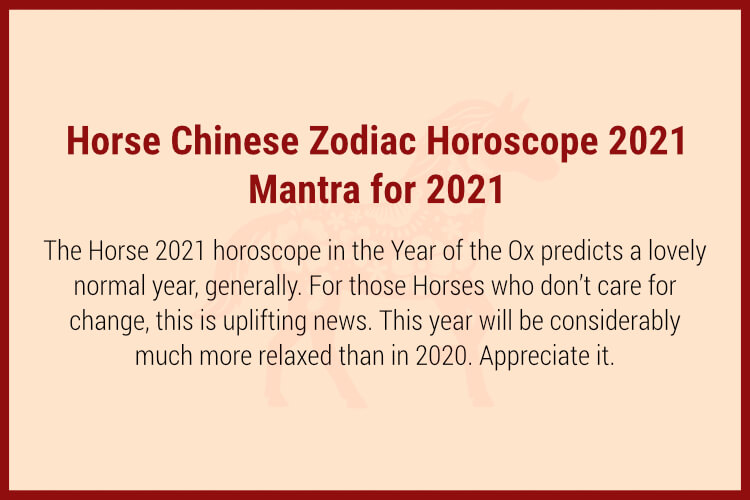 With Ganesha's Grace,
The GaneshaSpeaks.com Team
Read 2021 Horoscope of Other Chinese Zodiac Signs:

Ox Horoscope 2021

Tiger Horoscope 2021

Rabbit Horoscope 2021

Dragon Horoscope 2021

Snake Horoscope 2021

Sheep Horoscope 2021

Monkey Horoscope 2021

Rooster Horoscope 2021

Dog Horoscope 2021

Pig Horoscope 2021

Rat Horoscope 2021

Day Guide
Comprises of events likely to happen, hourly guidance & precise timeframes

Life Meter
Know the percentages of different aspects of your physical and mental state

Compatibility
Check out how well will your wavelengths with others match