Expert Vastu Tips For Paintings & Photos At Home
Is your painting Vastu compliant?
Art, in any form, brings joy to life. And when it is in the form of painting, the joy is doubled with its beauty that can be seen and felt as well. Every picture narrates a story. And it certainly influences the life of one who watches it constantly in routine. So, one has to be careful while choosing paintings to be put up at home or workplace. While a good painting can inspire and bring abundance, a wrong choice can have a negative impact. It is advisable to follow vastu for a painting to avoid any negative influence of a wrong choice. Evaluate your house as per Vaastu.
Vastu Paintings – Decor and Peace 
With a wide range of paintings available in the market, it seems easy to decorate each wall of the house. But make sure these paintings are vastu compliant. A few vastu paintings are enlisted below.
A painting of swimming fish or flowing water should be placed in the fortune area of the house. This will attract financial stability.

Paintings of flowing water plants and flying birds in the fortune area will help attract abundance.

If the house is small and receives less natural sunlight, then a hanging picture of the rising sun will help in compensating the loss.  It will substitute the need for natural rays and bring positivity. 

You can place the painting of a bamboo plant to ensure that the family is fed well.

Paintings of fire should be avoided. If there is any such painting, then having a painting of water or wind can negate the effects of fire.

For good health and stamina, hang pictures of deer.

Painting of Blessing Buddha will help you overcome fear and also help in controlling anger.

Paintings of lonely people, crying child, grieving women, or any sad gesture should be completely avoided as this may lead to discord in the family.

Pictures of wild and furious animals like tiger and lion should be avoided as this makes people lose temper.

Hanging pictures of coloured fruits will leave the family hungry for food always.
Horse Painting – Harbinger of Success
Vastu shastra makes it possible for us to make our life happy and comfortable with some easy and feasible changes in the décor. One such tool to enhance prosperity and happiness is the painting of running horses. 
Vastu shastra for running horses suggests that one who has such painting at home or office is always blessed positivity and success. Horses are the epitome of perseverance. Hence, a painting showing seven running horses imbibes the quality of hard work and perseverance in family members or the employees. Here are some vastu tips for running horses paintings.
Picture showing a pair of white galloping horses should be hung on the north-west wall. It gives strength in trial times.
A painting depicting horses with stamping feet with their tails lifted should be placed in office. This will ensure success in their career.

According to

vastu shastra

, statues of horses should be placed on the office desk in a position where it seems to be entering into the room. Its tail should be lifted and facing towards the entrance door.

 If one plans to place the statue, the vastu shastra for running horse statue suggests that its material should be metal, ceramic, or wood. 

It is advisable to have painting showing horses entering from the left side or from the front.
It goes without saying that paintings of horses ensure success and growth, but there are certain points that one should be careful with while having such painting. One of the best vastu tip for seven horse painting is that the horses in it should not be cut or unevenly depicted in the picture. This will hinder the growth of members. Also remember, weak or unstable horses should not appear in the picture. Avoid having the sun in the background of painting. All seven horses in the painting should be moving in the same direction. This builds a team, and efforts are put in the same direction. This helps in yielding great results. Any horse picture should not be facing towards the entrance or even an open window. This way, success will move out of the door. Make sure that no horse in the picture is in aggression or anger. This may invite negativity at the place. Detailed information about all directions as Vastu Shastra.
Where the mind is at peace – Bedroom
Bedroom is the heaven where people retire after a long day at work. So, the décor of the place has to be calm and soothing. As per vastu, paintings in the bedroom should be soft and subtle. A few paintings suggested by vastu shastra for bedroom are Charles Burton's Suspense, Gustav Klimpt's Tree of Life, Almond Blossom by Vincent, to name a few. 
In the bedroom, paintings of fierce animals and lonely child should be completely avoided. Gods' picture should also not be hung or placed anywhere in the bedroom. Pictures of ancestors or dead beloveds should never be hung in couple's bedroom. All these pictures attract negativity and create discord. This leads to constant friction between the partners. 
Vastu and Art go hand in hand
The essence of having a painting is to enhance the beauty of the ambiance. But if the painting is not placed as per vastu or is not vastu compliant, there may be dire consequences to be faced by the occupants or the family members. Just by being a little careful while placing paintings as per vastu and choosing the right one for office or bedroom can uplift the spirit and also bring in ,  stability in life. It will also escalate financial growth. But make sure that you don't clutter your wall with too many paintings, says the vastu!
Read Articles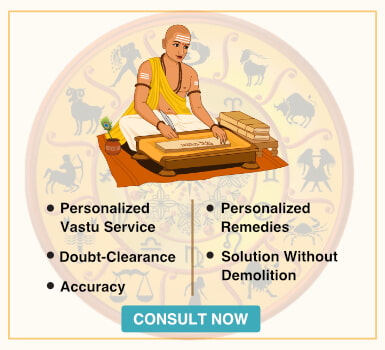 Day Guide
Comprises of events likely to happen, hourly guidance & precise timeframes

Life Meter
Know the percentages of different aspects of your physical and mental state

Compatibility
Check out how well will your wavelengths with others match