Rahu In The Eighth House: Vedic Astrology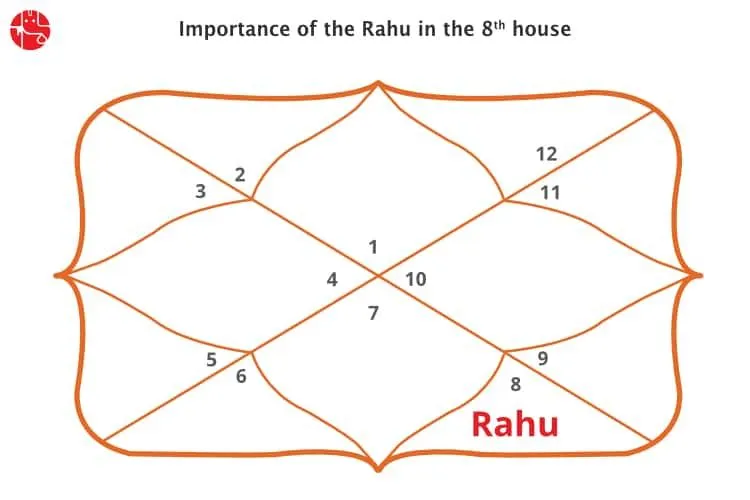 ---
Introduction
Well, Rahu (and also Ketu) is a very different kind of planet in the celestial world. It is not a planet, physically. It is actually a reference point in the sky. It is also referred to as a shadow planet and an astronomical position or situation. However, it can exert a massive influence on the lives of individuals. The planet Rahu stands for materialism and mischief. It also represents the fascination with foreign travel, technical professions among others. And when Rahu is placed in the 8th house, on the whole, it is not a very auspicious situation for the natives of Rahu in 8th house. The natives may have to depend on others for financial sustenance. They may also get involved into wrong ways and methods of earning money, which may put them in trouble.
---
The Areas Affected Due to Rahu in The 8th House
Profession and career
Money and wealth
Interest in occultism
Family life and relationship
---
Positive Traits/Impact
Well, the planet Rahu in this house concerns itself with secrecy. It is a perfect placement for those who are involved in high-risk work environments or work such as detective, spy, secret investigator, intelligence officer, disaster managers, executive secretary and so on. Besides, these natives are attracted to wealthy and knowledgeable people and want them to become their life partner. The presence of Rahu in the 8th house can bring in unexpected changes, which may even be violent and destructive in nature. The natives of Rahu in the 8th house concern themselves with confidential information, underground associations, secrets, and mysteries.
The placement of Rahu in the eighth house can give financial gains. Rahu can also give the ability to think out of the box, which can make the natives quite innovative. This innovation can help the natives excel in research related tasks.
---
Negative Traits/Impact:
The placement of Rahu in the 8th house is a very difficult position. As the 8th house is also about hidden energy, it is very difficult to understand what kind of influence Rahu will exert in the 8th house. We should remember that being shadow planets, Rahu and Ketu give results by virtue of other planets with which they interact. However, on the whole, the placement of Rahu in the 8th house is likely to give more troubles than benefits. The natives may develop hostilities towards a number of people. The natives may argue with others which can spoil their peace of mind and also that of others. Sometimes, it may also lead to legal complexities like defamation and serious types of humiliation.
The natives of Rahu transit in the 8th house may have to spend money unnecessarily on court cases or litigation. The natives may even witness disruptions in their married life. In fact, this is not a good planetary position for marital happiness. There may be problems in marriage for the natives of Rahu in the 8th house, they may have a bitter exchange of words with their inlaws. In the female horoscope of Rahu in the 8th house, it is important that Rahu should not get the influence of other malefic planets. Or else it may cause further problems. For instance, if Mars comes together with Rahu in the 8th house, it will complicate problems. However, if Rahu is with Jupiter, it will lessen problems.
The effect of Rahu in the 8th house may make the natives inclined towards occult science, magic and other aspects of the paranormal. The natives may even initiate false insurance claims and fake investments. They may get into deceptive methods and may pose to possess skills which they really don't have. The affliction of Rahu can cause financial losses, physical weakness, poor lifestyle and so on.
Besides, the natives may face problems from domestic helpers or employees. The natives are also likely to face mishaps, accidents, and injuries. Also, any newborn baby with this placement will face health issues for some years. This placement may also cause sudden and painful death. However, while analysing longevity or the reason for death, we have to go deeper and understand the individual horoscope. The problems of Rahu in the 8th house can be solved by appropriate remedies.
---
Conclusion:
The natives of Rahu in the 8th house may not be mysterious but they can solve complex mysteries. The natives have the potential to rise high in professions like the intelligence agencies, detectives and so on. They can also do well in research work. However, they should avoid unnecessary conflicts and legal cases. They can bank on their strengths and work out their weaknesses.
---
Effects of Rahu in different houses
Importance of Houses in Astrology
Importance of Planets in Astrology
---
---
Get 100% Cashback On First Consultation