Jupiter In The Third House: Vedic Astrology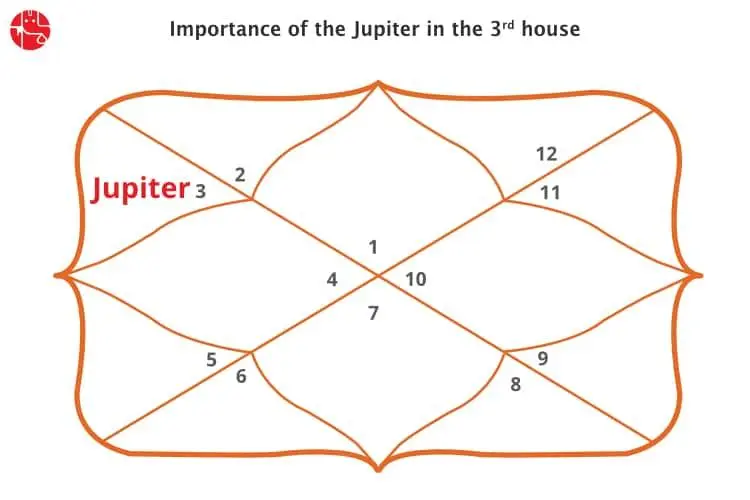 Jupiter is the Guru, the spiritual teacher in the planetary cabinet. It is a benefic planet which stands for higher wisdom & learning, spirituality, intellectuality and so on. It is expansive and grandiose. As for the 3rd house, it symbolizes brothers, sisters, reading, writing, mental abilities and so on. As Jupiter is a benefic planet, so by nature, It can only boost the prospects of the 3rd house and heighten the positives therein. So, the natives who have Jupiter in their 3rd house are likely to be forwarding looking, curious, well planned and large-hearted.
---
The Areas Affected Due to Jupiter in The 3rd House:
Curiosity and adventurism
Mental capabilities
Focus
Desire for change
---
Positive Traits/Impact:
The natives of Jupiter in the 3rd house are good planners. Besides, they are highly curious and enjoy making connections with others. They feel happy to share ideas. They are able to see the larger picture and often turn to others for advice and suggestions. Also, they easily put the people at ease in social situations.
The natives of Jupiter in third house have higher mental capabilities. They can become intuitive. Jupiter will expand their mental power so they can grasp new information quickly and comprehend things effortlessly. The placement of Jupiter in the 3rd house will also help the natives in education. The natives are likely to excel in writing and literary fields. Also, Jupiter enables cordial relationship with siblings, neighbors, family members and associations.
However, those who have Jupiter in the third house should be careful not to scatter their energies in different directions. They should pursue a goal and work on it all through. Besides, this placement of Jupiter will make them undertake long-distance journeys. Also when it is retrograde, Jupiter makes the natives talk very less. They have to struggle a lot in order to move ahead in life.
The female natives of Jupiter in the 3rd house care a lot for their loved ones especially their husband. This is shown very vividly whenever they spend time with their near and dear ones. The natives of Jupiter in the 3rd house wish to grow spiritually. They will be able to do it only with the love and friendship of others. That could be the reason why they are frequently meeting new people. They will have the need to expand their horizons or else they feel dull and complacent.
---
Negative Traits/Impact:
When Jupiter is retrograde in 3rd house,the natives should try to ensure they don't leave people behind when they take off on a trip. They should bring someone along on each journey, it will help them. Besides, they should learn to focus on one or two subjects at a time, and you'll be able to increase your knowledge at an even greater rate.
When Jupiter is debilitated in the 3rd house,astrology predicts that natives can easily become overwhelmed by too many new faces and new experiences. So they should not move on from one situation until they have absorbed everything they could from it.
It is in this way that they can continue their lucky streak and spread their goodwill to others at the same time. The natives may often feel as if they are being pulled in many different directions at the same time. But then life can not be without stress, so try to take it easy.
---
Conclusion:
Jupiter is the spiritual guru. When it resides in the 3rd house, the natives are dynamic, forceful, forward-looking. However, they will need to be more focused. Only a distinct goal can channelize our energy and enable us to do wonders. And for sure natives of Jupiter in 3rd house can do it.
---
Effects of Jupiter in different houses
Importance of Houses in Astrology
Importance of Planets in Astrology
---
---
Get 100% Cashback On First Consultation