Jupiter in 6th House : Vedic Astrology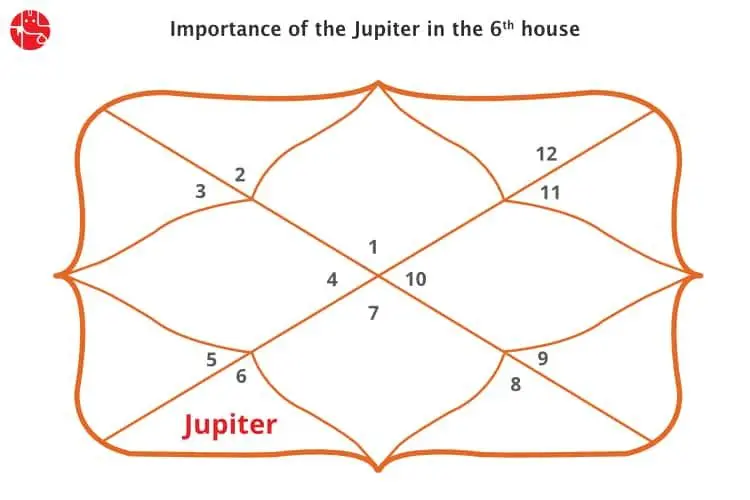 Jupiter is the planet of grandeur and affluence. It is the spiritual guru of the celestial world. Its blessings are crucial to achieving success and happiness in life. Well, Jupiter also stands for generosity and wealth. As for the 6th house, it rules work, job, everyday life, orderliness, self-growth and happiness, the desire to improve, spirituality, health among others. When Jupiter (or Guru) resides in the 6th house, the natives will be successful in the profession and also in personal life. They will face challenges but these challenges won't be insurmountable and they will be able to manage it.
---
The Areas Affected Due to Jupiter in The 6th House:
Professional Proficiency
Hassle-free payment of Loans
Bring a caring attitude
Free from Harmful Impacts
Good Intent in activities you perform
Good Finances
---
Positive Traits/Impact:
The natives of Jupiter in the 6th house have high standards in their business dealings with others. These natives believe that one should always treat others with respect and faith. It may imply missing out on business opportunities in the short term but they may win good friends, well-wishers, professionals, and committed customers in the long run.
Also, the natives of Jupiter in the sixth house will help the less fortunate ones. They may be attracted to rich and luxurious food, which may cause you health problems. The natives usually take great pleasure in the work they do and in being useful to others.
The natives of Jupiter in the sixth house in the birth chart are so meticulous in their approach that they don't want there to be any room for error. They can take everything that they do very seriously, whether it's for work or recreation because they want everything to be perfect. They pay a lot of attention to get every detail right and look forward to the praise that their efforts usually warrant.
The natives of Jupiter in the 6th house can execute things the way they want. However, when other people get involved, they let go of the reins a little and give others the same opportunity to put their spin on something. Their way is not always the best or the right way and it would do them good if they listen to others.
Do You Want a Peaceful and Harmonious Life? Buy Janampatri and Fix Your Life's Problems.…
---
Negative Traits/Impact:
The natives of Jupiter transit in the 6th house are annoyed when someone is critical of their work. Even the slightest criticism upsets them and they may become very nasty to those who speak against their work. The natives don't like this criticism even if it is not deliberate. It can even affect your relationships. They should learn to relax and not take everything so seriously if they want to go ahead in life.
The natives of Jupiter in the 6th house not only place high standards on themselves but they also have grand expectations for those around them, whether it's work colleagues, friends, or family members.
Also, they need to be cautious when it comes to helping others. The natives may perceive that they are helping others, however, these people may take it as an undue hindrance and not as a help. Besides, if Jupiter is retrograde in the 6th house, natives should not put people down for things which are not important or which only the natives consider important. These natives may get very good at planning and organising, which is great when no one else is involved.
---
Conclusion:
The natives of Jupiter in the sixth house are very good workers. They can be thorough professionals. Their actuality can become potentiality if they become less sensitive to criticism and take in stride the criticism from others in a more healthy and constructive manner.
---
Effects of Jupiter in different houses
Importance of Houses in Astrology
Importance of Planets in Astrology
---
---
Get 100% Cashback On First Consultation