Jupiter In The Eighth House: Vedic Astrology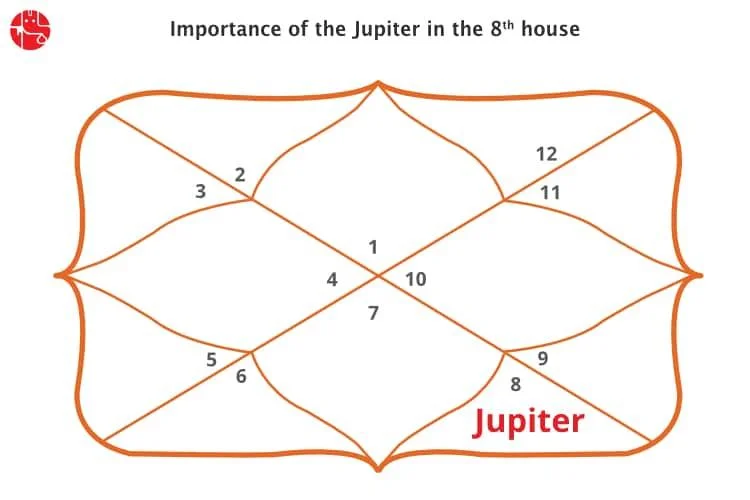 Indeed, Jupiter is grand and magnificent. It is called the spiritual teacher of the celestial world. Jupiter seeks insight through knowledge. Some significant characteristics of the planet Jupiter include morality, gratitude, hope, honor, and the law. Jupiter is a planet of broader purpose, reach, and possibility. Well, when Jupiter is placed in the 8th house the person is likely to be optimistic and cooperative. The natives of Jupiter in the 8th house get a lot of money from their life partner, other family members or friends.
---
The Areas Affected Due to Jupiter in The 8th House
Strategising abilities
Wealth and property
Attitude towards life
Career and profession
---
Positive Traits/Impact:
The natives of Jupiter in the 8th house are very talented in devising strategies, carrying out research work and investigation. They can easily get to the root of any problem and instinctively realise this is where the answer lies. They derive a lot of pleasure in simplifying mysteries and solving complex problems. They provide to their partner, both emotionally and materially. These natives are not easily perturbed by taboos.
Certainly, devising sound strategies is their strength and they will use everything at their disposal to ensure that whatever they do works out in the best manner as per their plan. As the natives have faith in mysticism and spirituality, they also believe in the power of good vibes. They believe that if they send good vibes to the world, good things will come back to them. Jupiter in the 8th house Vedic astrology makes the natives work very hard and enable them to become good people and loyal partners.
The natives of Jupiter in the 8th house can make huge financial gains by virtue of inheriting property and other assets. They may even get this inheritance from their inlaws. Besides, they are highly intuitive, compassionate and sensitive. They can use these abilities to heal the suffering humanity of their psychic wounds.
The natives of Jupiter in the eighth house are naturally good at handling issues related to money and thus they usually have a stable and good financial position. The natives of Jupiter in the 8th house have strong intuitive abilities. As per the horoscope of male and female natives of Jupiter in 8th house, they may even possess psychic abilities, which if used constructively, can help them heal the suffering humankind. However, when under a bad influence, Jupiter in the 8th house can cause obstacles in the smooth flow of life.
Besides, the effects of Jupiter in the 8th house make the natives somewhat secretive by nature. They do not share many things with anyone easily. This may make the natives more sought after as people may like to know them all the more. They have a large social circle without having to make any efforts towards the same. They are a very dedicated life partner, family member and friend as per Jupiter in the 8th house marriage predictions. The female natives may have very loving husbands.
When Will I Get Married – Accurate Marriage Predictions from India's Top Astrologer, Get 2024 Marriage Prospects Report…
---
Negative Traits/Impact:
However, the fact that they are somewhat reserve cuts both the ways. It can also have some negative influence, especially when Jupiter in the 8th house is retrograde. When they don't share certain things with most people, they may not be able to get that connection with the people around them. Thus, the natives may lack warmth and emotionality, which is also required in a balanced human personality.
Jupiter in the 8th house astrology shows the natives can read everyone else like a book but are reserve when it comes to showing themselves to others. This can be difficult for anyone to feel close to the natives, which sometimes leads to trouble in their life. These problems can be solved by appropriate remedies for Jupiter in the 8th house.
---
Conclusion:
The natives of Jupiter in 8th house are grand, moral, skilled and efficient. They have huge potential. However, if they are more open and accommodative, their potential is more likely to become actual.
---
Effects of Jupiter in different houses
Importance of Houses in Astrology
Importance of Planets in Astrology
---
---
Get 100% Cashback On First Consultation