Role Of Dasamsa Chart In Your Career Analysis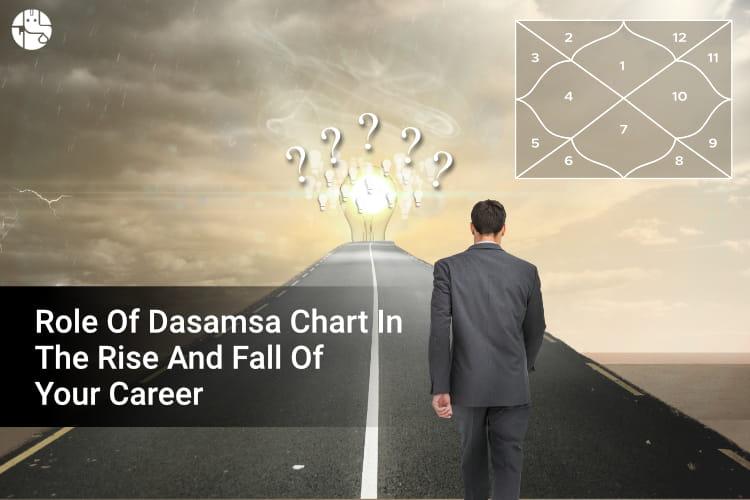 Vedic astrology, through Kundli analysis, studies various aspects of life by using many planetary combinations in your horoscope. While reading Kundli, our expert astrologers divide your birth chart into 16 divisional charts. The divisional chart is a very unique concept of Vedic astrology. Each divisional chart gives highlights about specific aspects it rules in your horoscope. Our Vedic astrologers can provide you accurate astrological predictions (based on your date of birth) by thoroughly analyzing these charts.
By studying a D10 chart, also known as Dasamsa Chart, you can get accurate and reliable predictions about your career. It is the most useful tool to find out about your career trends. To generate your birth chart, access your free Janampatri. You can also get your D10 or Dasamsa chart with it.
Now, let's explore the role of Dasamsa in the rise and fall in your career and status:
What is the Dasamsa Chart / D10 Chart in Astrology?
D10 or Dasamsa is used to shed more light on the profession or career. It is also known as Karmamsa. To generate the Dasamsa chart, a sign is divided into 10 equal parts. The chart prepared based on the 10th division of the zodiac sign is known as the Dasamsa chart. Kundli analysis by using the D10 chart helps to minutely analyze your professional success and achievements. 
Study of Houses in D10 Chart for Career Path
The analysis of the different houses of your Dasamsa chart helps you to get the actual picture of your career and profession. Here is the short description for each house of the D10 chart:
First House: It relates to the fame that you may get from your work.

Second House: It is about investment and ensures the sources of investment.

Third House: It is about agreements and communication.

Forth House: It gives indications about your office property and business assets.

Fifth House: It is related to business expansion and employees hired. 

Sixth House: It is the house of competition, your luck factor, and your relations with employees.

Seventh House: It is about public relations. 

Eighth House: It is related to loans and debts in business.

Ninth House: It indicates the chances of travels related to your business and profession. 

Tenth House: The most important house indicates your earning potential and your administrative skills.

Eleventh House: It is the house of gains and friends in the profession.

Twelfth House: It indicates your secret enemies. It is the house of loss in your business and career.
Hence, the detailed Dasamsa chart analysis gauzes the real potential of your career. However, this requires a minute analysis, which can be done only by an experienced Vedic astrologer. 
How Does D10 Kundli Reading Help?
Your Dasamsa chart shows the real strengths and weaknesses of your 10th house, i.e., your Karma Bhava that rules your career and profession. 

D10 Kundli reading plays a very vital role and helps to know about your career prospects and the level of success you are likely to achieve in life. 

It helps to assess your job status and business progression. You can know the best career path for you based on your Janamkundli.

D10 Chart reading gives insights into the upcoming challenges and the period of the highest growth in your business and career.
In this way, your free horoscope by date of birth can pinpoint the exact reasons for the rise and fall in your career. If there are any hurdles in your career, then our expert astrologers, after Kundli analysis, can suggest the Vedic remedies as per the D10 chart.
Conclusion
Few other Vedic interpretations collectively determine your career prospects. The position of the major period of planetary Dasha in your D10 chart also plays a vital role in your career success. Analyzing all these factors can add shine to your career and help you achieve your life goals. Our expert astrologers are always here for you to help you lead a successful and prosperous life with no or minimalistic hurdles.
To Get Your Personalized Solutions, Talk To An Astrologer Now!
With Ganesha's Grace,
The GaneshaSpeaks.com Team